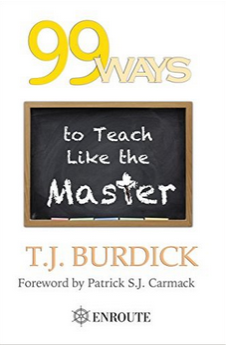 99 Ways to Teach Like the Master
by TJ Burdick
This book is about …
Paperback $9.99 | Hardcover $15.99 | Kindle $3.99
INTERVIEWS
With Al Kresta on the Kresta in the Afternoon Show (February 23, 2018) concerning her book Waiting with Purpose.
With Kyle Heimann on the Kyle Heimann Show 390 (February 20, 2018) concerning her book Waiting with Purpose.
With Cyrus Simcoe on Morning Air on Relevant Radio (February 9, 2018) concerning her book Waiting with Purpose.
With Cynthia Gniadek on "I Thought You'd Like to Know This" on WCAT Radio (January 22, 2018) concerning her book Waiting with Purpose. 
With Mary Schwarz on "Rivers of Living Water" on WCAT Radio (May 4, 2017) concerning her book From Grief to Grace: The Journey from Tragedy to Triumph
Journey Home on October 16, 2017.

Jeannie Ewing asked Cynthia Gniadek, her editor, and Cynthia answered:
Why do you think a book about the spirituality of waiting is important in our modern age? In our modern age, many people have lost the sense of waiting with God and instead think they must attain everything through their own merit. They often think that waiting is nothing more than stillness and boredom–perhaps even frustration–but for Christians, waiting is much more than that; it's an experience that becomes spiritual when done with God. It entails hope and faith, and it can help perfect us spiritually as we prepare for the next step in God's mission for us.
What did you benefit from most by reading Waiting with Purpose? This book helped me see how God was with me during times of desert waiting. I also was inspired to be more grateful for all the small ways God works in my life. Applying one of Jeannie's stories to my own life, my husband and I started a gratitude jar after reading about Jeannie's experience with one. This gratitude jar has helped us see God working in our daily lives.
What makes Waiting with Purpose stand out among similar books on the market today? No author has taken up the topic of waiting like Jeannie. Her writing style is inspirational and engaging, and she knows how to connect with her audience by allowing them to share in her life through stories and insights that they can relate to. By the end of the book, readers can feel like they've caught a glimpse into the life of Jeannie Ewing, and at the same time, they can feel inspired to go out and live their own lives with God in a deeper, more meaningful way. Thanks to Jeannie, they are ready and eager to find out how God will work next in their lives.
How can readers apply the principles in the book to their own busy lives? Earnest readers will take the time to stop and ponder their lives in light of the insights about waiting they receive as they make their way through the book. These readers will find themselves ready to listen, ponder, pray, prepare, and act during times of waiting.
What's the primary reason you would recommend this book to readers? This book helps us see why waiting is not a bad thing. In fact. it's a good thing for those of us who care about spiritual perfection. This book helps us see God during those times of waiting when we otherwise would see only darkness and desolation. This book brings hope and consolation.
Cynthia Gniadek, Jeannie's editor, asked Jeannie Ewing, and Jeannie answered:
What people, saints, or devotions inspired you while writing this book? My spiritual director had mentioned Henri Nouwen's "The Spirituality of Waiting," which was a document she had in PDF form. After reading it, I was intrigued about the concept of a spirituality of waiting and wanted to know more. Truthfully, I got a lot of good substance from this short essay alone, but I did end up reading W.H. Vanstone's The Stature of Waiting, which was also a philosophical gem during the process of gathering information about what God may want to teach us during times of seeming nothingness. I think it was Providential that I started this process of thinking, praying about, and organizing information about waiting during Advent. There was so much in daily Scripture about waiting with joyful hope, waiting for God's timing, etc. It was just a theme that kept coming to me over and over, everywhere I looked.
How has writing the book changed your life? I've written four books to date and am in the process of working on two more. Most of my books deal with the theme of grief and suffering, which is an important topic but also an arduous one to write about. Waiting with Purpose was a joy to write, probably my favorite book I've written to date, because it was so revealing. I felt excited that the Lord showed me so much about waiting – enough to comprise a book – and knew He wanted the message to be shared with others. Somehow, I knew I had stumbled upon a rare gem of knowledge with the book's content.
How can this book help readers overcome the fear that they might fail if they choose the path of waiting? I think a lot of our waiting experiences are not chosen. They simply happen to us. That's something I learned while writing the book. We can't control most of life. We can choose how we respond to life, but we can't control everything that happens to us. Waiting with Purpose will encourage the reader when s/he is in a place of struggle where nothing seems to be moving forward, where life seems stagnant, or even during the mundane drudgery of waiting in exam rooms, standing in a long line at a retailer or grocer, etc. We can use our times of waiting to be spiritually productive, to elevate our minds and hearts to God through silent prayer.
What did you enjoy most about writing the book? I enjoyed knowing that nothing like this book had ever been written before, believing that it is a timeless message that people generations from now will still find relevant.
What do you enjoy doing when you are not writing? I am an avid reader. I also love spending time outdoors with my dog and girls. My husband and I enjoy visiting wineries when we go on the occasional weekend getaway. And I scrap book about twice per year, accessing the more visually creative side of me. But writing comprises most of my free time. It is both a gift I've been given and one I love to share with others.
OTHER POPULAR SPIRITUALITY BOOKS
COMING SOON! Memorize the Latin Mass! by Kevin Vost, Psy.D. In Memorize the Latin Mass! Dr. Kevin Vost harnesses the powerful memory methods of Sts. Albert the Great and Thomas Aquinas to help readers learn and remember all the parts and rites...
read more