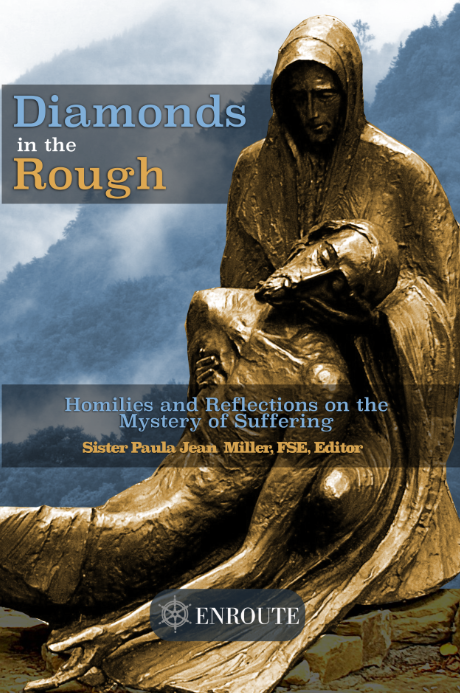 Diamonds in the Rough: Homilies and Reflections on the Mystery of Suffering
Sister Paula J. Miller, FSE, Editor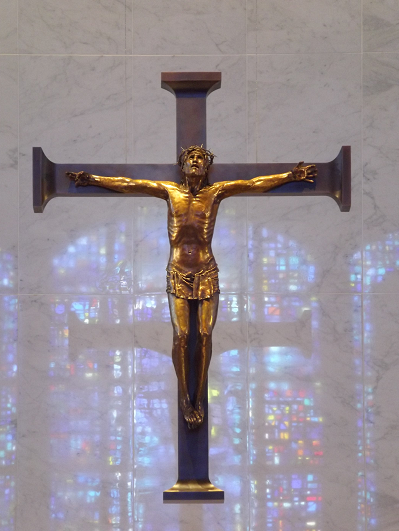 Theologians in their final months at St. Vincent de Paul Regional Seminary, Boynton Beach, Florida, reflect on the meaning and purpose of human suffering in the life of the Christian. In these homilies and reflections on key passages of St. John Paul II's apostolic letter "The Mystery of Human Suffering" (Salvifici Doloris, 1984), co-suffering with Jesus Christ, the Spouse of the Church, becomes the "setting" to contemplate Christ's invitation to "engage" with him in co-redemption. Through this mutual commitment with Christ to suffer what is needed for the redemption of the world, "living stones" discovered among the "rough" elements of everyday life, become transformed into precious diamonds through the "Refiner's fire."
(Click on the image for a postcard size version you can download and print – "Jesus, alive on the cross and in converse with the Father," designed for the chapel at St. Vincent de Paul Regional Seminary by Msgr. David Toups, President-Rector.)
Paperback $12.95 | Kindle $9.99
TESTIMONIALS
These reflections on John Paul II's Gospel of Suffering by lay theology students and transitional deacons are pastorally-wise and theologically-rich. They shed light on the age-old question of the meaning of human suffering. With lively examples from daily life, they guide the reader to embrace the redemptive value of suffering in union with Christ for the sake of his Body, the Church. – Archbishop J. Michael Miller, CSB, Archdiocese of Vancouver, British Columbia, Canada
---
In this engaging collection of homilies, Pope Francis' call for us to become missionary disciples is informed by St John Paul II's profound reflections on the mystery of human suffering. These homilies by deacons-soon-to-be-ordained-priests and lay theologians offer to us a way of relating the missionary zeal explicit in the Gospel with our own mysterious share in the Cross of our Lord Jesus. – Bishop Kevin C. Rhoades, Bishop of Fort Wayne-South Bend, Indiana
---
I am grateful to the Fourth Theologians of St Vincent de Paul Regional Seminary who have shared with us their brief and deep theological reflections on human suffering. The reader will be surprised to find such wisdom in the homilies of these young men (and the reflections of two women in the class) on a reality that relates to us all. – Most Reverend Felipe J. Estévez, S.T.D., Bishop of the Diocese of St. Augustine, Chairman of the Seminary's Board of Trustees
---
This collection of heartfelt and thoughtful homilies and reflections by our soon-to-be graduates offers the reader brief yet deeply theological insights into the perennial problem of suffering. I am very proud of the work they have done, and I look forward to witnessing their efficacious pastoral ministry in the years to come. – Msgr. David L. Toups, President-Rector, St. Vincent de Paul Regional Seminary, Boynton Beach, FL
---
I join diverse readers who will mine gems of hope in the midst of suffering from Diamonds in the Rough.  As a nurse, it adds another viable tool to my arsenal of empathetic care-giving for patients who suffer. As a wife, it has granted me retrospective reassurance about my beloved husband's grave suffering for months last year following invasive surgery. And as a patient myself many times over, it has helped me understand suffering as a source of hope in communion with Christ's own suffering. We need not consider suffering the end product. Diamonds in the Rough encourages our acceptance of the mystery of suffering, inviting those who suffer to become participants in God's redemptive love. – Diane Haight, RN, BIS, MA
---
This set of Homilies on the Theology of Suffering based upon Salvifici Doloris, prepared by students of the medical ethics course at Saint Vincent de Paul Regional Seminary, is a sign of pastoral commitment to the suffering world we are called to serve. This book will be a wonderful resource for the ministry of preaching to the people of God who face challenging situations where it is difficult to discover the provident presence of our Good God. – Fr. Jaime E. Robledo, PSS, formation adviser, spiritual director and moral theologian at St. Patrick's Seminary and University, Menlo Park, California
ABOUT THE EDITOR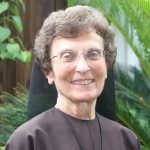 Sister Paula Jean Miller, FSE, is Professor of Moral and Historical Theology at St. Vincent de Paul Regional Seminary in Boynton Beach, Florida.
OTHER POPULAR SPIRITUALITY BOOKS
Sacred Braille: The Rosary as Masterpiece through Art, Poetry, and Reflections by Annabelle Moseley What better gift could Our Lady have given us than the Rosary? The Rosary is sacred braille in that it is a miraculous juxtaposition of a...
read more