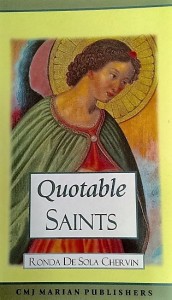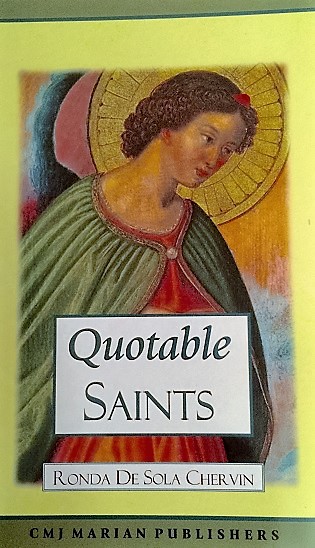 Buy now! $9.99 paperback
---
Description
These memorable quotes of the saints and hundreds more are uniquely organized by theme in this uplifting treasury. In each chapter, you follow a particular theme and journey with the saints as they provide just the right word of wisdom or encouragement in wrestling with doubt and triumph in faith – in experiencing a range of emotion, including sadness and joy, anger and peace, courage and fear. Brief introductions to each chapter provide a couple of stories from the lives of saints that model the journey for us. Quotable Saints is an inspiring treasury for devotional reading and an invaluable reference for teachers and pastors, at home or in the office.
---
About the Author
A gem. Perfect to take with you when you meditate! – Benedict Groeschel, C.F.R., Author,

The Reform of Renewal

.

This is a book that both heals and guides the pilgrim soul. It introduces seekers to the lives and sayings of women and men through whom the Holy Spirit addresses the truth that makes us free. – Susan Muto, Author,

Pathways of Spiritual Living
---
Book Clubs
For orders of 10 or more, contact the publisher at contactus@enroutebooksandmedia.com for a 50% discount and free shipping.