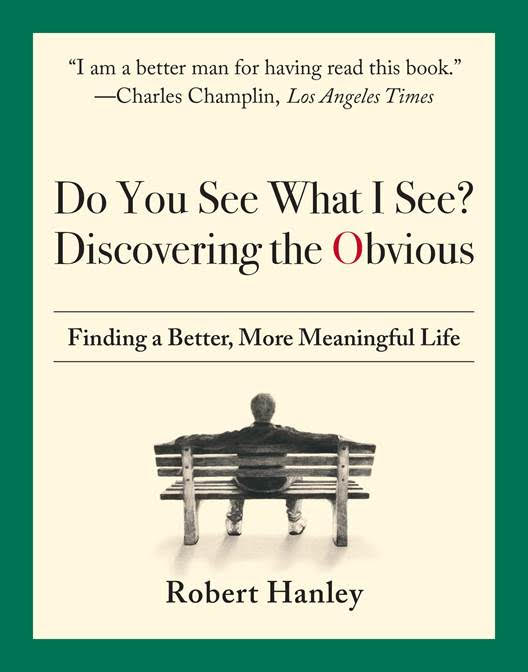 Do You See What I See? Discovering the Obvious
Robert Hanley
THIS BOOK IS ABOUT finding a better, more meaningful life. Robert Hanley has an insightful way of looking at the world-finding deeper meaning in everyday events that seem to float past the observations of most people. His unique perception has helped make his life better, bringing him greater understanding, joy, fulfillment, and peace. He reveals his common sense process through wise, humorous, and heartwarming real-life tales taken from his own personal experiences. They may well make you laugh, cry, think, and help you to see the common threads of what he calls "discovering the obvious." Whether filling up his car at a gas station or having his teeth cleaned at the dentist, auditioning for a film starring Robert De Niro and Al Pacino or giving the eulogy at Dean Martin's memorial, the universal truths and values Robert uncovers in these anecdotes and stories relay the everyday applicability of a simple perspective that can provide enormous benefits to each of us in our respective journeys through life.
Paperback $19.95
The publisher of this title offers:
Free Shipping
•  Author-signed copy of each book personalized to the recipient
•  Discounts on all multiple book purchases
You may contact us at any time with questions, comments, or reviews.
You may also purchase Do You See What I See? Discovering the Obvious on Amazon, at retail stores, or at one of Robert's live Seminars or Guest Speaking appearances—free shipping, discounts and signed copies of the book do not apply in these instances. For the sightless, the English version has been translated into Braille (BRF) and is available for free at the Xavier Society for the Blind in New York City.
This book is now available in English and Spanish. For the sightless, the English version has been translated into Braille (BRF) and is available for free at the Xavier Society for the Blind in New York City.
Thank you for your interest.
BOOK PRICES
Buy 1 book – $19.95
Each additional book – $17.95 each
For even better bulk pricing of 5 or more books – contact us
Orders are placed through PayPal using your credit card or checking account.
SHIPPING
Free shipping within the contiguous United States.
Books are sent USPS Media Mail and usually take 3-8 days to reach their destination.
For destinations outside the contiguous United States, please contact us.
Conversation with Cardinal Dolan
October 8, 2019
TESTIMONIALS
"You have given me homily material. In a very subtle way, [Robert] brings in faith…the way God reveals Himself. If you were looking for a simple, good gift . . . you couldn't go wrong with this. Anybody would like it – atheist, agnostic, deeply religious person. It's just good human wisdom!"— His Eminence Timothy Cardinal Dolan, Archbishop of New York
"There's a lot of wisdom here in these little stories. I am a better man for having read this book." — Charles Champlin, Arts Editor Emeritus, Los Angeles Times
"It's rare that one comes across a book that is so beautifully written, the contents of which are so wonderful and inspiring, that you have the sensation of coasting down a gentle slope on a big old, fire engine red, Schwinn bicycle, passing as you go marvelous trees from which you are able to pluck the choicest fruits of wisdom and insight. This is a fantastic book! You will take it with you wherever you go because you will not be able to put it down. Get it for anyone and everyone on your gift list." – Fr. Lawrence Tucker, SOLT, author of To Whom the Heart Decided to Love
"This is a fascinating, fast read book. In each interesting episode we discover again and again the joy of relishing the inner gifts we have as a way to peace, contentment and fulfillment, rather than entering the rat race of doing more and acquiring more things. Robert Hanley is a person comfortable in his own skin and he invites us to enjoy being who we are called to be. While most authors write from the perspective of experience, Hanley writes from the perspective of eternity, like he's already in heaven calling us home. This is a must-read book!" –Bishop Emeritus Robert Hermann, Archdiocese of St. Louis, author of Come Alive in Jesus
"Through a series of charming vignettes about his journey and those of the people he has met, Robert Hanley has woven a welcome tapestry of worthy lessons for practical and spiritual growth and a better life. Perseverance, fortitude, humility, dealing with humiliation, contentment, coincidence or providence, and faith all come to light in these stories, with readers being invited to reflect upon who they really are—and who they want to be and the choices they make in life. This engaging book of wisdom and love is one that you will want to read again and again." — Most Rev. Wilton D. Gregory, Archbishop of Washington
"I so enjoyed it! Practical, down to earth, but filled with great wisdom." — Most Rev. Gerald Wilkerson, D.D., Archdiocese of L.A., San Fernando Pastoral Region
"Robert is truly onto something in these simple, beautiful and insightful vignettes on life. He has prompted in me the memory of a line from a song in Leonard Bernstein's 'Mass' in which we are reminded that, 'God is the simplest of all.' Well, in his book Robert takes us on a journey that is both simple and sublime. I simply loved it and suspect that you will too!" — Most Rev. Joseph V. Brennan, Diocese of Fresno, California
"Written with insight, compassion, and love, with humor as a bonus. 'The Leash' chapter touched me and tickled me." — George Shapiro, Executive Producer, Seinfeld
"This is a book that distills truth from the smallest–and most profound–of human experiences." — Gordon Livingston, M.D., author of Too Soon Old, Too Late Smart
"Everyone loves a short book with good stories, humor, and life lessons. Robert Hanley has given us one–while reminding us to look for meaning in everyday events, to be forgiving, and to be humble. A heartwarming read!" — Hal Urban, author of Life's Greatest Lessons
"Robert Hanley's writing is filled with charm, grace, and style. Best of all, he is a very special storyteller. Enjoy." — Mike Downey, columnist, Chicago Tribune
"Delightful! Robert tells his story quickly and effectively while delivering valuable insights. He entertains as he shares what's inside him . . . and invites us to reflect on what's inside ourselves." — Rev. Bob Bonnot, Sr. VP, Programming, Hallmark Channel
"A beautiful book written with wisdom and love." — Cristina Carlino, Founder of philosophy
"I think these are nice stories, nicely told by a very nice man. I also think I've got to get a thesaurus." — Jim Brogan, stand-up comedian, writer, and talent coordinator, The Tonight Show with Jay Leno
"I read it at night before bed for many nights! I appreciated your appreciation of events you express as bite size digestible snacks. A worthy undertaking, since that is really what our lives are made up of – bite size snacks to relish every day." — Trina Paulus, author, Hope for the Flowers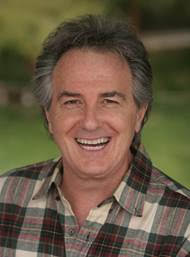 ROBERT HANLEY has a wide-ranging career in show business, using his talents to entertain as well as uplift people. As an actor, he's been cast in over 100 television shows, hosted game shows for the ABC and CBS television networks, and, as a singer/comedian backed by his own seventeen-piece orchestra, he entertains at many of the finest venues in Los Angeles for some of the most worthwhile charitable and nonprofit organizations in need. For over twenty-five years, Robert has also used his communication skills as a writer and speaker to educate, inspire and motivate thousands of people. Drawing on his personal experiences–many of which are detailed in this book–he regularly conducts seminars on the subject of finding a better, more meaningful life. He has been featured in numerous major media outlets across the country including NBC Nightly News, Washington (DC) Times, Los Angeles Times, Los Angeles Daily News, and Chicago Tribune. Both the city and county of Los Angeles have honored him with their respective Humanitarian of the Year awards.
OTHER ACADEMIC AND POPULAR SPIRITUALITY BOOKS
Manning Up! Lessons from St. Joseph and Jesus by Fr. Michael Nixon Today's world is encountering a profound crisis of manhood with confusion being sown about what it means to be a man, about what it means to be masculine, and about what it means to live as a male....
read more