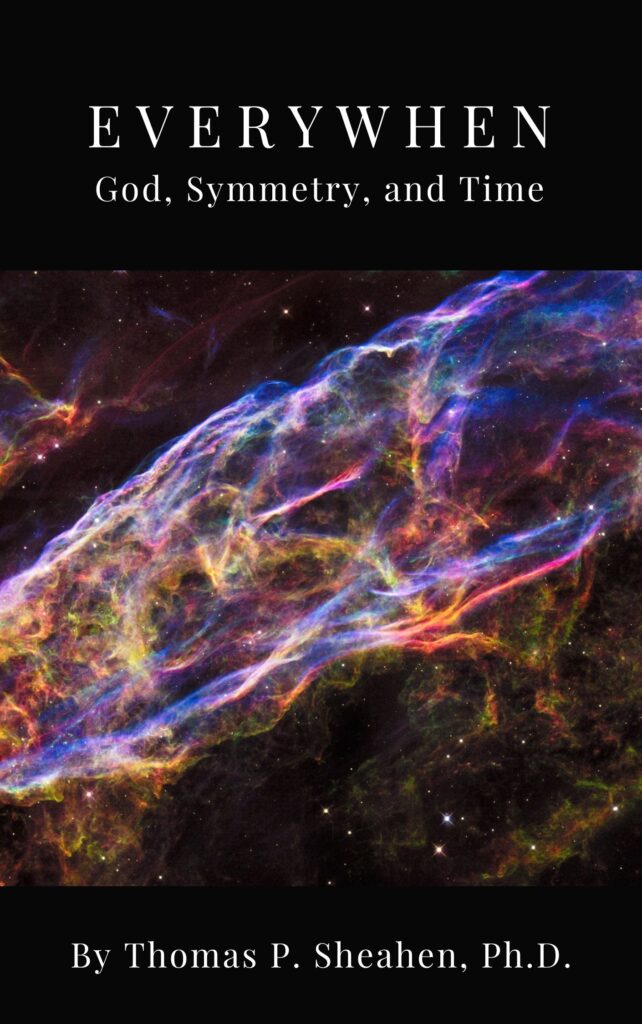 "The eternal now of God is definitely the underpinning of the Eucharist and your theory in Everywhen – absolutely correct." – from a personal email to Dr. Thomas Sheahen from Fr. Robert Spitzer, SJ
Everywhen: God, Symmetry, and Time
by Dr. Thomas P. Sheahen
Have you been told that science and religion are incompatible? Do you think you have to give one up to be consistent?
You don't. In this book, MIT-trained physicist Thomas Sheahen explains how you can:
trust in God more readily, by realizing that God is not limited by space and time
expand your human thinking and step up to a higher plane of understanding
realize that religion and science are complementary paths to knowledge–not opposed
understand that God thought up the laws of nature and uses them in creation.
Hardback: $23.99 | Paperback: $18.99 | Kindle: $9.99
---
REVIEW BY PRAVIN THEVATHASAN, CATHOLIC MEDICAL QUARTERLY
I really enjoyed reading this book. The author has forty-five years of experience as a research physicist. His love of science and the Catholic faith shines through.

 

As we advance from Newton to Einstein, what we see is the development of a symmetrical pattern. Time and Space have a relationship that earlier scientists were not aware of. The laws of physics have a beautiful symmetric pattern. Science is not something random. Everything is ordered. There is something stupendous going on here because it could have been otherwise.

 

But if everything was random, it would not have been possible for us to have such things as the laws of science. The very fact that the universe is so splendidly ordered suggests the existence of God who created space and time.

 

When atheists like Dawkins asks the question: "who created God?", the assumption is that God himself is in time. This suggests the superiority of time over God, and this is not the case.

 

The Bible teaches us that God is superior to space and time. The world of physics has shown that there is a starting point to creation. This was deeply embarrassing for the atheists! So, they decided to create a fiction: the multiverse. That is one way to come up with one random universe that could sustain life. There is no proof whatever for the existence of this multiverse. 

 

Although science and faith complement each other, science is not rooted in religion. The Bible teaches us how to go to heaven, not how the heavens go. Our limited minds cannot understand the mind of God. Stephen Hawking famously tried doing so and came up with the idea that gravity could explain everything. Which explains nothing. For Hawking, we are in existence by accident. There is no purpose in life.

 

Can we turn science in an idol? I attended a lecture many years ago given by the distinguished priest-scientist Stanley Jaki.  The take home message was that science is limited to measuring quantity. You cannot derive a set of moral beliefs from science alone. Love, beauty, truth, and goodness are beyond science but not opposed to it. In the ninetieth century, classical mechanics appeared to say that everything in nature is determined in advance. Science, it was suggested, can explain everything. How wrong they were. As science advances, the more we come to realise how little we actually know. They are surely wise who, like Socrates, recognize their limitations. "I know nothing" said the Fawlty Towers character Manuel. Such is the wisdom of fools.

 

I do have some reservations. The author appears to suggest that Teilhard de Chardin was someone who showed that science and theology complement each other. Unfortunately, Teilhard appears to have fallen into the errors of pantheism and the denial of original sin. There are other problems with Teilhard. The great Catholic philosopher Dietrich Von Hildebrand was scathing of his theories.

 

Having said that, I think this book is very good indeed. We have one more highly qualified scientist telling us that Christians have nothing to fear from science. Indeed, science and religion complement each other beautifully.
---
Everywhen. Beyond Everywhere.

 

God is smarter than Science.

 

While most will nod agreement without even thinking about it, a few may squint at the statement, not able to pit a known against an unknown entity. They know this fellow called Science; they have seen him and have marvelled at his revelations; The Other (whom they see mentioned in capital letters) is that unseen conjurer who is said to have pulled those rabbits out of this hat called Creation. To some, like Richard Dawkins and my mathematician neighbour, He does not even exist.

 

Thomas P. Sheahen, in his gently compelling book, Everywhen, convincingly presents an almost conjugal compatibility between Science and Religion; both confessing to a dependence on Faith.  The scientist and physicist has as much faith in E=MC2 as the Christian in the Trinity and the Hindu in an elephant god. He needs to believe in the heritage of science to move on. This faith among physicists embraces an appreciation of the "fearful" symmetry and beauty of God's creation, the symmetry of a multi-dimensional universe that challenges the boundaries of thought. For anything to be accepted by science, it has to be tested and subjected to measurement, but Sheahen states that "believing that a computer model equals truth is a unique new variety of idolatry."

 

Everywhen: God, Symmetry and Time is wide in its scope of inquiry, bringing into focus those blurred images of Infinity and eternal life, which sit easy within the mind of the believer but can never be defined under the proud lens of even the most powerful of Science's instruments. God is omnipotent and omnipresent, occupying the infinity of both space and time; not just everywhere; Everywhen. This is a book that has insights for everyone, presented in the vocabulary of vectors and matrices for scientists and physicists and clearly articulated for the theologian and layman. Everywhen is for everyone.
---
TESTIMONIALS
"I am impressed with Dr. Sheahen's explanation of how God is not only everywhere but also 'everywhen,' not dependent on time. God is real; let's stay Heaven bound. Cheers for eternity! 'I knew you before you were in your mother's womb.' ~ Jer1:5"

– Dr. Pat Castle, co-editor with Bernadette Costello of LIFE Runners Daily Devotions
"The author develops a model for the higher dimensional existence of God based on the symmetry laws and special relativity relations of physics, and very clearly explains it using the dimensional model published by Abbot in his book "Flatland". Very well written and easy to understand, especially for scientific readers." – Phil Cassady, Physicist
"If one accepts the premise that an intelligence created the universe, I am convinced that He would have to be close to what Tom describes." – Dr. Steven I. Parks, Washington, D.C.-area physicist
"I think Everywhen: God, Symmetry, and Time will be very valuable for helping people see how science points to faith and to recognize the false dichotomies between faith and science imposed on many minds within the popular culture by those who dislike religion or champion scientism. I also think that this book, particularly the multi-dimensional parts of the last chapter, will help people recognize the possibility of God free from the constraints of time, and a Heaven that may transcend some of the constraints of time. There are many other wonderful insights that will bring people closer to God and the unity between faith and reason." – Fr. Robert J. Spitzer, SJ, Host, "Fr. Spitzer's Universe"
"Dr. Sheahen has written a very insightful and at times provocative book, addressing the often-forgotten issue of Time in regard to the Omnipresence of God. He points out that Catholic belief in God's creation, both visible and invisible, includes not only the realm of space and particles, but also the very space-time fabric of reality. He applies the concept of God's independence from time to discuss the ramifications in the physics world, the meaning of eternity, and even the existence of Hell. I am sure you'll find this book to be interesting and thought provoking." – David J. Keys, PhD, author of Discovering the Fullness of Reality and Exploring the Belief in the Real Presence
ABOUT THE AUTHOR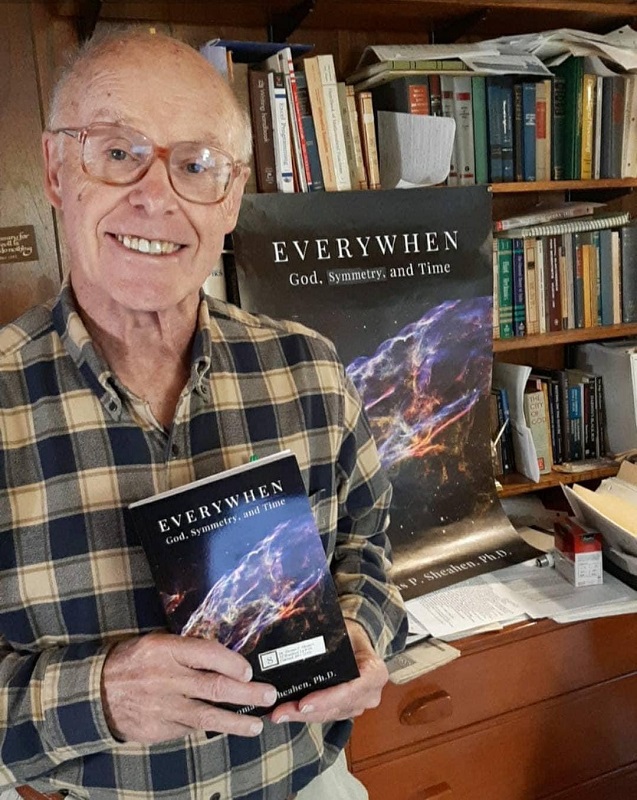 Thomas P. Sheahen earned BS and PhD degrees in physics from the Massachusetts Institute of Technology. During his 45-year career as a research physicist, predominantly in energy sciences, he worked for Bell Telephone Laboratories, the National Bureau of Standards, various research corporations, the U.S. Department of Energy, Argonne National Laboratory, and the National Renewable Energy Laboratory. He was chosen as a Congressional Research Fellow by the American Physical Society, dealing with energy-related national legislation. Dr. Sheahen wrote the textbook Introduction to High-Temperature Superconductivity.
Dr. Sheahen, a lifelong Catholic, is director emeritus of the Institute for the Theological Encounter with Science and Technology, which focuses on demonstrating the compatibility of faith and science as paths toward knowledge.
Disputed Catholic Landmarks by Gerard Verschuuren Everyone's life has landmarks: when you were born, when you graduated from school, when you got your first job, when you got married, and so many more. There must be many landmarks in the history of the Catholic...
read more