 History of Peter
by Roger Skrenes
Peter is spoken of 195 times in the New Testament, twice as many times as all the other Apostles combined. Today when Peter is discussed, however, what is most often emphasized is the erratic or sinful side of his personality. Jesus saw something deep and profound under Peter's brash exterior. Jesus saw the rock foundation of his Church in the breast of Peter (Matthew 16: 18-19)! Today, we readers should be assigning more attention to this deeper, more mysterious side of Peter.
Paperback: $19.95 | Kindle: $9.99
ABOUT THE AUTHOR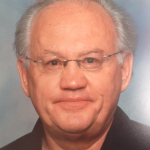 Roger Skrenes studied science as an undergraduate and history as a graduate. He holds a master's degree in religion and has taught high school in Los Angeles, California, for over thirty years, including six summers in the California Youth Authority (a prison for teenage boys in Whittier, CA). He is the father of three adult children, Mary, Mark and Therese. The Gender Link to the Human Soul by Kimberly Bruce The Gender Link to the Human Soul establishes gender as an element of the soul retained in this life and for all eternity. This is demonstrated in the brilliant philosophical insights of Thomas Aquinas and John Paul...
read more