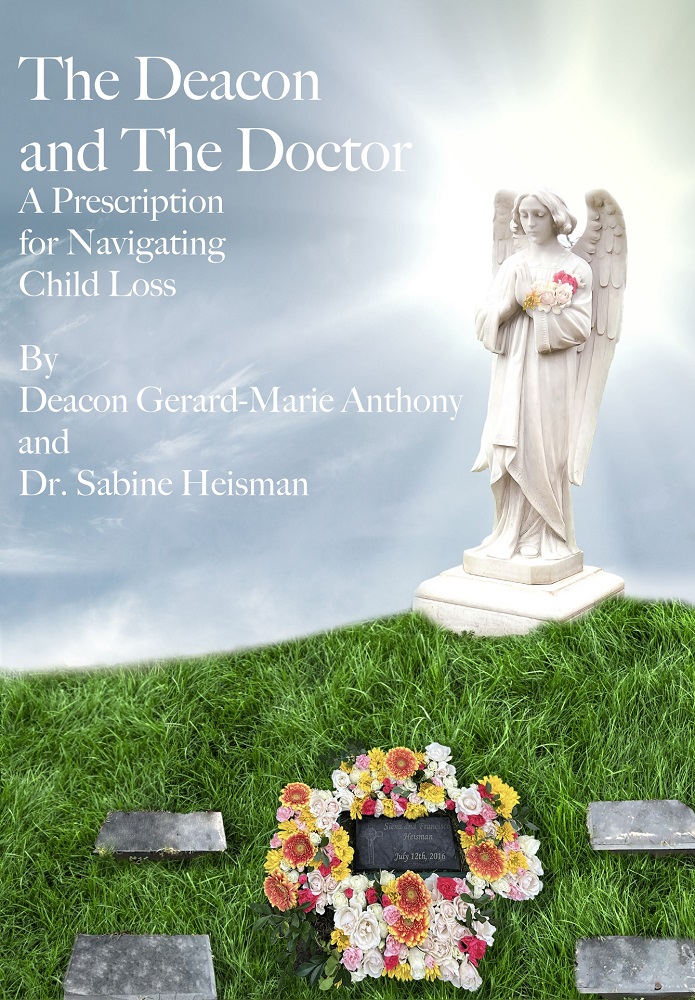 The Deacon and The Doctor: A Prescription for Navigating Child Loss

by Deacon Gerard-Marie Anthony and Dr. Sabine Heisman
The Deacon and the Doctor: A Prescription for Navigating Child Loss provides a spiritual, medical, psychological guide to help families A.C.Q.U.I.R.E peace after child loss. As one in four women experience miscarriage, it is essential to provide resources, bring awareness, and teach the community how to engage appropriately so these families are supported properly. Our hope is this book will help families and the community navigate the many obstacles encountered after child loss.
Pre-Order now by clicking on the PayPal link below. Books will be ready for shipping by mid-April. 
Paperback: $16.95 | Kindle: $9.99
TESTIMONIALS
"There is nothing more devastating to parents than the loss of a child. The Deacon and the Doctor is a light in the darkness, providing much needed practical wisdom, refreshing insights, psychological tools, and spiritual consolation on a topic that is finally receiving the attention it deserves. This book will undoubtedly encourage parents to place their bruised and broken hearts into the pierced soul of the Blessed Virgin Mary. The Deacon and the Doctor is simply the best resource available for dealing with the incredible grief of losing a child in the womb." – Deacon Harold Burke-Sivers, Author, Behold the Man: A Catholic Vision of Male Spirituality
"This book was tremendously moving in its content and analysis of miscarriages and stillbirths, from both the psychological and spiritual point of view. Having experienced a miscarriage in the 1st trimester of my first pregnancy, it was truly a sad time, as we had been waiting three years for pregnancy to occur. The content and guidance given in this book would have been a welcomed help in overcoming the sadness felt, at that time. I commend Dr. Heisman and Deacon Anthony for their knowledge, insight and direction to put together a comprehensive set of "prescriptions to breathe again and ACQUIRE peace" as God, our loving Father, intends for all mankind. May God bless all those "little one's", lost to this sad ending of life." – Ann Sadone Alisuag, LOM
"I have known Deacon Gerard-Marie Anthony before and after ordination. He is a Deacon who has a profound love of Catholic doctrine. Deacon Anthony's research into this great need of the Church will help heal those families who have suffered the loss of a child. I highly endorse his book." – Deacon Cody Miller  
"The subject covered in this book is one of the least discussed topics in the medical and psychiatric community. From my experience as a healthcare provider, I cannot recall any conference or discussion among my colleagues relating to the impact of miscarriage/stillbirth. This book is an invaluable resource for both the physician and the clergy in helping the mother, her family and the community to recover from this traumatic experience." – Andres Alisuag, MD
ABOUT THE AUTHORS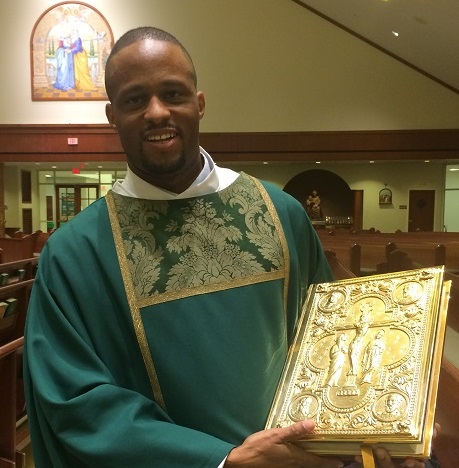 Gerard-Marie Anthony is a Deacon of the Catholic Church and Spiritual Director of A Mom's Peace, an organization that helps families experiencing miscarriage/stillbirth. He has an M.A in Theology, as well as Green Cross Trauma certifications including H.E.A.R.T. Model training for Treating Complex Trauma.  His website is: 
www.jmjgerardmarie.com
.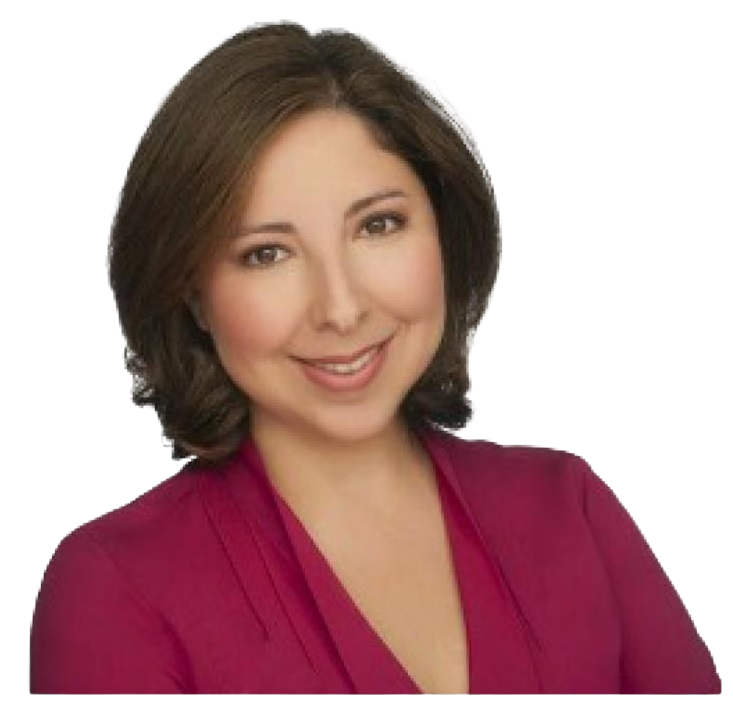 Dr. Heisman is a licensed clinical psychologist who specializes in the evaluation and assessment of educational/learning difficulties, as well as comprehensive psychological and neuropsychological assessments. She has worked across multiple settings to include hospitals, rehabilitation, neuropsychological, and forensic settings. Dr. Heisman is also the Therapeutic Director for A Mom's Peace, a non-profit that helps families who experience miscarriage/stillbirth. She also serves as an adjunct forensic psychology professor. Dr. Heisman is mother to three children, one on this Earth and twins in heaven. 
OTHER CATHOLIC SPIRITUALITY BOOKS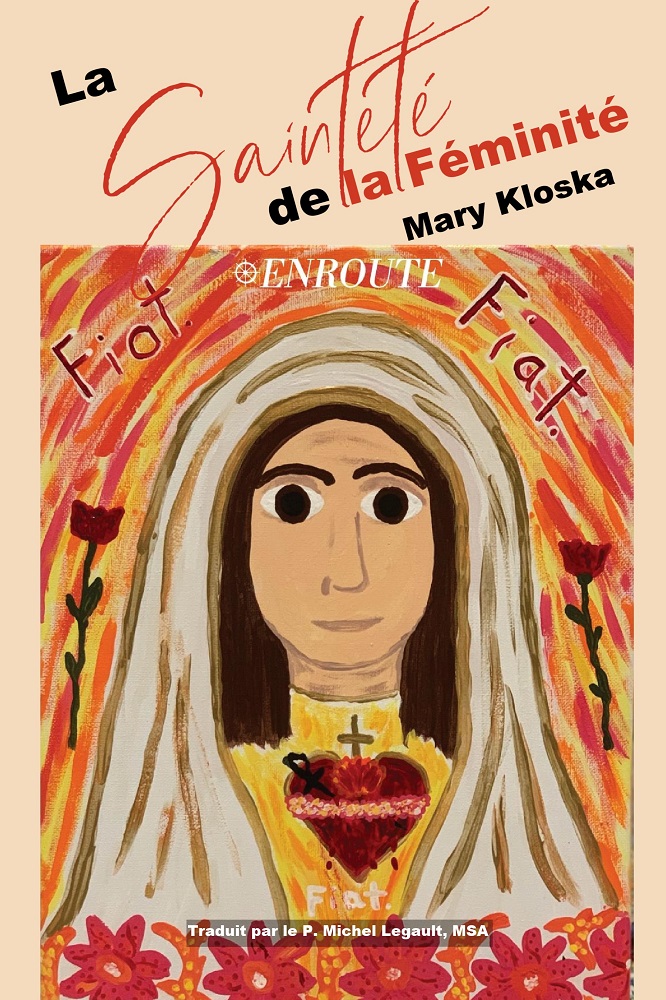 Below is a spiritual talk that Mary gave to a group of Polish youth at a retreat center in Babliniec, Poland about the Love that God has for them. It was on September 3, 2005 and is translated by Hania Przybylo. You can listen to this both in my English and Hania's...
read more