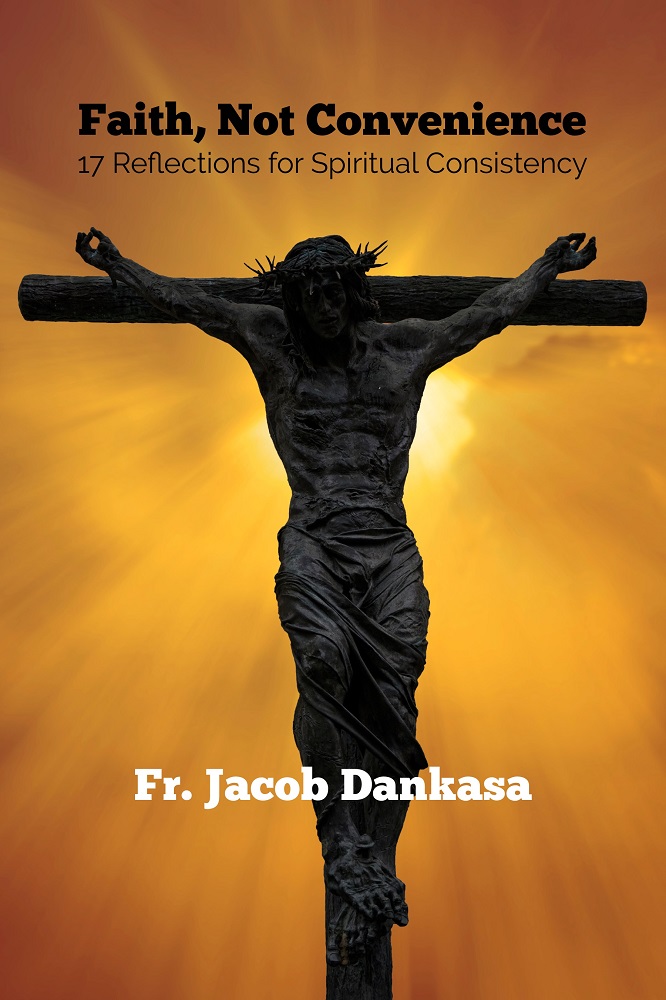 Faith, Not Convenience: 17 Reflections for Spiritual Consistency
by Fr. Jacob Dankasa
It's difficult to remain a committed Christian in our today's society where social, moral and political views are often in conflict with the standards of the teachings of Christ. The infiltration of personal ideologies into the faith has left many Catholics and Christians confused. Many cannot be certain where the application of their personal ideologies stops and the gospel begins.
In this book, Father Dankasa accompanies you on the path towards a consistent life journey in faith to find God in your prayer life, in your relationships, in your desire to live a virtuous life, in your community, and in your virtual life – yes, to find God also online. He points out how holiness in the virtual environment is as important as holiness in everyday "real life."
The book provides reflections with inspiring real-life stories and scripture to help you consistently journey with Jesus in your everyday life without losing your faith despite doubts, fears, and misunderstandings of faith and religion. It intends to accompany you in your spiritual journey to desire the gospel, not ideologies – faith, not convenience.
Paperback: $14.95 | Kindle: $9.99
TESTIMONIALS
"I enjoyed reading the book, Faith Not Convenience, by Fr. Jacob Dankasa. The book is personal, but profound. The reflections are challenging, but hopeful. The content could be well used for group discussion. It is a practical book with suggestions that are helpful to our spiritual lives. The book is well written and says enough without saying too much!" – Fr. Bruce Bradley, Pastor, St. Elizabeth Ann Seton, Plano, Texas
"It's refreshing when a priest like Fr. Jacob Dankasa encourages the faithful during turbulent times by guiding us back to that which is most important- namely a spiritual life laser-focused on Jesus Christ who is the Way the Truth and the Life.  Even though deep down we're all aware of this Truth, it's good from time to time to be reminded that only in Him will find the solution to the many problems that we're facing as a nation and Church." – Dave Palmer, Executive Director, Guadalupe Catholic Radio Network- North Texas
"In his work, Faith, Not Convenience, Father Jacob Dankasa points out the danger of allowing convenience and political ideology to dictate the truths of Faith and how we live that faith. We can be blinded to let what is easy or politically correct to dictate the Truths of Faith instead of what has been revealed by God through Scripture and Sacred Tradition. The several reflections he presented in this book will accompany you on a journey to concentrate on things that will help you sustain your faith." – Most Reverend J. Douglas Deshotel, Catholic Bishop of Lafayette
"Over the last few years, Father Jacob Dankasa has been sharing the story of his personal journey of faith as well as his reflections on faith in today's society with the readers of The Texas Catholic. His writings always strike a chord with our readers, offering them insight into what it means to live their lives through their faith while inspiring them to dig deeper into their own spirituality. Whether looking to find a better relationship with God in your life, your community or your own journey, Father Dankasa's writings, as shown in the book Faith, Not Convenience, are a great way to open your heart and mind as you grow in your faith." – Michael Gresham, Editor, The Texas Catholic Newspaper, the official Newspaper of the Catholic Diocese of Dallas
"This book is a gold mine of little nuggets of spiritual wisdom with plenty of points to ponder. Using examples from Scripture and from his own experience of priestly ministry, Fr. Dankasa provides a practical guide for today's Catholic in staying true to the spiritual journey. He reminds us of the importance of humility, gratitude and friendship; and that God is present in every aspect of our lives, from our interior prayer life to our social connections and networks. Living our faith is often a challenge in today's world, but it is the only way to find the peace and joy we desire in the midst of life's uncertainties. I recommend this book of reflections to anyone on the spiritual journey, whether a beginner or a seasoned traveler with the Lord. There is something for everyone." – Fr. Don Zeiler, Pastor, St. Gabriel the Archangel, McKinney, Texas 
"We loved reading this Book!  It was beyond our every hope; as We absorbed every encouragement, every faith-filled thought and then read it again – we felt delight in our soul returning. The Book clarifies the truth of the convenient choices we've regularly been offered and brings positive actions to use.  The book says, "As Christians our everyday goal is to identify Satan's manipulative input and stop him before he stops us from becoming what God wants us to be."  It points out a number of ways to do just that. Several very delightful thoughts in the book were surrounding "Digital Sanctity", "Christian Guide to Online Conversations" and Developing Online Communication Spirituality".  Those topics are very thought provoking and fun things to think about!" – Mary and Patrick Reddan, a Catholic couple
"I found Fr. Dankasa's book Faith, Not Convenience to be a source of both practical suggestions for living out our faith and insights into the areas where we tend to rationalize our lazy habits!  Fr. Dankasa reminds us of the truths we affirm each time we recite the creed, and gives concrete suggestions for ways to live out those truths, suggestions which are useful for both clergy and the lay faithful and applicable to the world we live in." – Ruth Vineyard, a Catholic and manuscript editor
ABOUT THE AUTHOR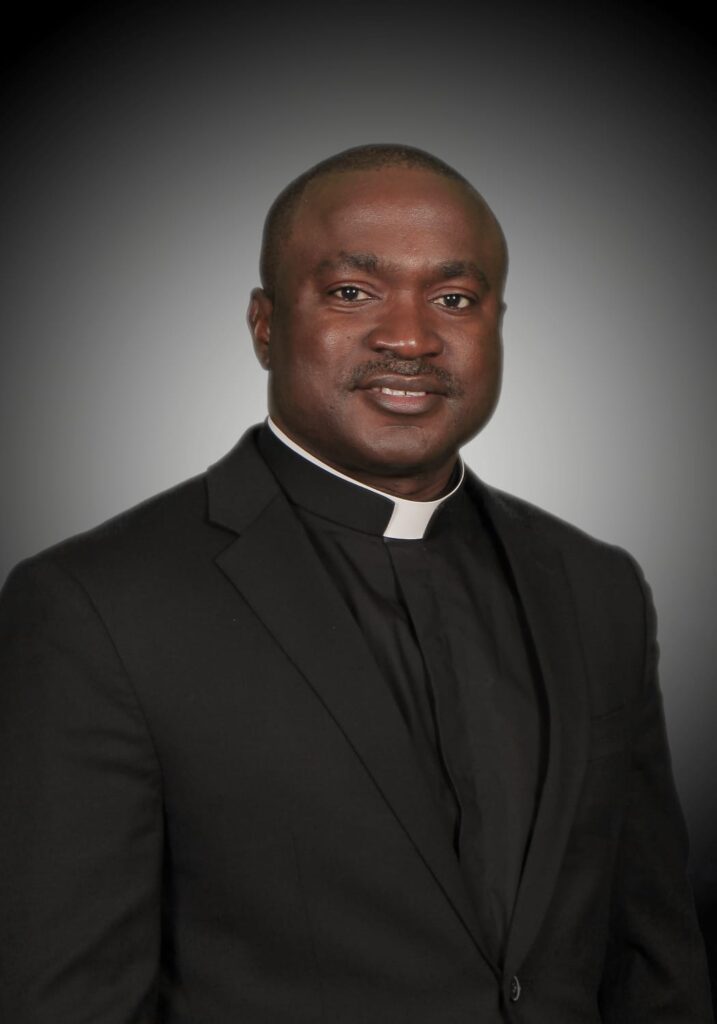 Father Jacob Dankasa has been serving in pastoral ministry in the Catholic Diocese of Dallas, Texas, since 2010. He was ordained in 2004 for the Catholic Diocese of Kafanchan, Nigeria, where he served until 2008 when he left for the United States. He currently serves as the Pastoral Administrator of Holy Family of Nazareth Catholic Church, Irving, Texas. He is a columnist and regular contributor to The Texas Catholic, the official newspaper of the Catholic Diocese of Dallas. He writes on topics of faith, spirituality, family and everyday Christian life. He is the author of the book, Technology for Ministry: Best Practices for Evangelization on Social Media and the Internet in Africa (Paulines Publication, Africa). He has written and published several research articles in national and international peer-reviewed academic journals on both religious and secular topics. Father Dankasa has a bachelor's degree in Philosophy from the Pontifical Urbaniana University, Rome and a bachelor's degree in theology from University of Jos, Nigeria. He obtained a master's degree in mass communications from St. Cloud State University, Minnesota, and a doctorate in Information Science from the University of North Texas, Denton, Texas. 
OTHER CATHOLIC SPIRITUALITY BOOKS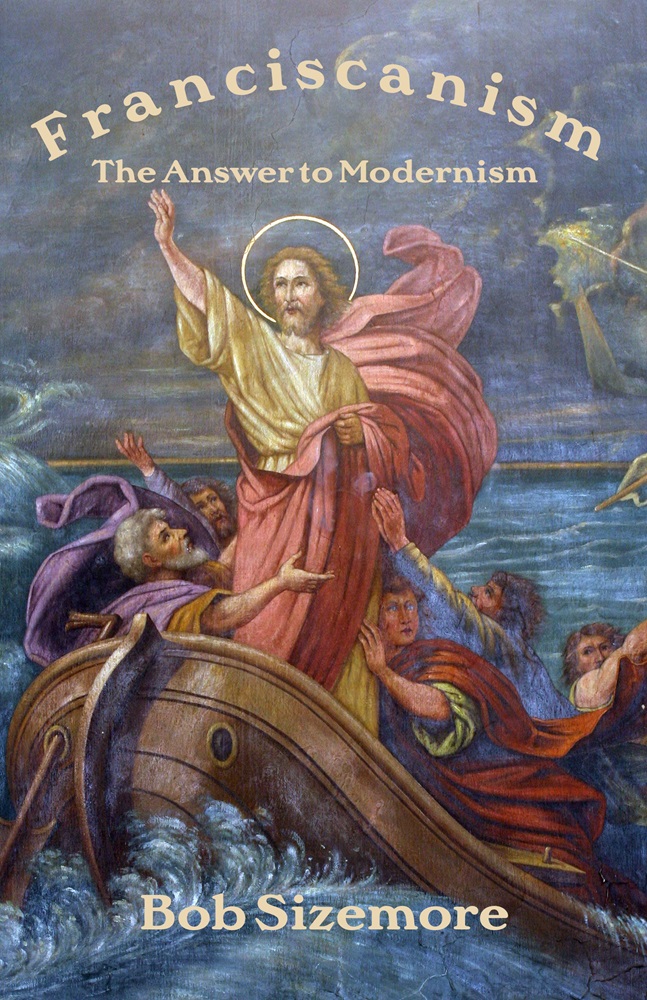 Franciscanism: The Answer to Modernism By Bob Sizemore In a culture of death, St. Francis restores us to life. This book invites the reader into Franciscanism as the answer to Modernism.   Paperback $7.99 | Kindle $2.99  TESTIMONIALS "As a Lay Dominican, I found in...
read more