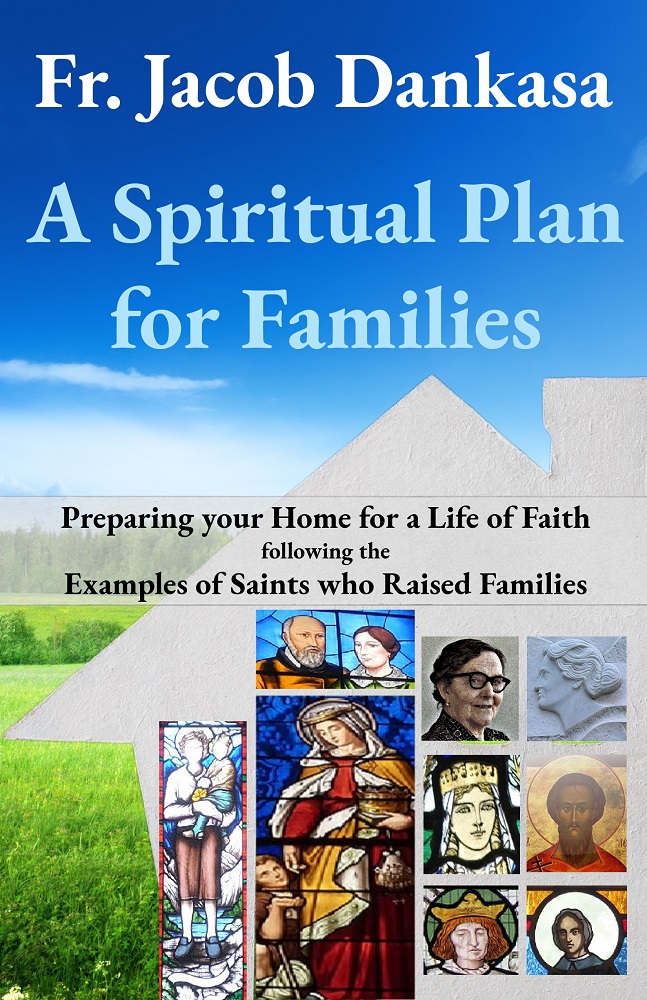 A Spiritual Plan for Families: Preparing your Home for a Life of Faith following the Examples of Saints who Raised Families
by Fr. Jacob Dankasa
Considering the challenges that many Christian families face today in building faith-based homes, it's essential that every family create a deliberate and carefully thought-out plan for its spiritual life.
This book examines and draws from the examples of ten family men and women who lived ordinary lives with courage and resilience and are today declared saints or are in the process of becoming saints. These men and women faced their own times of challenges, their own life crises, and their own joys and struggles as they raised their families, like many of us today.
In this book, Father Dankasa provides a guide into how everyday Christian parents, couples, intending couples or even singles can develop a spiritual plan for themselves and for their families in order to build faith-based homes regardless of their everyday challenges of family life.
The book is meant to strengthen family life and boost Christian families to see that in the ordinary activities of their everyday lives they can also live the lives of saints. It presents suggestions for Christian families to help them understand the importance of drawing a spiritual plan for their families in order to achieve the goal of holiness.
Paperback: $14.95 | Kindle: $9.99
TESTIMONIALS
In "A Spiritual Plan for Families", Father Jacob Dankasa provides a much needed read for every Catholic husband and wife raising a family today! Through the lives of modern day saints, we too can recognize that with careful planning, and even through the peaks and valleys of married life, Father God wants each of us to taste heaven and holiness while we are walking on earth. Be inspired today!! — Lisa Jones, Catholic Life and Relationship Coach, LR Coaching. 
Father Dankasa has channeled his priestly wisdom into a beautiful and inspiring book for married couples and families. Rooting his reflections in the lives and teachings of the saints, he offers many graced insights, both spiritual and practical, that will encourage husbands and wives to find solace and encouragement in their Catholic faith. I happily and heartily recommend this book to anyone seeking a renewed sense of joy as they discern the Lord's invitation to holiness through married love! — Father Thomas Esposito, O.Cist., Assistant Professor of Theology, University of Dallas.
We are parents of adult children who are now developing their own families. We'll gift this wonderful guidebook to each of them to help strengthen what they learned from us, and to enlighten them to develop an actual spiritual plan for their own growing families. It's as though Father Dankasa has a looking glass into our lives and his book helps us reroute our lives to a direct path to richer Christian family lives. The models of the saints' family lives are relevant to real-life issues today. These examples coupled together with the authors advice are practical and easy to apply to our own family lives. We believe the treasures found in this book are invaluable and will surely have a spiritual impact on our family. — Dolores Miranda, Mom
Catholics are facing ominous forces from various sectors of society. The family unit is being attacked by political policies, social liberalization, negative educational agendas, economic poor planning, and social media destruction of moral values. Families are overwhelmed and in need of guidance to combat and ameliorate the anxieties, fears, and wellbeing of the family. Finally, a book that lays out a road map to strengthen the security of families through a faithful Catholic paradigm. Father Dankasa's book clearly presents a strategic blueprint to enhance all facets of family life. It builds inspiration through the model live of saints and the major components listed in his book. This is a rescue lifeline that has been long in coming to inspire, motivate, and encourage us to fight adversity. Bravo, Father Dankasa! — Leo Miranda, Dad
In a class with other young parents many years ago, we heard a Bible Study teacher ask, "How much time do you spend plotting and planning your children's earthly careers? Alternatively, how much time do you devote to their eternal 'careers'?" Indeed, it is tempting to dedicate more time than we may realize to finding the best piano teacher, soccer coach, or tutor. In the midst of the ever-present mundane, Fr. Dankasa's book is an inspiring guide full of tips to help parents avoid sacrificing the spiritual growth of the family. It's not just the sports tournament or the summer camps, for example, that fill the calendar, but activities planned together with the children that strengthen faith lived with joy and with mercy to our own family members. As Fr. Dankasa says, "Little acts of invoking the spiritual without denying fun moments will make the things of God feel more natural and acceptable to growing kids, especially in their teenage stage." — Jackie and Bob Greenfield, Parents
Fr. Dankasa writes with honesty an essential guide for all families, giving concrete and practical advice on how to have a peaceful and prayerful household. — Matthew and Julia Wade, Young parents
Thoughtfully crafted through the sharing of his experience as a pastoral leader and the lives of the saints, Fr. Dankasa's words extend beyond the pages to become tangible modalities of accompaniment for families navigating the beautiful mess and joy of family life. Fr. Dankasa's Spiritual Plan for Families certainly is a wonderful resource for all Catholic families who yearn to be guided in the building and rebuilding of their domestic churches." — Dr. Jody Hunt, Affiliate Assistant Professor of Ministry, University of Dallas.
ABOUT THE AUTHOR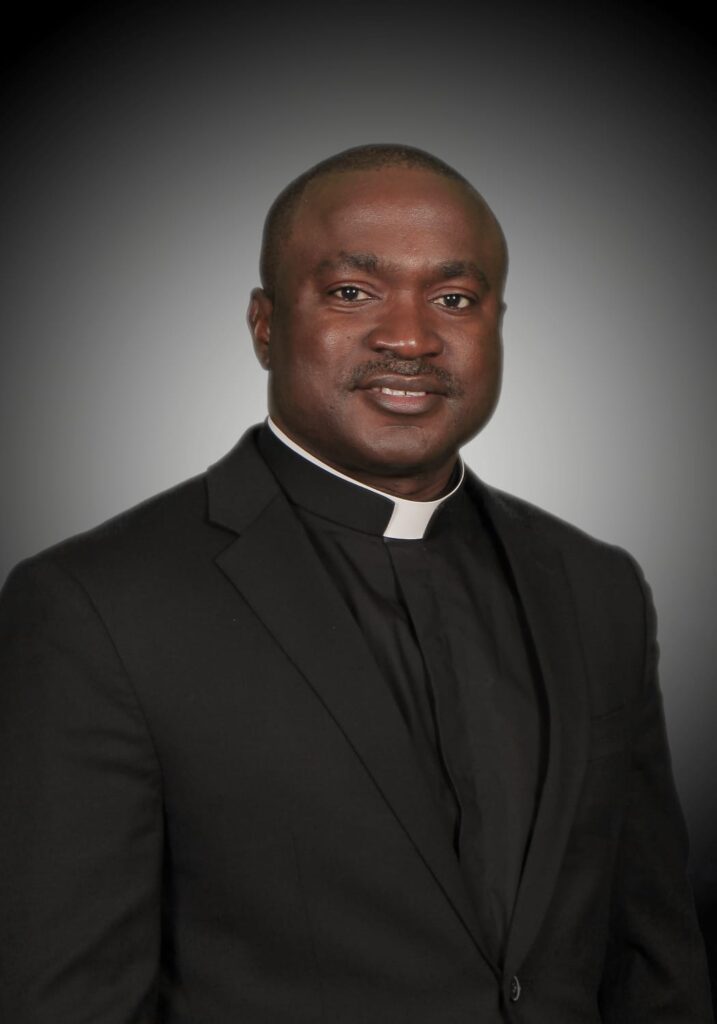 Father Jacob Dankasa was ordained a Catholic priest in 2004 and presently serves as the Pastoral Administrator of Holy Family of Nazareth Catholic Church in Irving, Texas. He is a columnist and regular contributor to The Texas Catholic Newspaper of the Catholic Diocese of Dallas. In addition to bachelor's degrees in Philosophy and theology, he has a master's degree in Mass Communications and a doctorate in Information Science.

OTHER CATHOLIC SPIRITUALITY BOOKS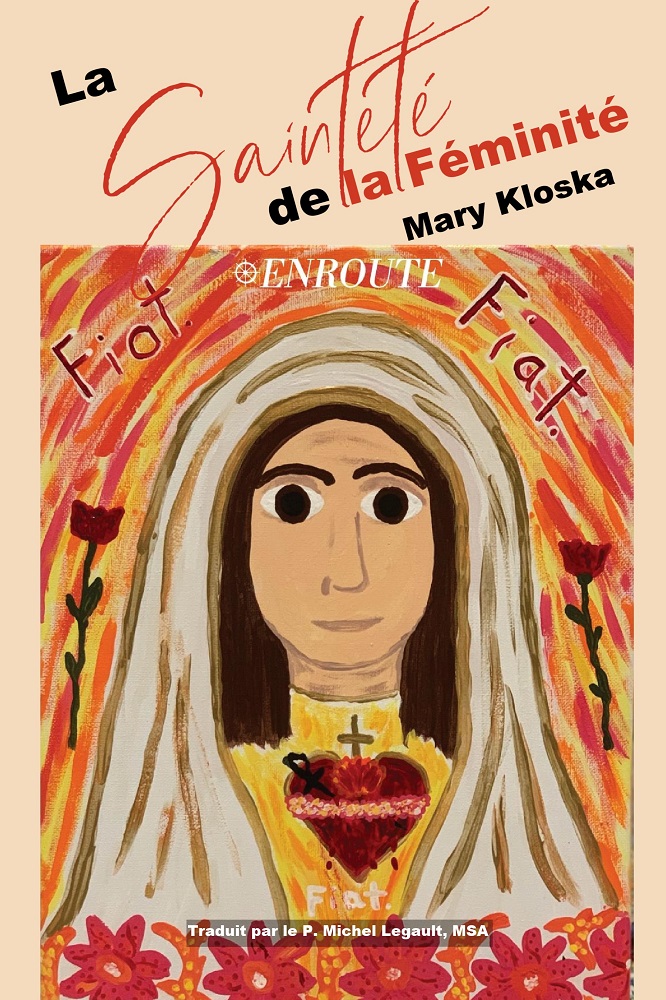 Below is a spiritual talk that Mary gave to a group of Polish youth at a retreat center in Babliniec, Poland about the Love that God has for them. It was on September 3, 2005 and is translated by Hania Przybylo. You can listen to this both in my English and Hania's...
read more