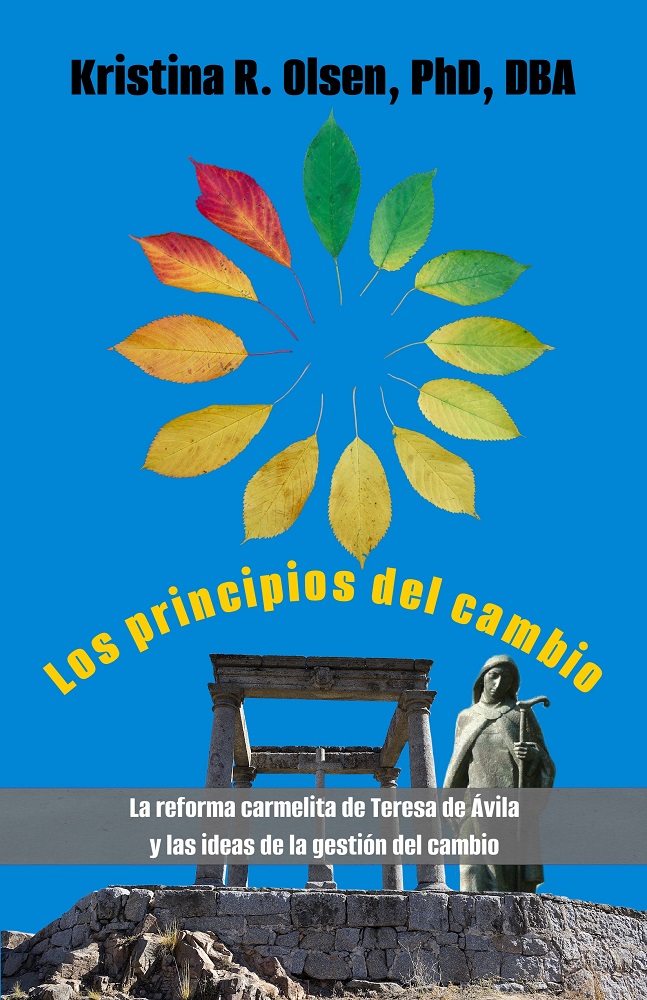 Los principios del cambio: La reforma carmelita de Teresa de Ávila y las ideas de la gestión del cambio
Kristina R. Olsen
Este libro se basa en los principios de gestión del cambio organizacional para examinar la reforma de la Orden Carmelita de Teresa de Ávila en el siglo XVI. Durante los últimos veinte años de su vida, Teresa abordó los problemas que vio en los monasterios carmelitas de su época, incluida la administración ineficaz, el hacinamiento y la laxitud en las prácticas espirituales. Al volver al propósito original y la Regla escrita de los fundadores carmelitas, Teresa lanzó una reforma de la Orden Carmelita utilizando principios similares a los que se aplican en la gestión del cambio y la adopción de tecnología de la información (TI) de la actualidad. Este libro examina su reforma a la luz de la teoría y la práctica de la gestión del cambio, con el fin de arrojar luz sobre lo que hizo que su reforma fuera exitosa y cómo se podría aplicar su enfoque a la gestión del cambio en las organizaciones espirituales y seculares de hoy.
Paperback $14.95 | Kindle $9.99
Testimonios
"Para contrarrestar la idea de que los santos y los místicos son ajenos a la vida cotidiana, la Dra. Kristina Olsen, en Principles of Change: Teresa of Avila's Carmelite Reform and Insights from Change Management muestra a Teresa de Ávila muy implicada en el tratamiento de los problemas relacionales y la resistencia a la reforma en las comunidades carmelitas que fundó. La espiritualidad es una disciplina interdisciplinaria, pero Olsen lleva los estudios de espiritualidad en una nueva dirección al recurrir al campo de la administración de empresas. Lo que surge es una apreciación mucho más rica del talento de Teresa de Ávila, ya que Olsen destaca el talento de la mística para la gestión y la reforma de las organizaciones. La resonancia entre los esfuerzos contemporáneos para motivar a la gente a adoptar las nuevas tecnologías y el enfoque de Teresa para invitar a sus monjas a la reforma es sorprendente. Esta obra innovadora es una importante contribución a los estudios teresianos". – Raymond Studzinski, O.S.B., Ph.D., Director, Programa de Doctorado en Espiritualidad, Escuela de Teología y Estudios Religiosos, Universidad Católica de América
"Este es un libro sorprendentemente oportuno que nos enseña cómo el conocimiento y la religión han convivido durante siglos. El libro describe convincentemente cómo Teresa utilizó lo que podríamos llamar 'principios de cambio organizativo' para realizar cambios importantes en los monasterios carmelitas. Teresa abordó problemas no muy diferentes a los nuestros hoy en día: gestión incompetente, moral laxa, falta de dirección clara. La Dra. Olsen muestra cómo las estrategias que empleó Teresa pueden utilizarse, y se utilizan, para animar a los trabajadores a adoptar y aceptar las nuevas tecnologías. Eso incluye fomentar una actitud favorable tanto a la tecnología como al cambio, viendo los beneficios de adoptar la nueva tecnología. La autora se basa en los estudios sobre el "comportamiento planificado", la gestión de la resistencia, la innovación y la "aceptación". La Dra. Olsen conoce su temática. Durante varios años, ha enseñado la espiritualidad carmelita y otras materias en el Colegio y Seminario de los Santos Apóstoles en Cromwell, CT. Sus estudios de Doctorado en Administración de Empresas culminaron con su disertación sobre "El papel de la actitud en la aceptación y adopción de la tecnología de la información". Principles of Change muestra que el liderazgo, el conocimiento y la espiritualidad pueden ser compatibles. De hecho, pueden ser justo lo que la sociedad necesita hoy en día". – James P. Gelatt, Ph.D., Profesor, Doctor en Administración de Empresas, Universidad de MD Global Campus
Sobre la Autora
La Dra. Kristina Olsen tiene un Doctorado en Teología y Espiritualidad  (Ph.D) de la Universidad Católica de América,  otro Doctorado en Adminstracion de Empresas (D.B.A).de la Universidad de Maryland, y una Maestria en Ciencias de la Computación (M.S.) de la Universidad Northwestern. También tiene certificaciones en Gestión de Proyectos (PMP) y Gestión del Cambio (PCP). Está jubilada de  los Laboratiorios Bell, donde fue miembro del personal técnico. Actualmente trabaja en la Oficina de Innovación y Tecnología de la Ciudad de Filadelfia. También imparte cursos de Teología, Negocios y Tecnologías de la Información en varias universidades. Es miembro de la Orden Seglar de los Carmelitas Descalzos (OCDS).
Scholars of the Sacred: Dominican Theologians in Late Medieval Byzantium by James Likoudis This in-depth study of the Catholic–Orthodox reunion efforts during the tumultuous 11th –15th centuries reveals the vital role played by the Dominican Order in shaping the...
read more