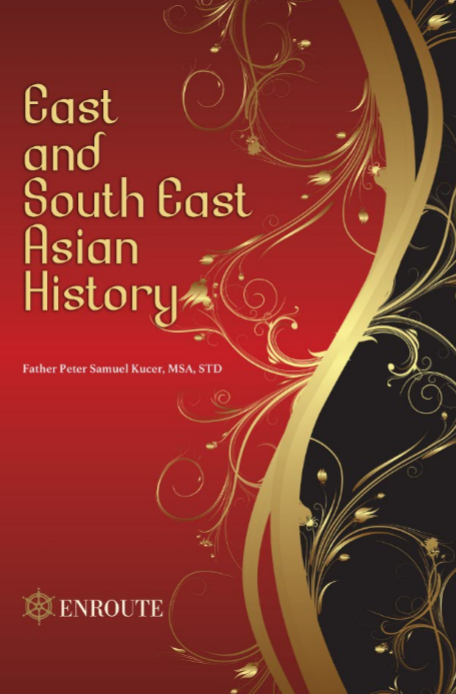 East and South East Asian History
by Fr. Peter Samuel Kucer, MSA
East and South East Asian History studies the historical development of countries that make up East Asia (China, Taiwan, Japan, Mongolia, North Korea, South Korea) and countries that make up South East Asia (Vietnam, Cambodia, Brunei, Indonesia, Laos, Malaysia, Myanmar, Philippines, Singapore, Thailand, East Timor). Although each of these countries and regions has a unique identity, they share common philosophies, customs, and practices. To bring out what these countries have in common, we will study them together while respecting their uniqueness. We begin with Asian pre-history and conclude with modern East Asia.
Paperback $19.99 | Kindle $9.99
TESTIMONIALS
Fr. Peter Samuel Kucer, MSA, has produced quite a grand opus in his collection of works on Marian Devotion, Catholic Church History, East and South East Asian History, Catholic Apologetics, Protology and the Priesthood, Western Civilization and Political Science. Each of his books provides wisdom for the beginner and clarity for the educated. – Dr. Sebastian Mahfood, OP, Professor of Interdisciplinary Studies, Holy Apostles College & Seminary
ABOUT THE AUTHOR
Father Peter Samuel Kucer, MSA, STD, currently serves as President-Rector and Associate Professor of Theology at Holy Apostles College and Seminary in Cromwell, CT. He received degrees from Middlebury College, Holy Apostles College and Seminary, the Dominican House of Studies, and the Catholic University of America. He is intent on putting his educational background at the service of the New Evangelization promoted by the recent popes. Clerical Sexual Misconduct, Vol 2: A Foundational Conversation Ed. by Jane F. Adolphe and Robert Fastiggi The abuse, harassment, or devaluation of women, in any form by Catholic priests and bishops, raises concerns about: 1) whether clerics have a healthy...
read more