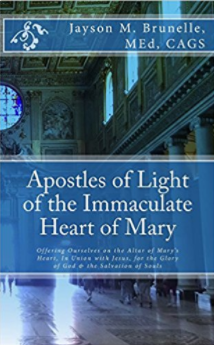 Apostles of Light of the Immaculate Heart of Mary: Offering Ourselves on the Altar of Mary's Heart in Union with Jesus, for the Glory of God & the Salvation of Souls
by Jayson M. Brunelle
If you like this one, you might consider also buying Jayson's The Blessed Mother's Plan to Save Humanity: Marian Revelations and Necessity of Total Consecration available on Amazon. For other books by Jayson Brunelle, see his author page.
---
In essence, the goal, or mission, of the Apostles of Light of the Immaculate, is to spend ourselves ever-more completely, and to give of ourselves ever-more generously, in cooperation with the grace of God, mediated through Mary Immaculate – Mediatrix of all Graces – in an unceasing act of adoration, glorification, gratitude, expiation, reparation and supplication to the Sacred and Eucharistic Heart of our Lord, Jesus Christ. Moreover, we offer to Mary, and place on the altar of her Immaculate Heart, all of the prayers, works, joys & sufferings of each day and of our entire lives.
Paperback $12.99
ABOUT THE AUTHOR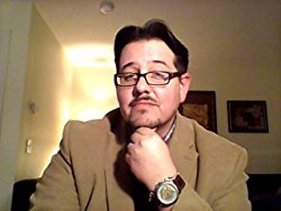 Jayson M. Brunelle, M.Ed., CAGS, holds a Bachelor of Arts in Philosophy and Theology from Franciscan University of Steubenville, a Master of Education in Counseling Psychology from Springfield College and a Certificate of Advanced Graduate Studies in Clinical Mental Health Counseling, also from Springfield College. Moreover, Brunelle earned a Certificate of Completion from the Pre-Theology program at St. John's Seminary, School of Theology. Brunelle has come full-circle, academically speaking, as he is currently working toward a second Master's degree in Theology at Franciscan University. Brunelle's writings have been featured in the "Homiletic and Pastoral Review" and "Lay Witness," and have been listed among "The Best in Catholic Blogging" by EWTN's "National Catholic Register." Recently, he became the Host of the Catholic Internet-Based Radio Show, Glories of Mary, which airs live, every Monday evening, from 8:00 PM to 9:00 PM, on http://www.wcatradio.com, the on-air wing of En Route Media, founded by Dr. Sebastian Mahfood, OP. Brunelle's blog is http://www.MarianApostolate.com, and he may be reached at jaymbru@gmail.com.
OTHER POPULAR SPIRITUALITY BOOKS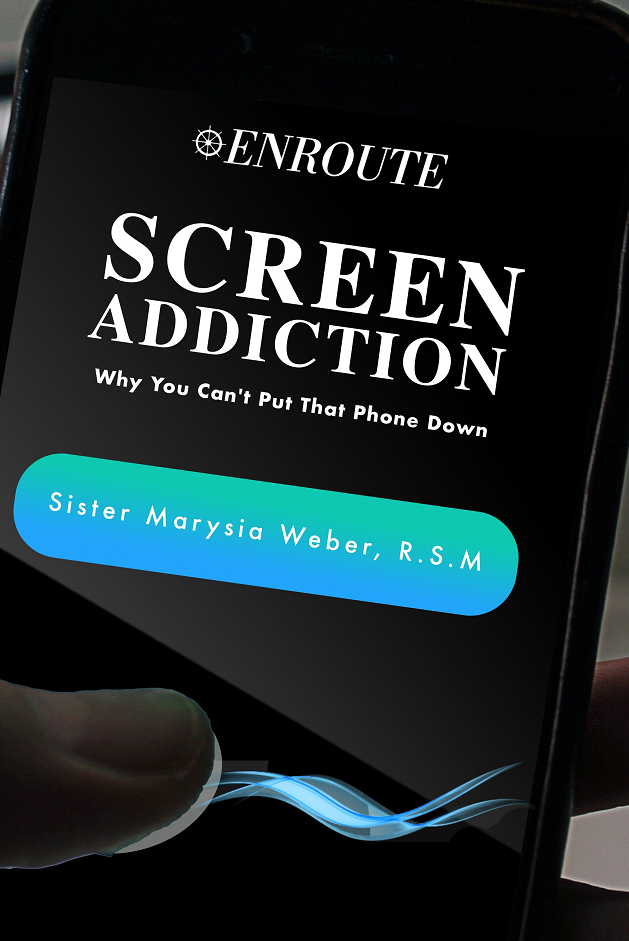 Screen Addiction: Why You Can't Put That Phone Down by Sister Marysia Weber, RSM Have you ever had an irresistible urge to check your texts, social media posts or email updates when your cell phone rings, beeps or buzzes? Is the amount of time spent on...
read more