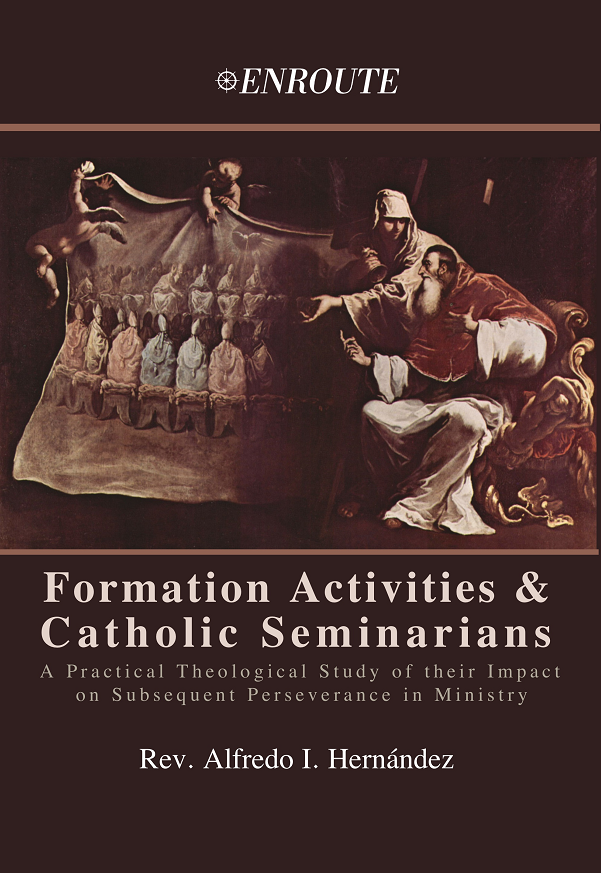 Formation Activities and Catholic Seminarians: A Practical Theological Study of their Impact on Subsequent Perseverance in Ministry
by Rev. Alfredo I. Hernández
What can we seminary formators, bishops, and others involved in the formation of seminarians do to help the men who are ordained from our seminaries to be joyful and fruitful as priests and persevere in ministry? The answer to this question is grounded in practical theology and concerns the specific changes we might make in the choice of formation activities during seminary to increase the likelihood of lifelong perseverance. Father Alfredo Hernández invites his fellow formators to consider with him the theological and pastoral benefits and the impact on priestly formation of each of the programs included in the study: Clinical Pastoral Education (CPE), the Institute for Priestly Formation, pastoral year internships, spirituality or propaedeutic year experience, priestly fraternity groups, and pastoral language immersion programs.
Paperback: $14.99 | Kindle: $9.99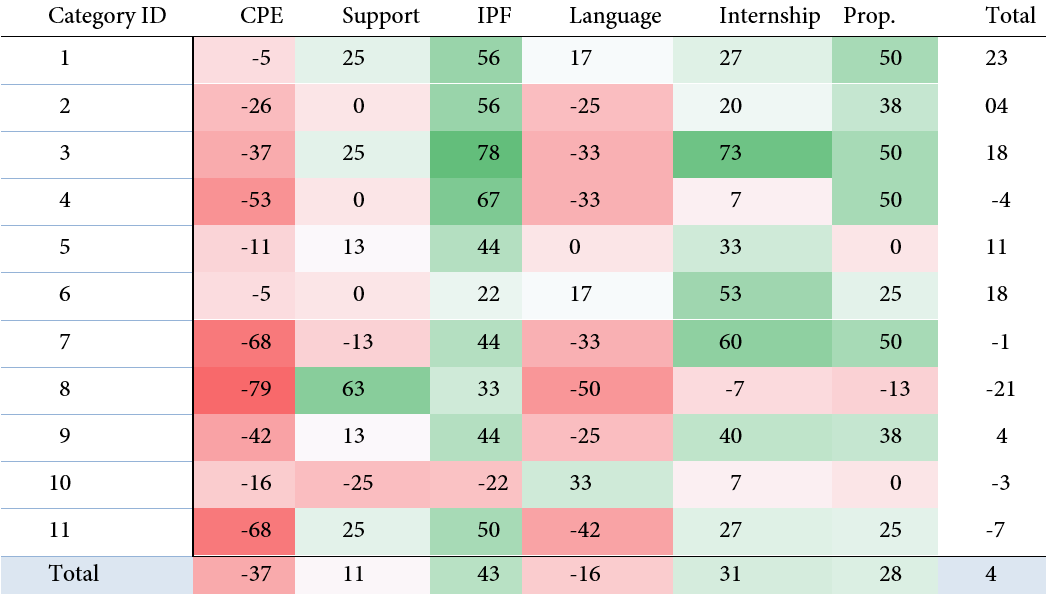 This table helps to point out the activities with the highest positive and negative effects on each aspect of formation. The blocks shaded in green show positive Net Impact Scores (the darker green, the more positive the score) while the blocks shaded in red show negative Net Impact Scores (the darker red, the more negative the score). IPF has the highest total Net Impact Score, 43, while the pastoral-year internship experience and a propaedeutic or spirituality year experience are in second and third place, with total Net Impact Score of 31 and 28, respectively. The only programs with a negative Net Impact Score are CPE and language immersion programs, with CPE having a much higher negative net impact, –37. To see how this grid was put together, get your copy of this book today!
TESTIMONIALS
"We certainly all desire good and holy priests who will persevere through the joys and trials of life. This book sheds light on the various programs that seminaries use to assist in the formation of future priests in order to do all that can be done to ensure a joyful, fruitful, and lasting ministry. As a former rector of a major seminary, and now a bishop, I have found this book to be of great value. Fr. Hernández asks important questions, provides some important answers, offers recommendations for formation today, and opens doors for future research." +David L. Toups, Bishop-elect of the Diocese of Beaumont, Former Rector of St. Vincent de Paul Regional Seminary, Boynton Beach
"Fr. Hernández's highly-valued systematic research is immensely important and timely as it supplies Bishops, Vocation Directors, Rectors, Seminary Formators and all of the lay faithful especially interested in seminary formation with new practical wisdom. The positive and negative impact of a wide variety of seminary programs are creatively analyzed and clear recommendations emerge regarding what programs actually produce ministerial joy and fruitfulness in the lives of future priests." – Fr. John Horn, S.J., Faculty at St. Vincent de Paul Regional Seminary, Co-Founder of the Institute for Priestly Formation and the Seminary Formation Council
"In higher education in the last decade, a great deal of emphasis has been placed on outcomes-based education. This focus could not be more critical than in the area of priestly formation, where the purpose of formation is specifically to prepare seminarians for lifelong ministry. Yet, almost no studies have been done or data collected on the impact of seminary programs on lifelong formation and ministerial practice. Once ordained, the priest is ontologically changed and hence always a priest, yet how has formation prepared seminarians in a way that they can be joyful and effective priests and be prepared to persevere throughout their whole lives in living out this change? How is the soil for the grace of ordination best prepared? Fr. Hernández's research makes an important initial foray into this area of research. His findings provide food for thought for seminary formators and administrators, and they will catalyze conversation about the contributions made by a wide range of seminary formation programs. And, even more importantly, this study has unflinchingly asked the questions and kicked-off a direction of inquiry that could help shape effective formation in the years to come." – S. Mary Krysiak Bittár, Director of the Office of Research and Institutional Effectiveness and Assistant Professor, St. Vincent de Paul Regional Seminary
"A must-read for all involved in seminary formation. Its engaging writing style, grounding in theology of priesthood and research literature, and suggestive conclusions are enough to commend this to a very wide readership. Its astute engagement of practical theology marks it as exceptional. I highly recommend this work." — Bryan T. Froehle, Professor of Practical Theology, Director of the Ph.D. Program in Practical Theology, St. Thomas University, Miami
ABOUT THE AUTHOR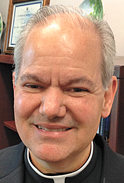 Rev. Alfredo I. Hernández is Vice Rector and Academic Dean at St. Vincent de Paul Regional Seminary in Boynton Beach, Florida, where he has served on the formation faculty from 1997 to 1999 and from 2013 to the present. Ordained a priest of the Diocese of Palm Beach in 1992, he served 14 years as Pastor of St. Juliana Parish in West Palm Beach, from 1999 to 2013, and a year as the director of permanent diaconate formation from 2015 to 2016. He earned an STL in Dogmatic Theology from the Pontifical Gregorian University in Rome and a PhD in Pastoral Studies from North-West University in Potchefstroom, South Africa.
OTHER PRACTICAL THEOLOGY BOOKS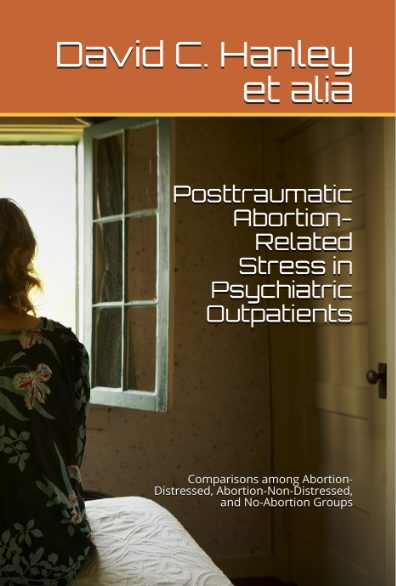 Posttraumatic Abortion-Related Stress in Psychiatric Outpatients: Comparisons among Abortion-Distressed, Abortion-Non-Distressed, and No-Abortion Groups by David C. Hanley, Rachel L. Anderson, David B. Larson, Harry L. Piersma, D. Stephen King, Roger C. Sider...
read more