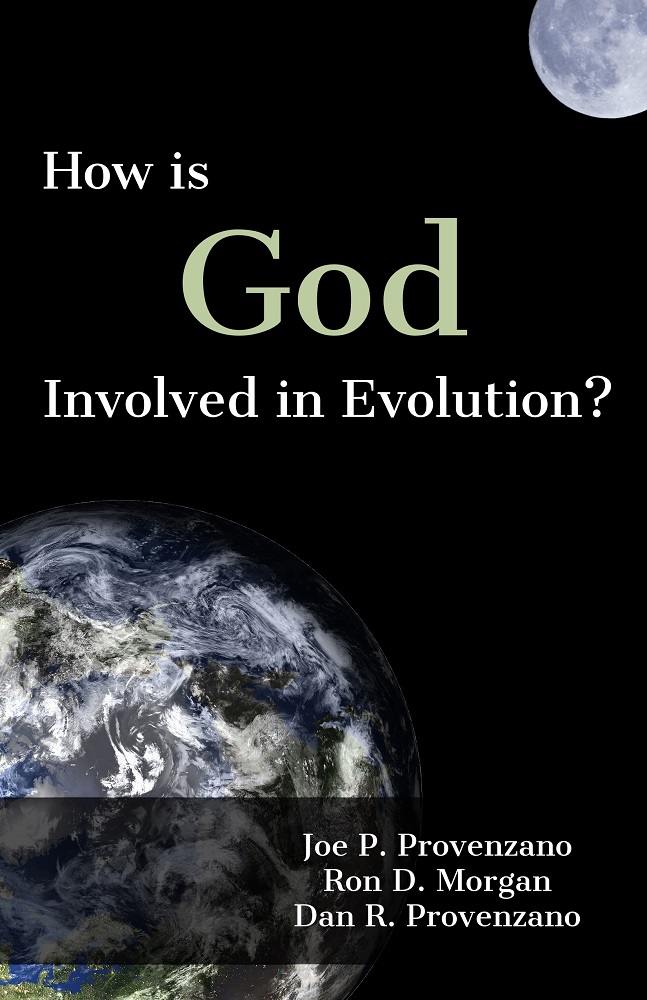 How is God Involved in Evolution?
by Joe P. Provenzano, Ron D. Morgan, and Dan R. Provenzano
We have been searching for a satisfying answer to this question nearly all of our adult lives, and both Joe and Ron are almost 80. This journey of 50 years led us on an unpredictable path that connected many puzzle pieces together. Along the journey we realized why it's been so hard to get an answer that is consistent with both modern science and traditional religion. In this book, we tell the story of this journey, describing how we got such a unique answer to this question. We hope others who travel with us enjoy the journey, but more importantly, we believe that some will find it as helpful and insightful as we did.
Paperback $12.99 | Kindle $9.99
REVIEWS
Post by Agbata Trust

[Following is an official 

OnlineBookClub.org

 review of "How is God Involved in Evolution?" by Joe P. Provenzano, Ron D. Morgan, and Dan R. Provenzano.]

With the recent developments and findings in the field of science, a lot of believers are beginning to ask questions about most of the teachings that have been there for ages, and most people would rather stick to proven facts than mere hearsay. This has led theologians, thinkers, and philosophers into detailed research and studies to come up with ideas that would end this controversy.

Joe P. Provenzano, Ron D. Morgan, and Dan R. Provenzano's book, How is God Involved in Evolution? is amazing and has a lot to say about God's involvement in evolution. From the idea of Teilhard, which talks about the universe having various states that can change, and also from St. Thomas Aquinas's ideas when compared, they were able to give a very beautiful revelation of God's involvement in evolution, especially when the author found the missing link, which gave us an idea of where matter and energy from the beginning came from. This was called the FAM. But then there were still some challenges that needed to be solved, which led to more searching and has been talked about in detail in this book. Grab a copy to find out.

It was a thrilling experience to have come across a book of such kind with no ambiguity and a very easy understanding. I knew this would be a brilliant read when I first came across the book title and cover page. And I love how the author stuck to the lesson. The narrative pattern of this book was very nice, and I also enjoyed the fact that the authors were able to manage the ideas in such a way that there were no conflicts. I learned a lot from this book. I also did not come across any errors in this book, which shows that the book was properly edited.

There wasn't anything to dislike about this book. The writing style was unique, and the word choice was good. With this in mind, I will rate this book five out of five stars. I would recommend this book to those who seek answers about God's involvement in evolution. Theologians and scientists would also find this book very useful.
TESTIMONIALS
"A memoir that explains a 50-year journey in the making of a proposed connection between an event described by science and an ancient revelation." – Dr. Sebastian Mahfood, OP, director of the Institute for Theological Encounter with Science and Technology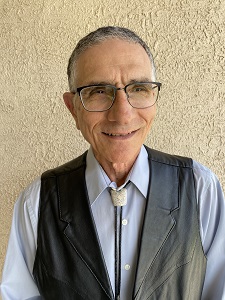 The Philosopher — Joe P. Provenzano has an M.S. in Physics and is the author of Conscious Energy (previously published as The Philosophy of Conscious Energy) and How to Believe in God and Science — In Three Easy Steps.
joepro@proandsons.com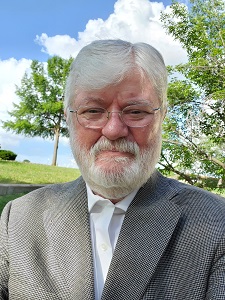 The Deacon — Ron D. Morgan is a deacon in the Catholic Church and is a lifelong follower and student of physics.
rondmorgan@gmail.com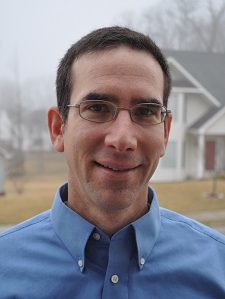 The Scientist — Dan R. Provenzano has a Ph.D. in Applied Physics from the California Institute of Technology. Dan works with lasers and fiber optic sensors.
danpro3@gmail.com
Joe and Ron are retired and live near Dallas, Texas. They have been brothers-in-law for over fifty years and have been developing the ideas and insights in this book for almost that long. Dan is the son of Joe and his wife, Linda. He is currently an Optical Scientist working in Blacksburg, Virginia. Dan is married with three children and has been involved with these ideas all his life. He wrote the ProWave Interpretation of Quantum Mechanics when he was in graduate school in the late 1990's.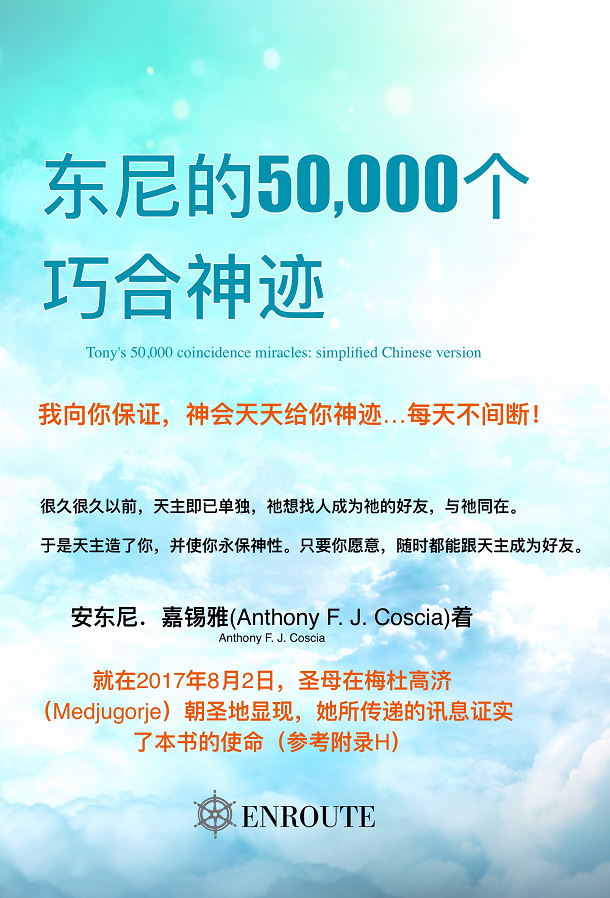 (This is the SIMPLIFIED VERSION)  (點此進入):東尼的50,000個 巧合神蹟 [Click here for Traditional Chinese] 本页面提供了这本书的详尽内容介绍。 若您希望直接购买,请点选以下连结: #1. 点此订购 (电子书) #2. 点此订购 (平装书)请使用有语言转换功能的浏览器,自动将英文译为中文浏览所有东尼的书+免费项目,点此进入Tony's 50,000 Co-Incidence Miracles (Simplified Chinese) 东尼的50,000个...
read more