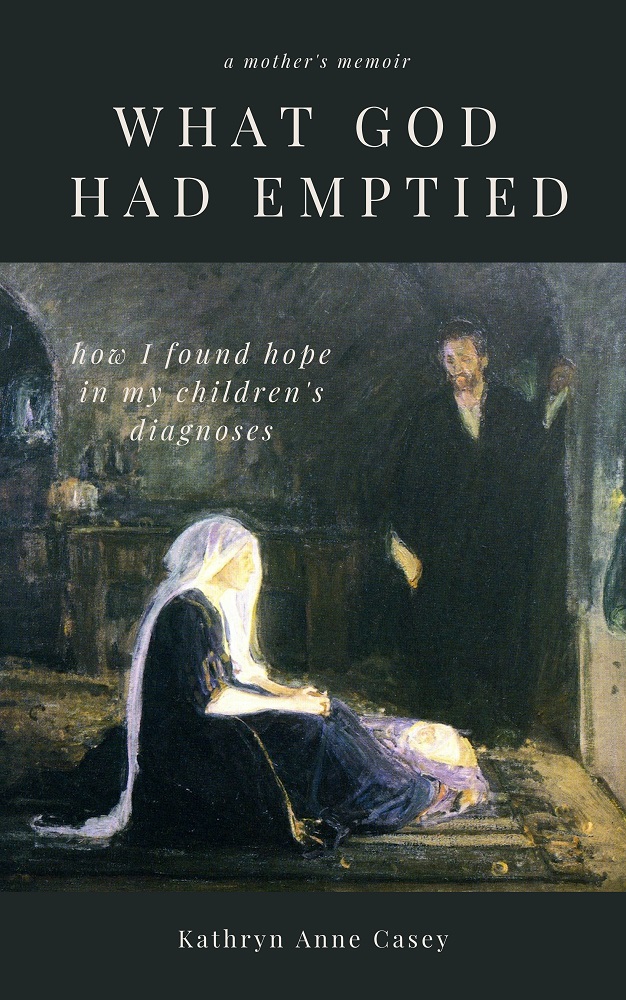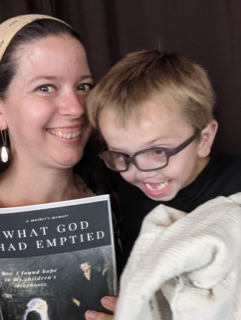 What God Had Emptied: How I Found Hope in my Children's Diagnoses

by Kathryn Anne Casey
A memoir of the two years during which Kathryn Anne Casey became a mother to a medically-complex son, faced another unexpected pregnancy with a fatal prenatal diagnosis and expectantly awaited the birth and death of her daughter. This book illustrates the lesson that when we commit our lives to Christ, he will ask us to walk the way he walked, the mysterious journey through the cross and hope of resurrection.
Paperback: $14.95 | Kindle: $9.99
REVIEWS
An Honest Window Into the Heart of a Mother's Suffering, a review by Jeannie Ewing, author of Waiting With Purpose

What God Had Emptied: How I Found Hope In My Children's Diagnoses by Kathryn Anne Casey is a powerful read. Her depth of spirituality is interwoven into every loss and every fragmented moment of peace or joy in the midst of constant crises and unexpected/surprise pregnancies (and subsequent losses).

I am a mom of 5, two of whom are neurodivergent. Sarah, my middle daughter, was born with a rare disease. As I turned the pages of Casey's book, there were moments I nodded my head enthusiastically – because, finally, someone expressed in words my experience! There were moments I shed tears – because, yes, I asked myself the same questions about God's goodness and mercy. I wondered if life would ever return to "normal" again.

She is so direct about her struggles, but never in a defeated manner. Casey offers incredible insight as she draws the reader into her journey of navigating Peter's complex medical needs and the fatal prenatal diagnosis and subsequent death of her baby daughter, Celeste.

Another aspect of the book that makes it unique is that Casey explains the ways she found meaning and joy and cared for her body and soul and mind in the midst of the incessant uncertainty. Her daily walks, which she scheduled while Peter was in the hospital, included exploration and adventure – a return to her senses and to grounding her with what simple delights may await in the form of local cuisine, a scented candle, a book, some lipstick.

For mothers who find themselves, or have found themselves, in a place of constant mental exhaustion, particularly if they have a child or children with ongoing medical needs, this book is a light. A genuine light. There is no fluff here. There are no pat answers or platitudes we tend to hear when people don't know what to say.

Casey is an incredibly gifted writer, as well, and selects her words thoughtfully and beautifully.
ABOUT THE AUTHOR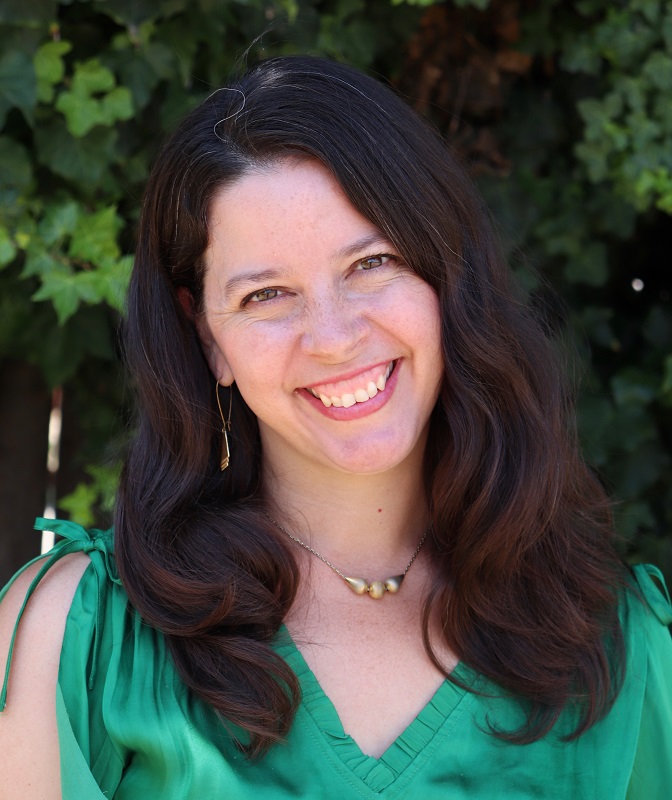 Kathryn Anne Casey is a writer with a focus on faith, art, psychology, and the importance of local community. She blogs at KathrynAnneCasey.com and is a regular reporter and columnist for The Hughson Chronicle and Denair Dispatch. She studied gender complementarity and psychology at the University of St. Thomas and clinical psychology at Divine Mercy University. Kathryn lives in Hughson, California, with her husband and children.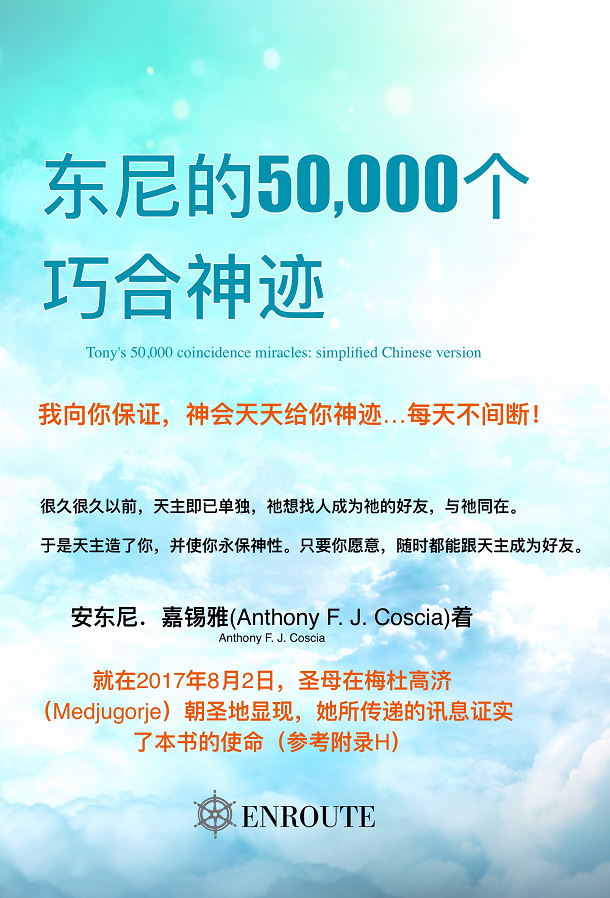 (This is the SIMPLIFIED VERSION)  (點此進入):東尼的50,000個 巧合神蹟 [Click here for Traditional Chinese] 本页面提供了这本书的详尽内容介绍。 若您希望直接购买,请点选以下连结: #1. 点此订购 (电子书) #2. 点此订购 (平装书)请使用有语言转换功能的浏览器,自动将英文译为中文浏览所有东尼的书+免费项目,点此进入Tony's 50,000 Co-Incidence Miracles (Simplified Chinese) 东尼的50,000个...
read more