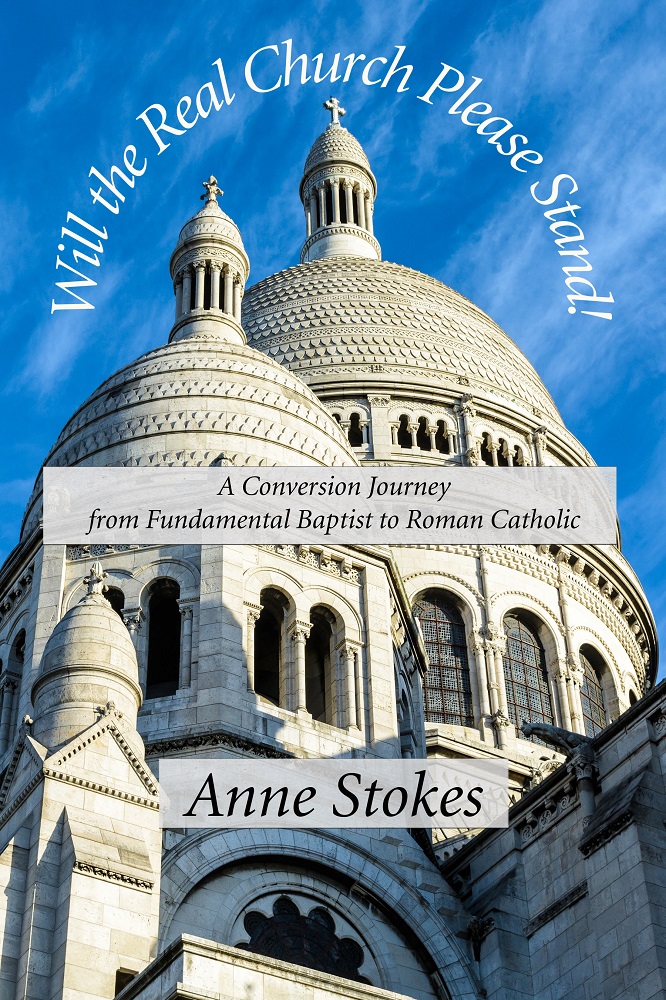 Will the Real Church Please Stand! A Conversion Journey from Fundamental Baptist to Roman Catholic
By Anne Stokes
Born into a devoutly Fundamentalist Baptist home, and baptized at the age of six, I was raised to believe that Baptists practiced the truest form of New Testament Christianity. My father was a pastor, and my parents were both dedicated in their service to the Lord, and I could never thank them enough for my Bible-based upbringing.
There came a time, however, when an inherited belief proved to be an insufficient foundation for life, if life was to be lived on a deeper level. The key word in the sentence above are "inherited belief," for to truly believe is to personally understand beyond the superficial.
This book is a personal story that reflects a thought process, fueled by a complex spiritual journey where, at times, perseverance was my only hope. In my travels, and with great quantities of time spent on discovery, I was able to conclude that the Catholic Church today is the successor of the Apostles and the continuation of the Church of the New Testament.
This is my story.
Paperback: $14.95 | Kindle: $9.99
ABOUT THE AUTHOR
Anne Stokes is a former finance executive turned free-lance writer. She holds a BA in history from California State University, Fullerton, CA, a Master of Business Administration from the University of Redlands, Redlands, CA, and a Master of Arts in Theology from Holy Apostles College and Seminary, Cromwell, CT. When not reading and writing, she is renovating her 1890 farmhouse (a dedicated DIYer), gardening, and working in her local parish. Ms. Stokes is a convert to Roman Catholicism from Fundamentalist Baptist.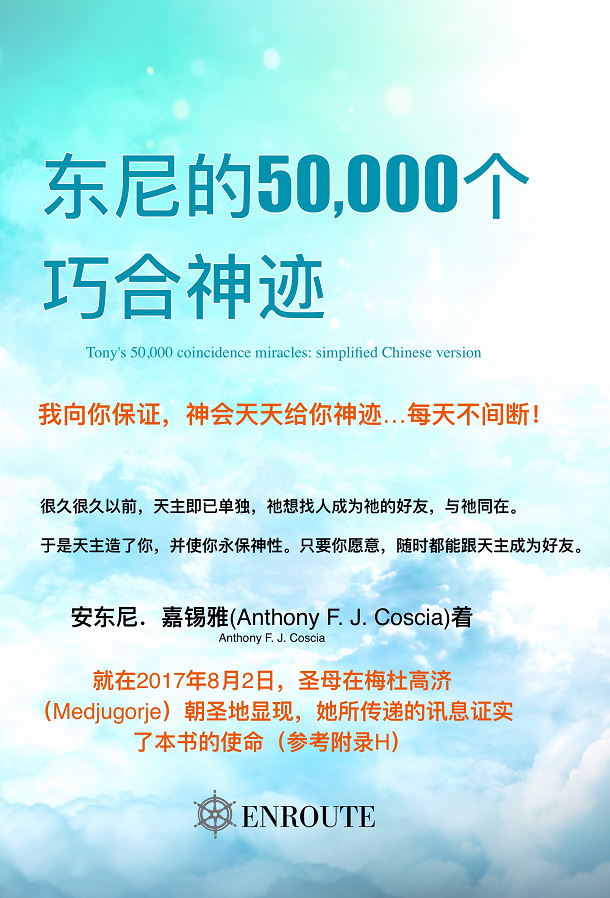 (This is the SIMPLIFIED VERSION)  (點此進入):東尼的50,000個 巧合神蹟 [Click here for Traditional Chinese] 本页面提供了这本书的详尽内容介绍。 若您希望直接购买,请点选以下连结: #1. 点此订购 (电子书) #2. 点此订购 (平装书)请使用有语言转换功能的浏览器,自动将英文译为中文浏览所有东尼的书+免费项目,点此进入Tony's 50,000 Co-Incidence Miracles (Simplified Chinese) 东尼的50,000个...
read more