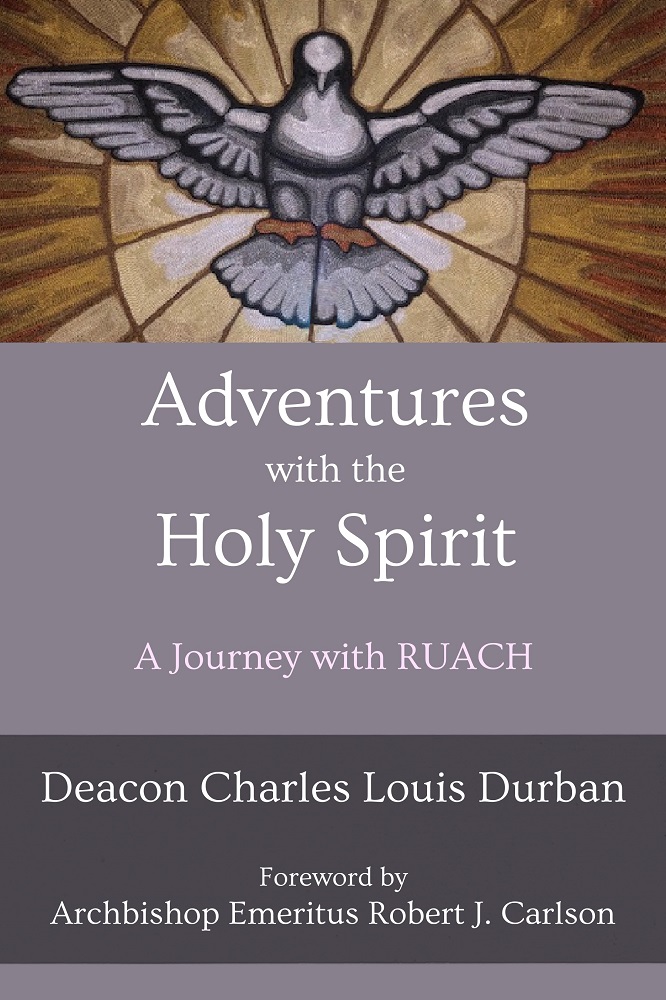 Whoever can make a recording of this hymn, please do so, and we'll share it with the world!
Adventures with the Holy Spirit: A Journey with RUACH
by Deacon Charles Louis Durban
This book is dedicated to and is about the merciful and at times semi-miraculous consolations and interventions of the Holy Spirit, without which neither this book nor perhaps even the author would still be traversing the crooked path that God weaves through our broken but redeemed human lives. In short, it is a memoir of how the Holy Spirit pursues and protects us in our spiritual journey of life. It is a journey most easily viewed in the rear-view mirror.
Paperback $14.95 | Kindle $9.99
TESTIMONIALS
"Charlie's book, Adventures with the Holy Spirit, illustrates how the Holy Spirit is alive and active in our lives." – Carol Hess, parishioner, Incarnate Word Parish, St. Louis, MO
"In Adventures with the Holy Spirit, Deacon Charles Durban recounts numerous surprise experiences of being saved from disappointment or disaster by a mysterious presence in his life which he calls the saving work of Ruach, or the Holy Spirit. For even the casual reader these incidents will trigger memories which will now have a far deeper meaning because of a 'Presence' which is now recognized for the first time. 'There is Someone with me and He is taking me to a place with a new purpose and a new meaning.' I hope you enjoy the adventure!" – Bishop Robert J. Hermann, author of Come Alive in Jesus! Solemn Novena to Our Lady of Mount Carmel
"Using his own life journey in the Spirit, Deacon Charlie Durban offers his readers a possible template for looking at the manifestations of God's abiding presence in the reader's life experience. This can be a great tool for individual faith exploration or a group study approach. Read the whole book and discern how it might relate to your own story." – Deacon J. Gerard Quinn, J.C.L.
"What we learn through another's journey can enhance our own recognition of the influences in our own journey. I have been fortunate to journey in a professional career with Charlie for 40 years. Together, we have shared our faith experiences, discussed our differences, and agreed that God is present in our lives. In Adventures with the Holy Spirit, Charlie provides insight and a template for us to examine our journey and to recognize that the paths opened to us and traveled are influenced by the presence of the Holy Spirit. As you read this life journey, I encourage you to stop at the end of each chapter and reflect on your own journey as I did. Consider where has the Holy Spirit made its presence known for you at various times in your life journey? By traveling with Charlie, you will awaken to what you hadn't perceived and in turn see God's Presence through the Holy Spirit in your journey. A wise man once told me, 'We are all here to walk each other down the path to the end.' The experiences that Charlie has shared show us that we are not walking that path alone." – W. Dennis Derr, Ed.D., LPC, author of Building Personal Resiliency; A Simple Book of Practice for Living a Life of Resiliency
"At times laugh-out-loud funny and achingly sad, Adventures with the Holy Spirit is a spiritual Odyssey with a deeply personal edge. Deacon Charlie Durban has distilled the wisdom of a full and fascinating life in prose that is both eloquent and conversational. Tag along with Ruach (spoiler alert: Ruach is Hebrew for Holy Spirit) and your own adventures will take on that much more meaning." – J. Augustine Wetta, O.S.B., Saint Louis Abbey, author of Humility Rules and The Eighth Arrow
"Charlie Durban's engaging personal testimony encourages us to look for the hidden patterns in our own lives, the times in which the Holy Spirit is working even when we don't recognize it. I enjoyed Adventures with the Holy Spirit and the contemplation it inspired. The author recounts a variety of God-incidences in his life, ranging from the simple to the remarkable, from both before he realized God was pursing him and later after he consciously began seeking to follow God. His stories offer ideas for how we can spot the workings of the Holy Spirit in our own lives. For Charlie, the progression of small miracles in his life resurrected his faith and led eventually to discerning his vocation as a deacon. From Charlie's 'yes' flowed many graces. Major setbacks turned into new opportunities. His deeply personal testimony about the workings of the Holy Spirit in his daily life, as well as his reflections on faith, hope, charity, and gratitude, impart light to others on their faith journeys." – Lynda Rozell, author of Journeys with a Tin Can Pilgrim (St. John's Press, 2021), In Plain Sight Hidden (St. Bona's Press, 2022) 
"Deacon Charles Durban addresses often overlooked contributions the invisible Holy Spirit dispenses constantly in the course of our lives. His desperately necessary message to a culture caught in the misbelief all predicaments can be assuaged through recourse to relativism or scientism, is constructed upon personally experienced, inexplicable, beneficial events which should encourage in the reader, a practice of confidently asking the Holy Spirit to intercede in our daily challenges. All will benefit from perusing this concise, yet well substantiated narratives that rekindles a trusting Faith in God." – Joseph J. Hurley, M.D., author of the forthcoming book about El Camino, Why are you walking?
"Charles Durban writes with honesty and inclusivity about his journey to find his most confident and spiritual self. Even if Durban's journey to find the Spirit in his life doesn't parallel your own, the book reflects a life fully lived with an open heart and will help any reader begin to clarify the meaning of faith in their own life. With professionalism and a sense of humor, Durban invites the reader into a complicated and blessed life." – Rachel Eve Moulton, author of Tinfoil Butterfly
"Although I was Deacon Charlie's spiritual director for a 30-day Ignatian silent retreat at the Sacred Heart Jesuit Retreat House in Sedalia, CO., I really had no idea what I would encounter in his "Adventures with the Holy Spirit". I set aside portions of two back-to-back afternoons and read the book. It is excellent! Charlie is a very good writer. I found it an easy and pleasurable read. Adventures highlights the finding and experiencing of God in the everyday experiences of an ordinary life—which, indeed, makes the life extraordinary. I can imagine this book to be a very positive read for many Christians." – Fr. E. Edward Kinerk, S.J., Director, Sacred Heart Jesuit Retreat House and former President of Rockhurst University 
"What a grace I have enjoyed to have personally heard many of the stories Charlie recounts of his adventures with his ever-present companion, Ruach. I wish I could capture for you his wonder as he would bring each story to life. His awe was always contagious. Let Charlie's stories inspire you to find Ruach in your life and believe." Susanne Harvath, Ph.D., author of The Augustine Way Workbook
ABOUT THE AUTHOR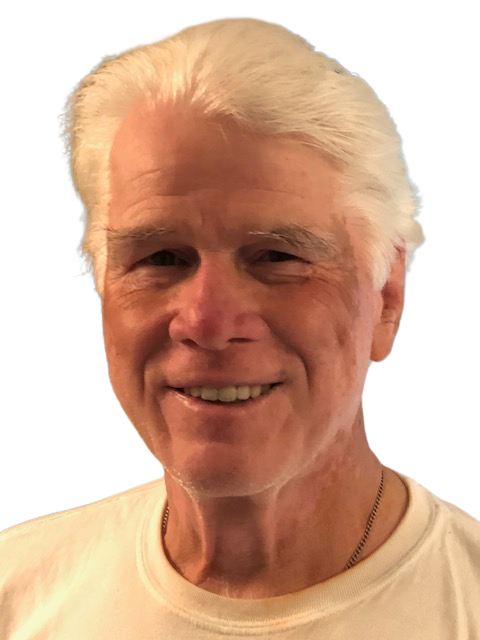 Deacon Charlie Durban has served St. Anselm parish in St. Louis, MO, for 15 years. His professional life of 50 years included mental health programs in Florida, Pennsylvania, and Missouri; and, Employee Assistance Programs (EAPs) regionally, nationally and internationally. His parish assignments included Assistant to the Pastor and Director of Liturgy. He served for 5 years as Assistant Director of Psychological and Counseling Services at Kenrick Glennon seminary. Somewhat retired, he remains very active leading men's prayer groups, St. Vincent de Paul conference, Kairos prison ministry, and a variety of parish assignments. He and his wife Penny co-teach Counseling Skills to the men in deacon formation and several classes of the Archdiocesan Spiritual Direction program. He is also an Army veteran, serving at the Pentagon and one year in Vietnam. Along with his professional training and education, Deacon Charlie has also completed the two-year professional certification in Spiritual Direction at the Aquinas Institute of Theology in St. Louis, MO. Semi-retirement has increased his hopes of getting out once a week for 18 holes of golf, usually with a variety of results. Fortunately, his parish golfing buddies are generous with their "gimmes" on the greens. He and his wife Penny eagerly await the grace of grandchildren and further "adventures".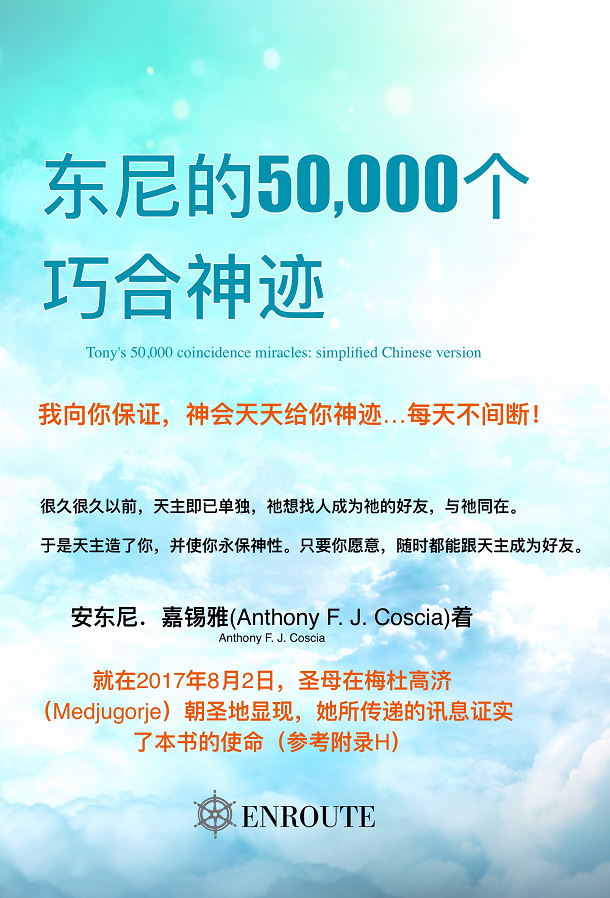 (This is the SIMPLIFIED VERSION)  (點此進入):東尼的50,000個 巧合神蹟 [Click here for Traditional Chinese] 本页面提供了这本书的详尽内容介绍。 若您希望直接购买,请点选以下连结: #1. 点此订购 (电子书) #2. 点此订购 (平装书)请使用有语言转换功能的浏览器,自动将英文译为中文浏览所有东尼的书+免费项目,点此进入Tony's 50,000 Co-Incidence Miracles (Simplified Chinese) 东尼的50,000个...
read more