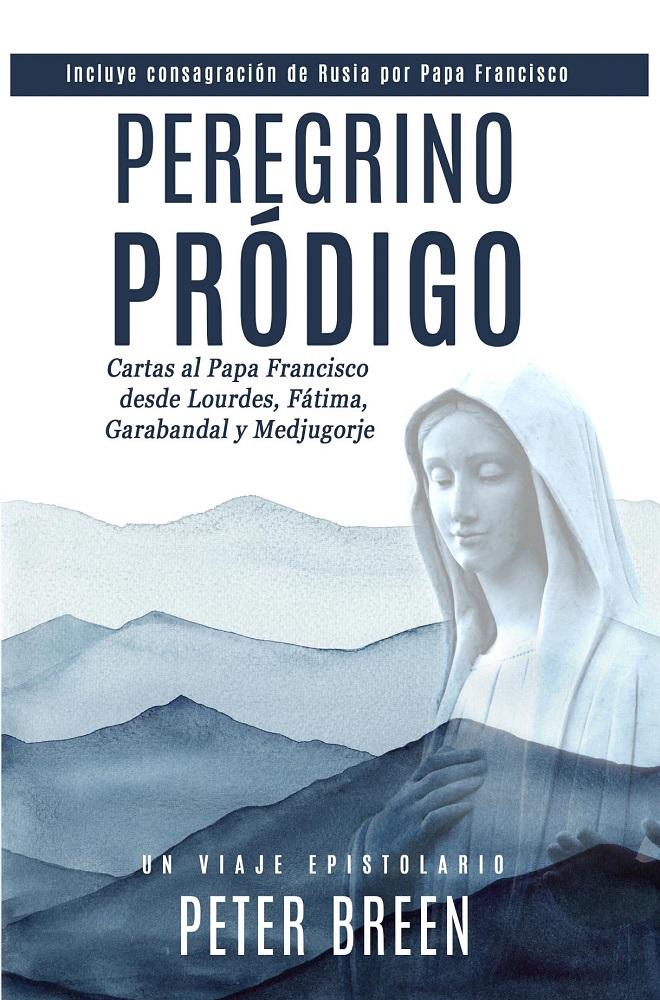 Peregrino Pródigo: Cartas al Papa Francisco desde Lourdes, Fátima, Garabandal y Medjugorje
by Peter Breen
La comunidad cristiana ha estado estudiando la evidencia médica y científica de las apariciones marianas desde que Maria, la Madre de Jesús, se apareció por primera vez al apóstol  Santiago en Zaragoza, España, en el año 40 EC. Más recientemente, María se ha aparecido de manera creíble en Medjugorje en Bosnia Herzegovina durante los últimos 40 años con el mensaje de que Dios puede salvarnos. ¿Es María es la profeta de nuestro tiempo?
El Papa Francisco dio su aprobación oficial a las peregrinaciones de Medjugorje en 2019. Durante una peregrinación a Lourdes, Fátima, Garabandal y Medjugorje, el Peregrino Pródigo le escribe al Papa Francisco, instando al reconocimiento formal de las apariciones de Medjugorje. María ofrece un salvavidas a la humanidad, dice el autor, una alternativa a la observación de David Attenborough de que las cosas solo pueden empeorar para el planeta Tierra.
Paperback $19.95 | Kindle $9.99
TESTIMONIALS
"En su libro, el Peregrino Pródigo, Peter Breen se enfoca en la crisis del medio ambiente. Señala el pensamiento del Papa Benedicto XVI – mencionado por el Papa Francisco – en que sería necesaria la intervención divina para superar esta problemática. Breen, en una serie de cartas a Francisco, recurre a declaraciones del Papa Benedicto para concluir – de manera fascinante – que esta intervención ya se ha producido a través de los mensajes de la Virgen en Lourdes, Fátima, Garabandal y Medjugorie." – Dra. Cynthia Toolin-Wilson, Profesora de Teología Dogmática, Colegio y Seminario de los Santos Apóstoles
"El Peregrino Pródigo envuelve al lector en un conflicto cautivador; el impulso hacia la incredulidad, por un lado, y, por el otro, la devoción generada por la fe. Algunos pueden leer el Peregrino Pródigo como una versión de Disenso Leal de Charles E Curran. En la introducción del libro, Peter Breen confiesa ser un católico practicante con una crisis de fe en la Iglesia, derivada de razones que van más allá de los escándalos sexuales del clero. A través de un confesionario enrejado, Breen hace una apasionada súplica al Papa para que reconozca los milagros de Medjugorje. Lleva al lector y también al Pontífice, en una peregrinación a los lugares de las apariciones de Nuestra Señora: Lourdes, Fátima, Garabandal y Medjugorje, fomentando la devoción a María como profeta de nuestro tiempo. María, la Madre de Jesús, se presenta como la que ofrece al mundo un salvavidas. La forma epistolar en la que el autor expresa su mezcla de fe y disidencia, es inusual. Podría haber sonrisas y ceño fruncido en lo que algunos pueden considerar como la mejilla del autor al escribir una serie de cartas personales al Santo Padre Francisco, dirigidas como el Padre Jorge Bergoglio; cartas que comienzan con un querido Padre Jorge, como si fuera un párroco. Es una lectura atractiva; una invitación a creer ante los baches intelectuales. Ofrece al católico disidente, pero leal, un lugar en el que podemos llamar, después de Breen, la peregrinación pródiga." – Ivan Arthur, autor de Saynt Lachmi y Pavement Prayers
ABOUT THE AUTHOR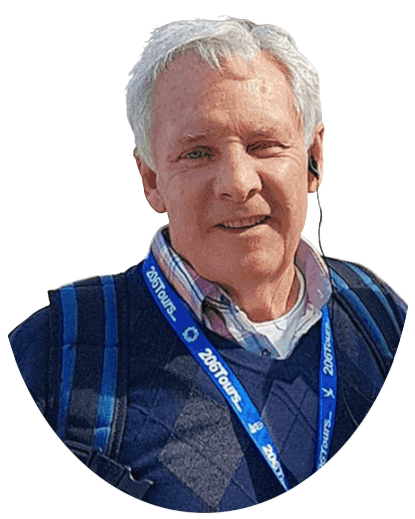 Peter Breen es un escritor australiano y autor de varios libros, incluido el éxito de ventas The Book of Letters, publicando por Allen & Unwin. Es un abogado de casos de difamación y medios de comunicación y ex miembro del parlamento estatal. En su neuvo libro Peregrino Pródigo, Peter vuelve a escribir cartas en un libro de correspondencia al Papa Francisco sobre la Iglesia en el mundo moderno y la revelación Mariana privada.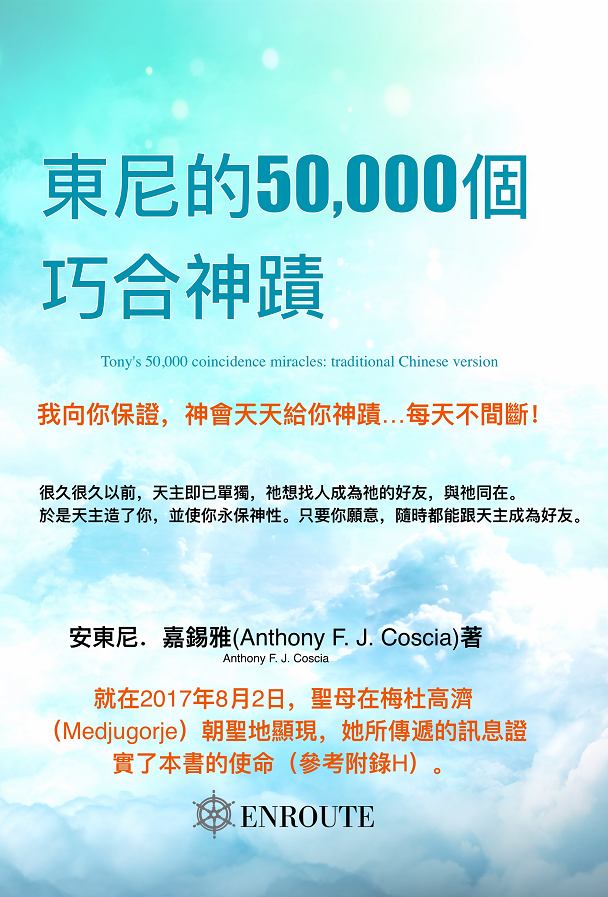 This is the TRADITIONAL VERSION. (点此进入):东尼的50,000个 巧合神迹 [Click Here for Simplified Chinese] 本頁面提供了這本書的詳盡內容介紹。 若您希望直接購買,請點選以下連結: #1. 點此訂購 (電子書)#2. 點此訂購 (平裝書) 請使用有語言轉換功能的瀏覽器,自動將英文譯為中文瀏覽所有東尼的書+免費項目,點此進入Tony's 50,000 Co-Incidence Miracles (Traditional Chinese) 東尼的50,000個...
read more