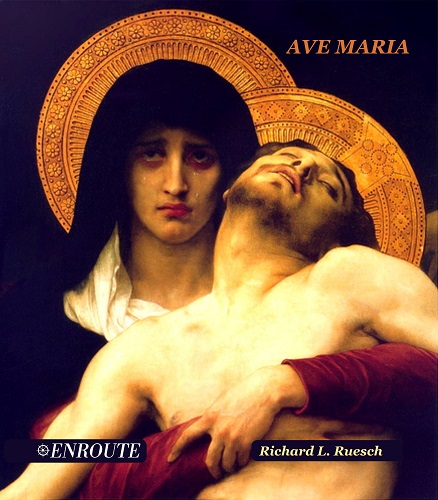 Ave Maria
by Richard Ruesch
The life of our Lord, Jesus Christ, is brought to mind through the contemplation of the mysteries of the Rosary and the recitation of its prayers. The mysteries of the Rosary are those that are Joyful, Luminous, Sorrowful, and Glorious, and each mystery contains significant events in the life of Jesus and Mary. Because all twenty of these events are drawn from Sacred Scripture, this book simply lays those scriptural passages out in an engaging format. A must-have for those seeking to enter into a greater understanding of these mysteries.
[83 pp with full-color illustrations] Paperback: $19.95 | Kindle $9.99
Testimonials
"This booklet goes to the very heart of the Rosary – meditating on Scripture in union with Mary. Relevant passages have been drawn together in one place, allowing our meditation on the mysteries to be fed directly by the inspired word. It is a work of simple, profound beauty." – Shane Kapler, author of Marrying the Rosary to the Divine Mercy Chaplet
"I have read AVE MARIA several times and I am impressed with the Scriptural notations. The entire reflection is profound and a perfect aide for praying the Holy Rosary from the heart.  Those who are unaware of the formula for praying the Holy Rosary will find in AVE MARIA a method for reflecting on Sacred Scripture that records pivotal events in the life of Christ and His Blessed Mother.  I would recommend AVE MARIA to anyone who has a sincere desire to increase their relationship with Our Lord and His Mother.  AVE MARIA has helped me to increase my love for the Most Holy Rosary and its purpose of deepening my love for Christ, His Mother and the Body of Christ, His Church." – Rev. Fr. C. Anthony Miller, Pastor, St. Aloysius Catholic Church, Littlestown, PA
"I believe Ave Maria to be a powerful tool that will spark the interest of both Catholic and Non Catholic Christians. And here's why: Ave Maria is a well put together scripture based rendition of the Rosary that includes every possible scripture verse related to each of the 20 mysteries contained in it. Because of this, not only is it a powerful weapon to defeat the enemies, both spiritual and non-spiritual, of the Church, but it also is a way to convince many non-Catholic Christians of the common mistaken presumption that praying the Rosary is a form of Marian worship…Ave Maria clearly shows the intimate tie between sacred scripture and the holy rosary. Not only do we meditate on these sacred mysteries while praying the rosary; we pray the mysteries. And thus, in light of this truth, the rosary is a powerful means by which sacred scripture not only becomes a part of our very being but also a way of life." – Bob Cantoni, WCAT Radio show host of "If You Know Mary, then You Know Jesus"
"The

Ave Maria

booklet is the handy go-to resource you need to pray the scriptural rosary. Eloquently fashioned and edified by the Sacred Word, this little book will enrich your recitation of the Rosary to help you understand each mystery's biblical roots." – T.J. Burdick, Founder of

Signum Dei

and author of 

The Rosary in Kid Speak 
ABOUT THE AUTHOR
During the many years of teaching CCD classes in several different Catholic parishes, Richard Ruesch developed a fervent desire to increase the devotion to the Blessed Virgin Mary.
After the CCD classes and a successful professional career of 40 years building chemical plants around the world, Richard settled down with his family on the North side of the Mahantango Mountain in Hebe, PA, where he subsequently satisfied his earlier desire and wrote his first book, entitled AVE MARIA.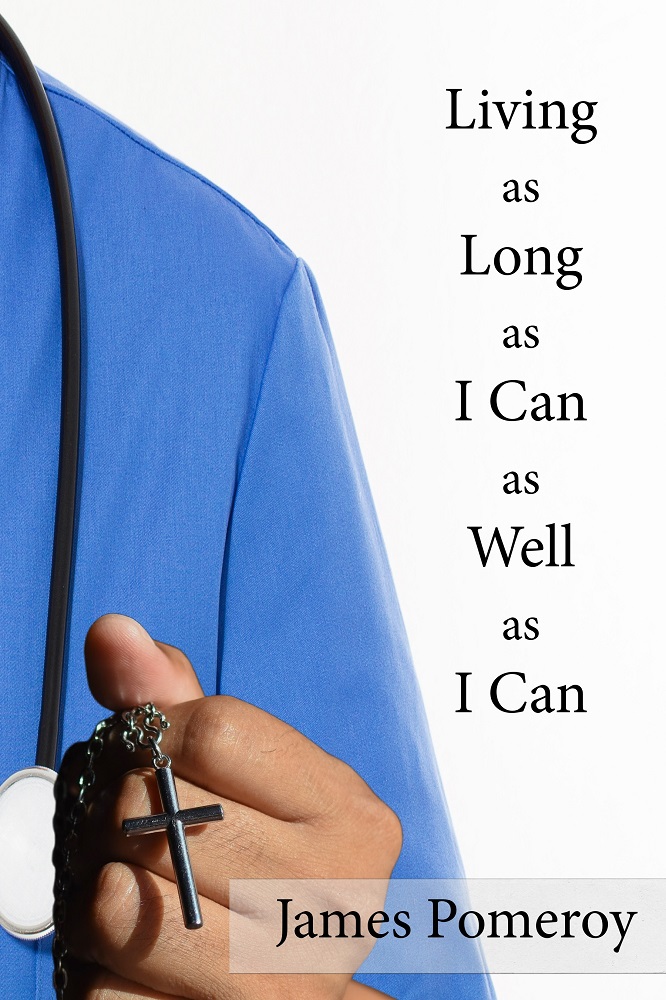 Living as Long as I Can as Well as I Can by James Pomeroy This is a book that will be helpful to health care providers, including doctors, nurses, allied health professionals, chaplains, and their patients, because it offers a spiritual foundation for living well,...
read more