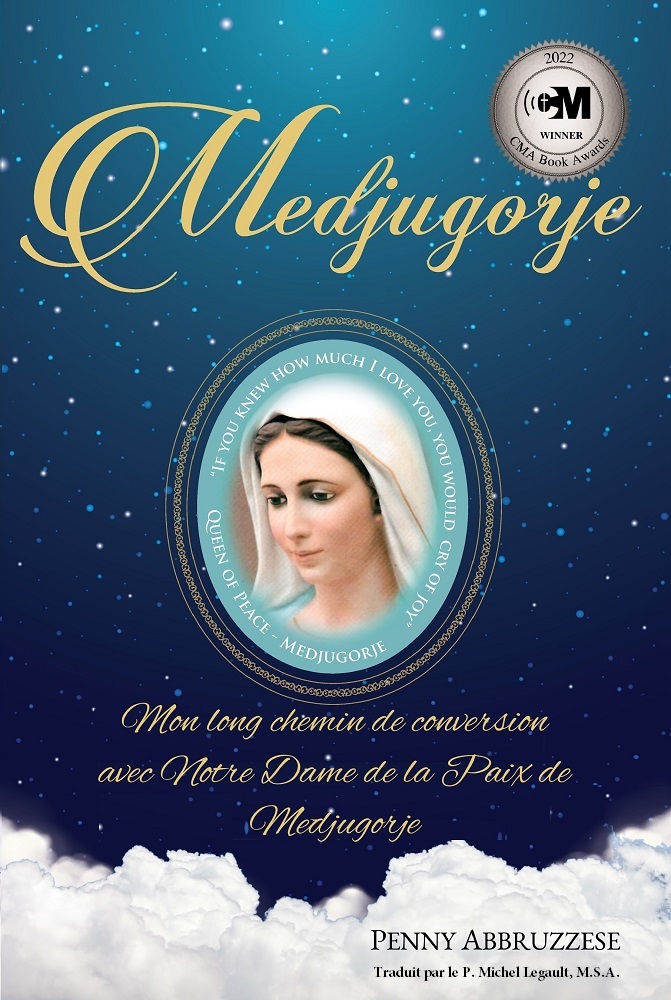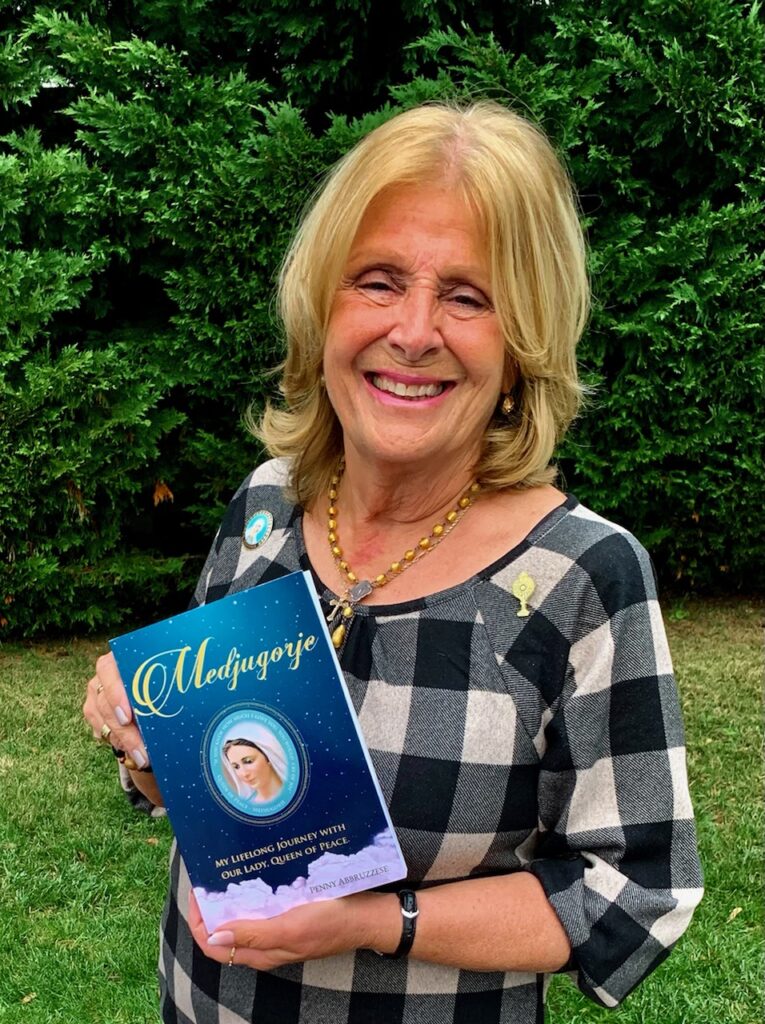 Pour en savoir plus sur Medjugorje, consultez les autres livres d'En Route!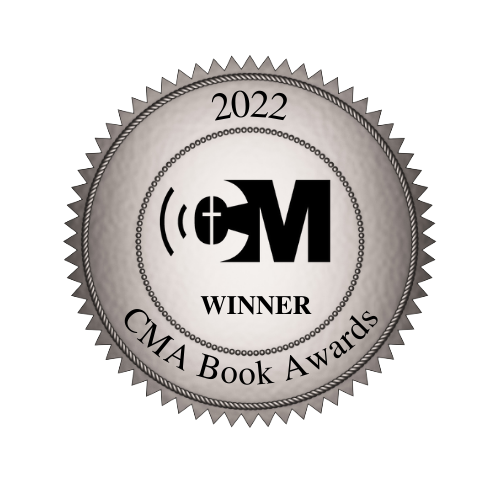 Médaille d'argent!
Division des mémoires aux Catholic Media Association Awards
Une belle histoire de foi en Notre Sainte Mère dans laquelle l'auteur partage, de manière intime, comment elle a reçu la grâce de communiquer avec Marie et a également développé une compréhension des miracles. Après avoir vécu la perte douloureuse de son jeune frère, l'auteur envisage de se rendre en pèlerinage à Medjugorje et de se consacrer à l'aide aux malades, aux handicapés et aux perdus. Elle finit par devenir accompagnatrice de pèlerinage, amenant des pèlerins dans d'autres lieux saints. Ce livre a été écrit au fil du temps et couvre quelque 36 années d'événements qu'il vaut la peine de connaître.
Medjugorje: Mon long chemin de conversion avec Notre Dame de la Paix de Medjugorje
Par Penny Abbruzzese et traduit par le P. Michel Legault, M.S.A.
En pleine période de souffrance, Penny Abbruzzese apprend que la Vierge Marie est apparue à six enfants à Medjugorje, en Bosnie-Herzégovine. Se demandant si la Vierge Marie peut réconforter son cœur encore en deuil, Penny entreprend un pèlerinage à Medjugorje, sans savoir que ce voyage et cette quête de guérison changeront sa vie d'une manière qu'elle n'aurait jamais pu imaginer. En chemin, elle est amenée à regarder au plus profond de son âme et à se poser des questions sur sa foi. Les gens croient-ils vraiment aux miracles ? Les apparitions sont-elles réelles et peuvent-elles vraiment changer la vie d'une personne ? Une fois sur place, elle reçoit miraculeusement la grâce de communiquer avec la Vierge, qui lui dit : "Marie vous donne de l'espoir". Les messages continus de la Vierge poussent Penny à adopter un nouveau mode de vie. Son cœur s'ouvre à un nouvel objectif : aider les personnes qu'elle avait auparavant ignorées – les âmes perdues, les malades et les handicapés. En réponse, Penny conduit plus de 100 pèlerinages avec d'innombrables pèlerins, témoignant d'une grâce abondante et de nombreux miracles. Elle trouve la réponse à toutes ses questions : oui, les miracles et les guérisons existent. Ce livre raconte l'histoire des 36 années de voyage de Penny, au cours desquelles elle s'est donnée pour les autres, trouvant l'espoir et la foi pour partager cet espoir avec ceux qu'elle rencontre sur son chemin. L'histoire de Penny est une source d'inspiration pour tous ceux qui croient que les miracles se produisent, en particulier au cours d'un voyage semé d'épreuves et de larmes.
Livre de poche $19.95 | Kindle $9.99
Medjugorje Message de la Sainte Mère à la voyante Marija Pavlovic
25 mars 2021

Chers enfants, aujourd'hui encore, je suis avec vous pour vous dire Aujourd'hui encore, je suis avec vous pour vous le dire : Petits enfants, qui priez, ne craignez pas l'avenir et ne perdez pas espoir. Vous êtes choisis pour porter la joie et la paix parce que vous êtes à moi. Je suis venue ici avec le nom de "Reine de la Paix" parce que le diable veut la paix et la guerre, il veut remplir votre cœur de la peur de l'avenir – mais l'avenir est à Dieu. C'est pourquoi, soyez humbles, priez et remettez tout entre les mains du Très-Haut qui vous a créés. Merci d'avoir répondu à mon appel.
TESTIMONIALES

"Mon amie Penny Abbruzzese a écrit un livre passionnant sur ce que signifie consacrer sa vie aux révélations privées qui se déroulent au sanctuaire de guérison de Medjugorje. Alors que beaucoup d'entre nous croient que Marie est le prophète de notre temps, peu sont plus dévoués à la diffusion des messages de Marie que Penny. Son livre est une véritable source d'inspiration, non seulement pour les informations spirituelles qu'il transmet, mais aussi comme un témoignage de ce qu'une personne dévouée peut faire dans ses efforts pour déplacer des montagnes". – Peter Breen, auteur de Prodigal Pilgrim: Letters to Pope Francis on Lourdes, Fatima, Garabanal and Medjugorje (Prodigal Pilgrim: Lettres au pape François depuis Lourdes, Fatima, Garabandal et Medjugorje)
Dans Matthieu 5, 14-16, Jésus a dit : "Vous êtes la lumière du monde". Dans ce magnifique mémoire, le lecteur verra comment cela se produit ; comment Jésus illumine, élève et sanctifie une âme docile ouverte à son amour transformateur… et comment cette âme s'avance alors comme une lumière dans les ténèbres de ce monde. La merveilleuse histoire de Penny témoigne avec force du rôle fondamental de notre Mère dans ce processus mystérieux par lequel notre Père attire ses enfants en sa présence et les fait devenir un avec lui… comme il est un avec eux." – Lawrence Edward Tucker, SOLT Auteur de The Prayer of Jesus Crucified (La prière de Jésus crucifié); Adventures in the Father's Joy (Aventures dans la joie du Père); To Whom the Heart Decided to Love (À qui le cœur a décidé d'aimer); The Redemption of San Isidro (La rédemption de San Isidro)
"Le livre de Penny Abbruzzese, Medjugorje: Mon long chemin de conversion avec Notre Dame de la Paix de Medjugorje est un hommage sincère à la puissance de l'amour de la Vierge qui agit dans une vie et un cœur vraiment ouverts à sa grâce. Penny prend le lecteur par la main et voyage avec lui à travers les joies et les peines de sa propre vie, tout en montrant l'influence croissante de l'amour et des enseignements de la Vierge, en particulier tels qu'ils ont été partagés avec elle à travers Medjugorje. Ce livre inspirera au lecteur la foi et l'espoir que la puissance de Dieu et la sollicitude maternelle de la Vierge sont vraiment vivantes et actives dans la vie ordinaire de chacun. – Mary Kloska, auteur de A Heart Frozen in the Wilderness: The Reflections of a Siberian Missionary (Un cœur gelé dans la nature: Les réflexions d'une missionnaire sibérienne)

"Au cours des 40 années d'apparitions quotidiennes sans précédent de Marie à Medjugorje, les messages de la Vierge, que Penny s'efforce d'imiter, l'ont conduite à une nouvelle vie dans l'Esprit Saint, comme j'ai pu le constater au cours des 30 années qui se sont écoulées depuis que nous nous sommes rencontrés. L'école d'amour de la Vierge à Medjugorje fait passer Penny de la douleur et de la souffrance liées à la mort tragique de son frère à la paix et à la confiance en la Providence de Dieu, alors qu'elle partage son chemin de foi que je trouve vraiment inspirant". – John McFadden, prêtre retraité du diocèse de Scranton, PA

"C'est un excellent livre sur une vie transformée par un simple message de la Vierge. J'ai été inspirée par le courage de Penny de se rendre dans un pays inconnu ; l'aventure m'a captivée, mais ce qui m'a poussée à continuer à lire, c'est la façon dont ce voyage a continué à porter ses fruits de tant de façons inattendues!" — Marie Baker- Harrogate, N. Yorkshire, UK

"Penny Abruzzese démontre à travers ce livre qu'elle est une lumière qui brille dans l'obscurité, dans la lueur partagée de la lumière qu'est Notre Dame de Medjugorje! – Dr. Sebastian Mahfood, OP, auteur de The Narrative Spirituality of Dante's Divine Comedy (La spiritualité narrative de la Divine Comédie de Dante)
SUR L'AUTEUR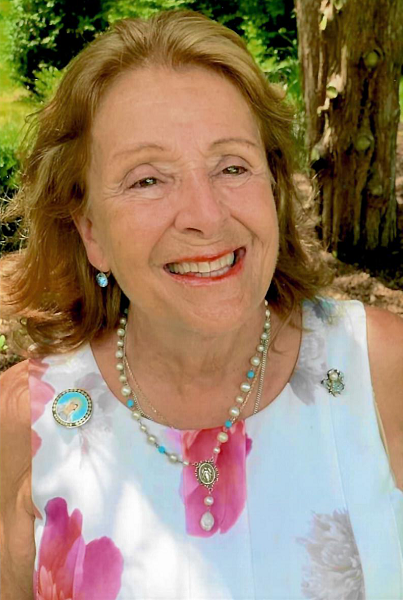 Penny Abbruzzese, qui a une grande dévotion pour Notre Sainte Mère, est coordinatrice de pèlerinages religieux. Elle a effectué son premier pèlerinage à Medjugorje, en Bosnie-Herzégovine, en mars 1984. Depuis, Penny s'est rendue plus de 100 fois à Medjugorje avec des groupes venus de près ou de loin. Au cours des 37 années qui se sont écoulées depuis son premier pèlerinage, Penny a dirigé des excursions vers des lieux saints tels que Fatima, Lourdes, Garabandal et Saint-Jacques-de-Compostelle. Elle a visité des sanctuaires en France, en Italie, en Bavière, au Mexique, en Turquie, en Grèce, en Pologne, à Prague, à Vienne et dans les lieux saints chrétiens d'Israël.
En collaboration avec l'église croate de New York, qui est une paroisse sœur de Saint-Jacques de Medjugorje, Penny a parrainé plusieurs voyants et prêtres célèbres de Medjugorje pour qu'ils s'expriment à New York. En tant qu'une des fondatrices d'une organisation à but non lucratif, Our Lady Queen of Peace Prayer Group, Penny a publié un bulletin, Mary's Mantle, pendant 25 ans avec un lectorat de plus de 5.000 abonnés. Mary's Mantle exposait les messages de la Vierge, avec des articles importants sur la guérison – physique et spirituelle – et de beaux témoignages de conversion à travers les apparitions rapportées de la Vierge.
Plusieurs groupes de prière ont été créés par Penny et (toujours) un prêtre, ainsi qu'un petit groupe d'amis qui avaient fait l'expérience de Medjugorje ensemble. Quatre groupes de prière se sont réunis chaque mois, de 1986 à 2013, pour prier pour les vocations, les familles, la paix dans le monde et pour mettre fin à l'avortement du premier vendredi jusqu'en mars 2020, date à laquelle le risque de COVID19 a mis fin à cette dévotion.
Penny a été l'invitée du réseau Telecare du diocèse de Rockville Centre de Monseigneur Tom Hartman en 1987 et dans les années 1990. Elle a partagé son expérience en amenant à Medjugorje un ami proche et un partenaire de prière de renommée internationale, l'inspecteur Steven McDonald. Steven est devenu tétraplégique après avoir été abattu dans Central Park à New York en 1986.
En 2014, Penny a coproduit un documentaire sur les apparitions signalées à Medjugorje, intitulé "God Exists… The Queen of Peace Speaks from Medjugorje" (Dieu existe… La Reine de la Paix parle depuis Medjugorje). Le film de Penny a été écrit et produit par Peter Powell, un chercheur et directeur de la photographie qui a travaillé sur plus de 150 campagnes médiatiques aux États-Unis et à l'étranger. La narratrice de Penny était Rita Gam, une actrice chevronnée, sous contrat avec les studios MGM. Plus de 3 000 exemplaires du documentaire de Penny ont été distribués et sont disponibles sur Amazon.
La vie de Penny a pris un tournant radical lorsqu'elle était très éloignée de sa foi. La douleur du suicide de son jeune frère a mis Penny à genoux. L'histoire de sa conversion, Medjugorje… My Lifelong Journey with Our Lady, a été inspirée par le Père Svetazor Kraljevic, OFM, à Medjugorje. Dans son livre, Penny emmène le lecteur depuis les jours les plus sombres de la perte de son amie la plus proche, en passant par les étapes de l'abandon, pour finalement se rapprocher de Jésus par le biais des messages de la Vierge de Medjugorje.
Penny est mariée à Michael depuis 50 ans. Elle est mère de trois enfants et grand-mère de six enfants et vit actuellement à Lynbrook, dans l'État de New York.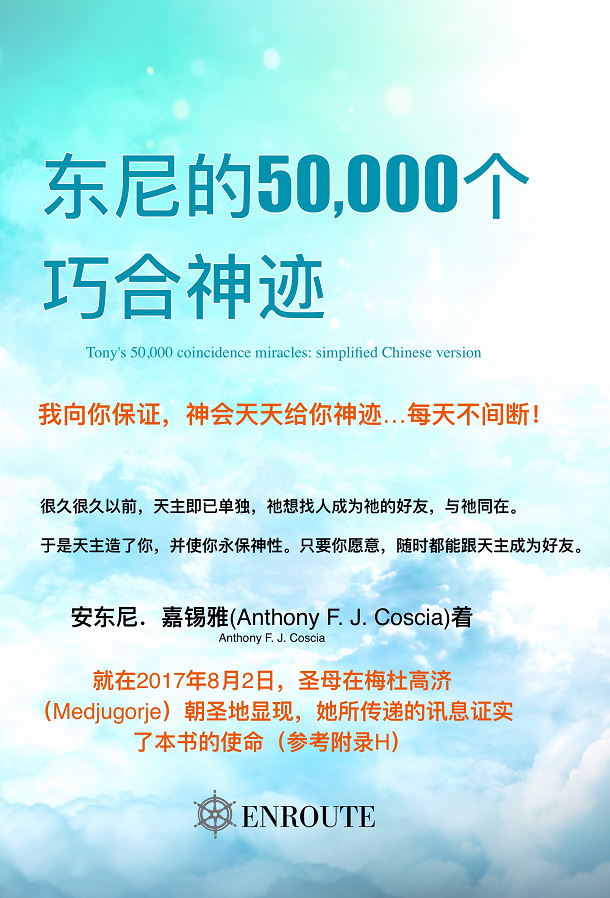 (This is the SIMPLIFIED VERSION)  (點此進入):東尼的50,000個 巧合神蹟 [Click here for Traditional Chinese] 本页面提供了这本书的详尽内容介绍。 若您希望直接购买,请点选以下连结: #1. 点此订购 (电子书) #2. 点此订购 (平装书)请使用有语言转换功能的浏览器,自动将英文译为中文浏览所有东尼的书+免费项目,点此进入Tony's 50,000 Co-Incidence Miracles (Simplified Chinese) 东尼的50,000个...
read more