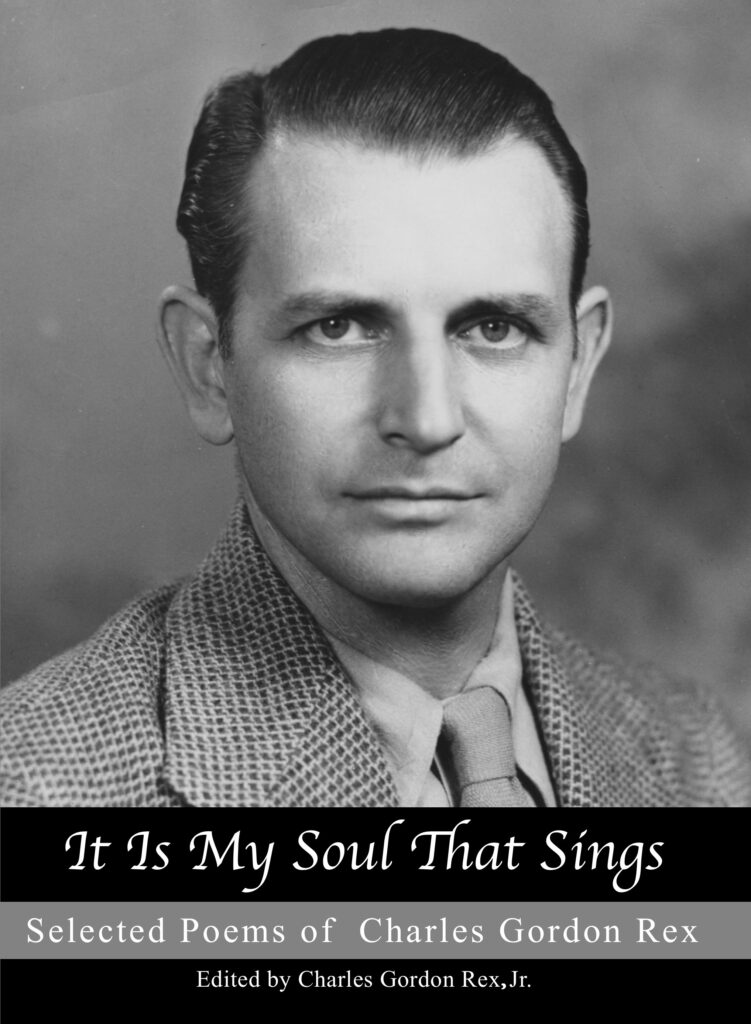 It is My Soul that Sings: Selected Poems of Charles Gordon Rex
Ed. by Charles Gordon Rex, Jr.
Poet and composer Charles Gordon Rex's style of writing, finally being published in the 21st Century, is that of a bygone era. He was the product of the first half of the Twentieth Century with the bulk of his works being written in the 1930s and 1940s. His preferred form was the venerable sonnet. For other forms, a major influence was the poetry of A. E. Housman, many of whose poems Rex as a composer set to music. Thus, it is unfortunate that during his own lifetime, he rarely bothered with the publication of either his poetry or his music. It is the hope of the editor that this volume will help fill the void Charles Gordon Rex left behind and that lovers of poetry will enjoy his work as represented in this collection.
Paperback $19.95 | Kindle $9.99 | Hardback: $29.95
TESTIMONIALS
"Charles Rex, Jr., has compiled and introduced this volume of his father's poetry, a fitting tribute to the many aspects of life that touch and help us in our own dialogue of faith and experience. The work is all the more extraordinary in view of the limits the author overcame; as Charles Gordon Rex says of himself: 'My body, broken, would have tried to bind me/ Had not my mind reached out to nobler things./ Now I am conscious of nought else but beauty;/ Forgetting self, it is my soul that sings' (from "Listen to My Song"). The work pauses at a piece called 'Jesus of Nazareth' and brings to the fore the background of Christian Faith which, like a fellow wrestler, wrestled with him throughout his life. One of my favourite pieces is "The Last Bloom," the longest and the more beautiful for its bare honesty and pain; but, by way of a counterpoint, there are touching lines about one of his children: 'I wait the sound of a quick light tread' (from "Little Feet") and the many glistening moments of his turn to love and to nature. Charles Rex, Jr., has compiled and introduced this volume of his father's poetry, a fitting tribute to the many aspects of life that touch and help us in our own dialogue of faith and experience. In his verse, there is a kind of melancholy theme of being alone which surfaces intermittently, allowing the reader to appreciate that in addition to the poet's wrestling with physical trials, he wrestled with loneliness, fear, and love. His romantic works are not without suffering and to which, in a sense, the song is an answer and even an antidote!" —Francis Etheredge, author of The Prayerful Kiss and Honest Rust and Gold.
"The act of putting together the lost poems of one's deceased father into a book to be read by new eyes, as Charles Gordon Rex, Jr., a shining musical light of the philharmonic has done, is in itself a poem: one that tells the story of a son whose agapic love transcends years, pain, and loss. And what soul sings? The poet's? The reader's? That question is for each gentle reader to decide. But one thing is clear: through this generational act of mending what was once lost, the editor of this collection's soul surely sings." —Annabelle Moseley, Award-Winning Poet and author of Sacred Braille and Our House of the Sacred Heart
ABOUT THE AUTHOR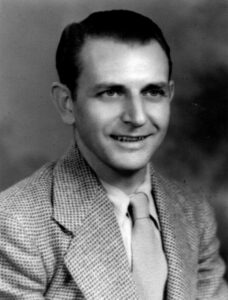 Charles Gordon Rex was born in Springfield, Massachusetts, on June 20, 1909, into a family of nine brothers and sisters. His father, Charles George Rex, an immigrant from England, was a carpenter who worked on some of Springfield's largest buildings. Ill health struck early in the younger Charles' life when at the age of three he came down with polio which left him paralyzed from the waist down and partially paralyzed in his right hand, thereby virtually confining him to a wheelchair for most of his life, although for a time he was able to use heavy braces and crutches. However, the polio had also caused severe scoliosis of his spine with the result that he was often in great pain. In spite of these handicaps, it became obvious in childhood that he was gifted with extraordinary intelligence and musical ability, but due to the complete lack of educational facilities for the handicapped in his area, his early schooling and musical studies were virtually self-taught. Nonetheless, he was an avid reader from an early age and started writing poetry in his teenage years. He managed to learn piano and violin and acquired a remarkable amount of proficiency on these instruments in spite of the partial paralysis of his right hand, enough so that he played violin as a member of a local orchestra.
However it was in his vocal abilities that he first achieved success. With the financial backing of a patron of the arts who recognized his talent, he studied voice in Springfield with RCA Victor recording artist Royal Dadmun for five years starting at the age of eighteen. At this time, Rex started writing poetry, a handwritten note on a penciled manuscript revealing that his first poem was "The Thrush's Song," written in 1928. He later started giving solo vocal recitals as a baritone, earning praise from newspaper critics for his "volume and unusual beauty of tone." Dadmun himself wrote to him, "I count on you as an exponent of whatever value my ideas may have." Rex was also a vocal soloist for the Travelers Insurance Symphony Orchestra under conductor Moshe Paranov, co-founder and dean of the Hartt School of Music, on WTIC AM radio out of Hartford, Connecticut for the NBC Red Radio Network.
In 1935, he married his first wife, Miriam, and moved to New York City where he studied voice with well-known vocal instructor Alfredo Martino who later made him his first assistant. Eventually Rex had his own studio and an assistant teacher through Martino's helpfulness and also collaborated on a book with Martino entitled "Today's Singing." According to personal notes, Rex also often went through periods where he would write a poem a day, a favorite form being the sonnet.
His ultimate ambition being music composition, however, he came to the conclusion that he needed a formal education, and so, with no previous academic schooling, he finished high school in nine months and entered Amherst College, where he was a member of Theta Xi national social fraternity and Pi Kappa Lambda Honor Society. There he studied with American composer Ross Finney. Rex later transferred to Rollins College in Winter Park, Florida, where after a little over three years he graduated in 1946 with both Bachelor of Music and Bachelor of Arts degrees while sustaining a 98% grade-point average as well as winning the college's highest award, the Algernon Sydney Sullivan Award for outstanding achievement. After graduation, he became part of the music faculty of Rollins College for two years. During this time, he was also involved in a weekly radio program of dramatized plays for children for which he composed the music and acted.
After a divorce, Rex married his second wife, Betty, in 1948 with whom he had three children. In the early 1950s, he was director of bands and choruses for the Mt. Dora High School in Florida while continuing to compose music and poetry. However, increasing ill-health during this time started severely curtailing his musical activities with the result that after fulfilling some isolated commissions from the Florida Symphony and composing some short piano works, his musical life had to virtually cease, although he still continued to write poetry. In 1964, he developed colon cancer that was cured by surgery. In 1966, the family broke up, and Rex moved to Tallahassee, Florida to be near one of his sons who was attending Florida State University. Suffering from increasing depression, he barely survived a suicide attempt in August of 1970. After his recovery, he still continued to write poetry. He ultimately moved back to Springfield in 1972 and died of a stroke on April 23, 1973.
Charles Gordon Rex's children, Charles, Jr., Christopher, and Cathy, have carried on their father's musical tradition. Charles Rex (Jr.) became a concert violinist and was a first violinist in the Philadelphia Orchestra under Eugene Ormandy after graduating from Florida State University on a full scholarship. He was later the Associate Concertmaster of the New York Philharmonic under Zubin Mehta and Leonard Bernstein as well as serving as interim Concertmaster of the London Symphony Orchestra on a concert tour of England under Sir Colin Davis. For a sample performance, see Instant Encore's collection.
Christopher Rex became a cellist and was also in the Philadelphia Orchestra after graduating from the Curtis Conservatory. He later became the Principal Cellist of the Atlanta Symphony under Robert Shaw and Robert Spano, and also served as substitute Principle Cellist of the New York Philharmonic on a European concert tour by the NYP under Maestro Mehta. Cathy Rex was proficient on piano but decided not go into music professionally.
OTHER POPULAR SPIRITUALITY BOOKS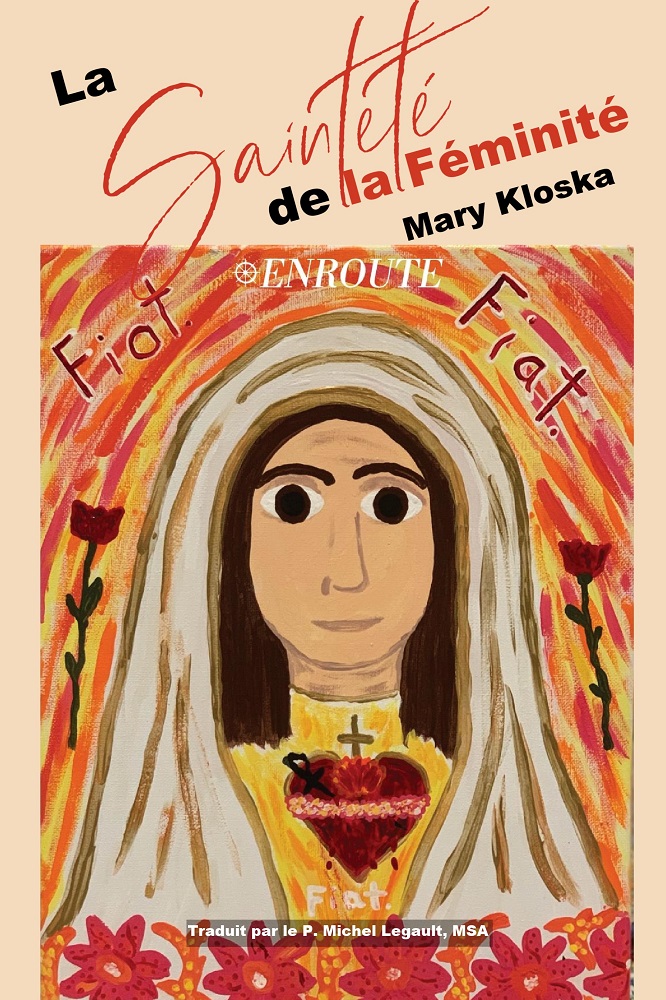 Below is a spiritual talk that Mary gave to a group of Polish youth at a retreat center in Babliniec, Poland about the Love that God has for them. It was on September 3, 2005 and is translated by Hania Przybylo. You can listen to this both in my English and Hania's...
read more