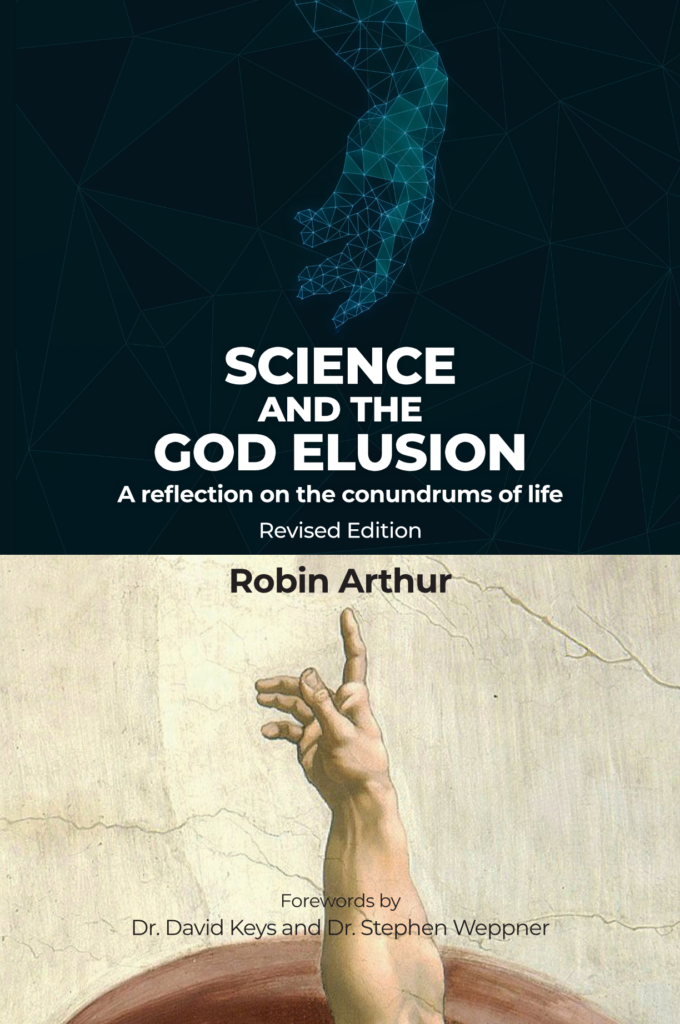 Science and the God Elusion: A Reflection on the Conundrums of Life (Revised Edition)
by Robin Arthur
This intelligent and wise book demonstrates that the so-called conflict between science and religion is fundamentally misconceived. Seen in their proper complementarity, they jointly illumine life's mystery and many conundrums.
Paperback $18.99 | Kindle $9.99
TESTIMONIALS
"Religion and science are two different and complementary avenues to knowledge and truth. Science aims for an explanation of how things work, but religion, for the most part, aims at trying to understand the meaning and ultimate purpose of life. Methodologically, explanation and understanding function differently, but have a lot to learn from each other. It is to Robin Arthur's great credit that he sees and illustrates this important insight with great charm and in fine detail." – Joseph Prabhu, Professor of Philosophy and Religion (Emeritus), California State University, Los Angeles, Trustee Emeritus and Adviser, Parliament of the World's Religions
ABOUT THE AUTHOR
Robin Arthur is a newspaper editor and a journalist who won the Pan-Asia Journalism award in 1995. This book is a sequel to Science and the God Elusion, which he released in June 2019. He has written several other books including Can the Poor Inherit the Earth, which is an opinion on Third World development paradigms and which won acclaim from UN organizations including UNESCO and UNDP. His first novel, The Island of Habarra, provides a glimpse into the sad narrative of expatriate workers who leave families and home behind to work in the oil-rich Persian Gulf. In Canada, Arthur worked to develop an appreciation of interfaith dialogue, and between 2011 and 2016 convened three very successfully staged Spiritual Diversity Conferences, paving the way for the establishment of an Interfaith Council in the city of Halifax.
OTHER FAITH/SCIENCE BOOKS
Signs of Resurrection by Roger Skrenes This book is written to show that in our world there are many signs of resurrection. Life beyond death is demonstrated or modeled in many ways within the world around us. This fact should teach us to believe that our death is not...
read more