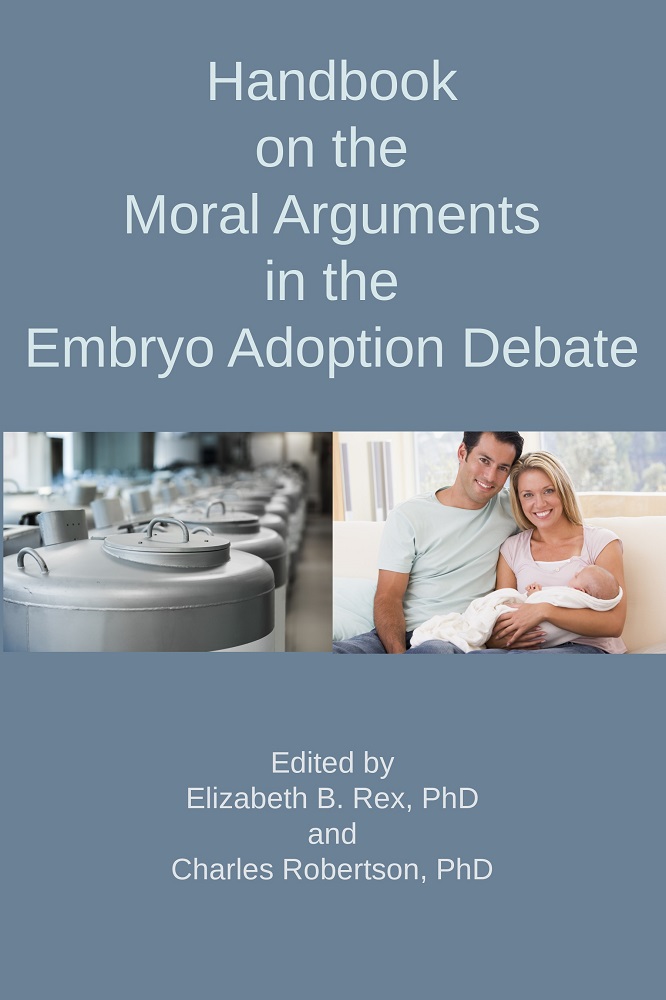 To receive a 30% pre-order discount, click on the donate button below and purchase the book for $20.95 + $6 shipping.
Handbook on the Moral Arguments in the Embryo Adoption Debate
by Elizabeth B. Rex, PhD, and Charles Robertson, PhD
The possibility of embryo adoption has existed for over two decades and raises some questions that people really do not know how to answer. Over half a century ago, when the first in vitro fertilization child was born, Albino Luciani, who within days would become Pope John Paul I, immediately issued a statement welcoming the child into the world that recognized the full humanity of the child without endorsing the in vitro procedure. Today there are over one million frozen embryos in cryostorage and the question in Dignitas personae 19 about "what to do with them" is still unresolved. The legal status  of the embryo should be a person – and some states have passed laws pertaining to embryo adoption – but there is still a great deal of confusion going on. This book was written in the hope of clarifying some of the ethical issues in the search for a moral solution.
Paperback: $29.95 | Kindle: $9.99
TESTIMONIALS
"What to do with the live human beings who are being warehoused as frozen embryos is one of the most important questions of our time. Embryos deserve to be treated as children, and not as property. They are the last group of humans being treated as property. Dr Elizabeth Rex is a world-class expert on this subject. I would urge everyone to consider her ideas deeply." –Allan Parker, President, The Justice Foundation
"Although my perspective is heavily biased, I recommend this book as a thoughtful and provocative review of the moral and ethical issues involved in Embryo donation and adoption.  These 2 experts have provided thorough and compelling information on both sides of this controversial issue, and anyone with an interest in, or who works with couples involved with infertility should benefit from this work." –Jeffrey A. Keenan, M.D., HCLD, Professor, Dept. of OB/GYN, Division of Reproductive, Endocrinology and Infertility, Univ. of Tennessee Medical Center, and Director, National Embryo Donation Center, Knoxville, TN
"Hannah Strege, the World's First Adopted Frozen Embryo, offered the Opening Prayer for the ITEST Webinar that was devoted to the subject of this book. This very vividly shows us that the ethical debate embraced in this book, about whether or not it is morally right to adopt a frozen embryo, is about real people. Hannah went from being a frozen embryo who was placed for adoption, to being transferred to her adopted mother's womb, to personally witnessing to the reality of being a human person. Let us prayerfully study Embryo Adoption, remembering that this is about helping children, like Hannah, to live to the full the gift of life we have all received." – Francis Etheredge, Senior Fellow of The Donum Vitae institute, and author of 16 books including The Human Person: A Bioethical Word and Conception: An Icon of the Beginning
"A highly important read not only for those interested in embryo adoption but everyone concerned with the ethical issues involved." – Ronda Chervin, Ph.D. Emerita Professor of Philosophy, Holy Apostles College and Seminary.  
"This book is essential reading for anyone interested in the embryo adoption debate. The essays present a clear and comprehensive look at both sides of this difficult issue. Highly recommended as the first point of reference on this subject." – Richard A. Spinello, Professor, St. John's Seminary and Boston College
"The embryo adoption debate is a crucial issue that concerns not only the fate of abandoned and frozen embryonic human beings but also the public credibility of Roman Catholic bioethical doctrine, pitting the charitable and sacrificial object of adoptive parents against complex, deductive arguments for the sinfulness of such action. Dr. Elizabeth Rex and Dr. Charles Robertson are two of the most recognizable voices in this debate. The pages of this book contain a lucid presentation of both sides in a rare attempt at finding points of agreement while clarifying the differences." – Christopher Reilly, candidate for Th.D., M.A. theology, M.A. philosophy, M.P.I.A. public and international affairs 
​ABOUT THE AUTHORS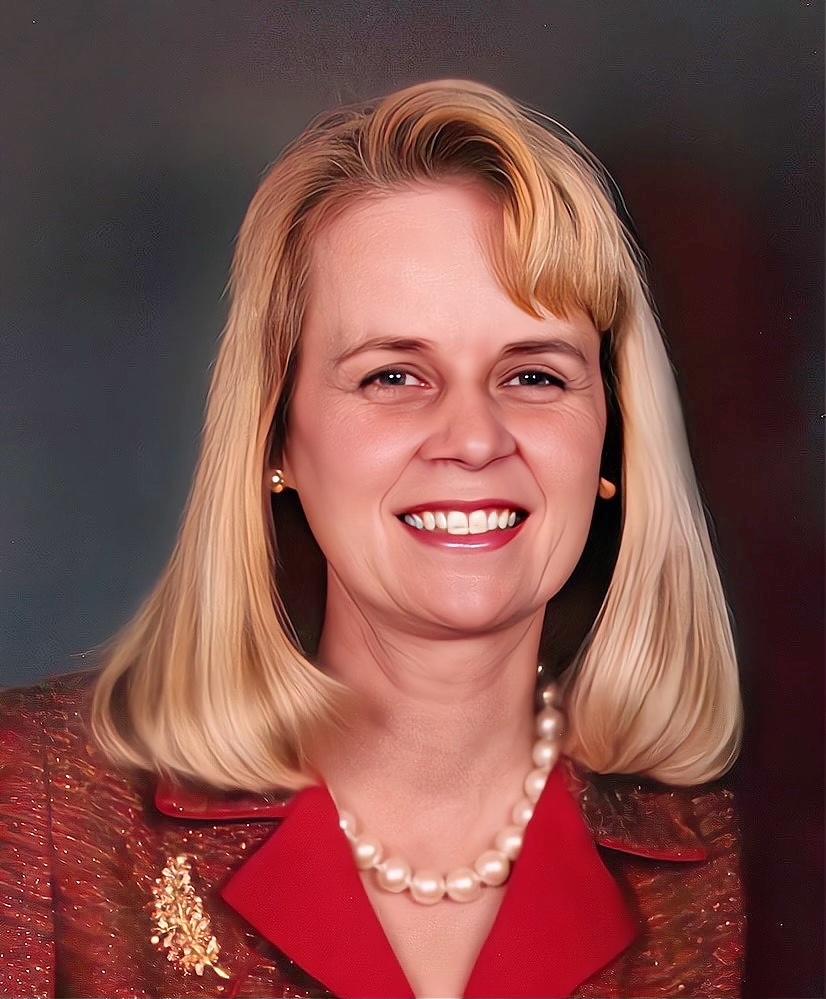 Dr. Elizabeth Rex is the President of the The Children First Foundation, a charitable and educational organization dedicated to promoting Adoption as a positive and loving choice for unwanted unborn children, including unwanted frozen embryos. Dr. Rex has taught Bioethics at Holy Apostles College & Seminary and is currently an Adjunct Professor of Catholic Studies at Sacred Heart University. Dr. Rex has spoken at major conferences and is a frequent contributor to National Catholic Bioethics Quarterly regarding the moral arguments in the embryo adoption debate.
​ABOUT THE AUTHORS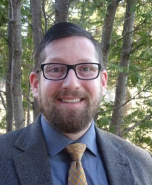 Dr. Charles Robertson earned his MA in History at the University of Saskatchewan and his MA and Ph.D. in Philosophy at the Center for Thomistic Studies in Houston, Texas. His research on embryo adoption/rescue has been published in The National Catholic Bioethics Quarterly, The Thomist, The Linacre Quarterly, and the Proceedings of the American Catholic Philosophical Quarterly. He has also published research on the history of the Thomist commentary tradition in Nova et Vetera and The Oxford Handbook of the Recption of Aquinas. He currently resides in Saskatoon, Canada, with his wife and eight children.
Scholars of the Sacred: Dominican Theologians in Late Medieval Byzantium by James Likoudis This in-depth study of the Catholic–Orthodox reunion efforts during the tumultuous 11th –15th centuries reveals the vital role played by the Dominican Order in shaping the...
read more