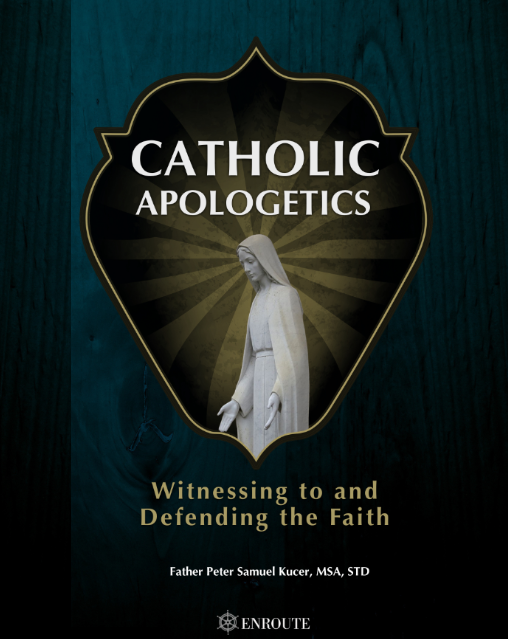 Catholic Apologetics: Witnessing to and Defending the Faith
by Fr. Peter Samuel Kucer, MSA
Catholic Apologetics teaches a budding apologist how to effectively witness to and defend the faith. We begin with a presentation of virtues an apologist is to embody, which includes both moral and intellectual virtues. The reader is taught how to use basic logic, rational argumentation, and non-rational argumentation to further the Good News of Jesus Christ. Apologetic topics that are presented include God's existence, the presence of evil, faith and science, Christ's divinity and resurrection, sola scriptura, the Eucharist, the Papacy, the Blessed Virgin Mary, the Communion of Saints, Mormonism, Hinduism, Buddhism and Islam.
Paperback: $19.99 | Kindle: $9.99
TESTIMONIALS
Fr. Peter Samuel Kucer, MSA, has produced quite a grand opus in his collection of works on Marian Devotion, Catholic Church History, East and South East Asian History, Catholic Apologetics, Protology and the Priesthood, Western Civilization and Political Science. Each of his books provides wisdom for the beginner and clarity for the educated. – Dr. Sebastian Mahfood, OP, Professor of Interdisciplinary Studies, Holy Apostles College & Seminary
ABOUT THE AUTHOR
Father Peter Samuel Kucer, MSA, STD is Academic Dean of On-campus Learning and Assistant Professor of Theology at Holy Apostles College and Seminary in Cromwell, CT. He received degrees from Middlebury College, Holy Apostles College and Seminary, the Dominican House of Studies, and the Catholic University of America. He is intent on putting his educational background at the service of the New Evangelization promoted by the recent popes.
Scholars of the Sacred: Dominican Theologians in Late Medieval Byzantium by James Likoudis This in-depth study of the Catholic–Orthodox reunion efforts during the tumultuous 11th –15th centuries reveals the vital role played by the Dominican Order in shaping the...
read more