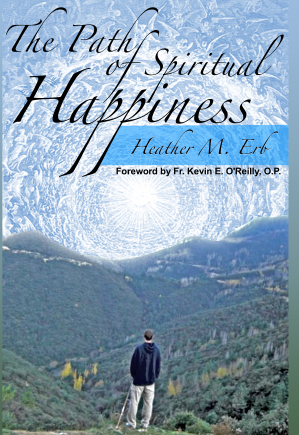 The Path of Spiritual Happiness
by Dr. Heather M. Erb
This book is a story of the unfolding triumph of Christian happiness as a philosophy of life. We begin with ancient Greek roots and principles provided us by Aristotle, 'the master of those who know.' We continue through medieval flourishing in the sparkling syntheses of the Angelic Doctor, St. Thomas Aquinas. We move to the application of this Dominican saint's penetrating vision to leisure and worship by a prominent twentieth century Thomist pilgrim, Josef Pieper. Pope John Paul II's encyclicals complete the threads in this little tapestry of reason redeemed, which is offered for today's Christian in the heart of the world.
Fr. Kevin E. O'Reilly, O.P. (Angelicum, Rome), in his Foreword to this volume, writes:
The synthesis of faith and reason and fidelity to the Church's magisterium are hallmarks of this volume, which deals with the most fundamental of human desires, namely the desire for happiness….My own desire is that it become a standard text in Catholic educational circles and, indeed, beyond!….What better way to prepare the soil of contemporary culture for the reception of the Gospel of Joy than to outline the nature of true happiness!
Paperback $14.95 | Kindle $9.99
TESTIMONIALS
"I enjoyed reading The Path of Spiritual Happiness. It is a well-founded presentation of a topic which is so important to the moral behaviour of mankind in our present age, when theological arguments are not very popular. The philosophical foundation therefore is becoming more important." – +Bishop Attila Miklósházy S.J., ep.emeritus Hungarorum in exteris, prof. et decanus emeritus Facultatis Theol. in Seminario S. Augustini, in Toronto School of Theology; author of a 5 volume series, The Origin And Development of the Christian Liturgy According to Cultural Epochs: Political, Cultural and Ecclesial Backgrounds (Mellen Press).
---
"Dr. Heather Erb's The Path of Spiritual Happiness is paved with good intentions, sage counsel, and delightful results.  This carefully crafted compendium of the best of Christian philosophy throughout the ages illuminates the mind and brings joy to the heart — a must-read for all seekers of the wisdom and happiness that only Truth can bring." – Kevin Vost, Psy.D., author of Memorize the Mass! and The One-Minute Aquinas
---
"The Path of Spiritual Happiness is a wonderful book not only for students, but also for all Catholic intellectuals. Dr. Erb's book is scholastically authoritative and engaging, providing contemporary examples for today's world." – Dr. Ronda Chervin, Professor Emerita of Philosophy, Holy Apostles College & Seminary, and author of Catholic Realism: A Framework for the Refutation of Atheism and the Evangelization of Atheists
ABOUT THE AUTHOR
Heather M. Erb is a moderator in the Great Books Program of Angelicum Academy. She holds a Doctorate of Philosophy in the thought of St. Thomas Aquinas from University of Toronto, as well as degrees in Philosophy and Religious Studies from St. Michael's College (University of Toronto) and Katholieke Universiteit Leuven (Belgium). Dr. Erb has taught at a variety of universities, including Lock Haven, Catholic Distance University, Penn State, Fordham, St. Francis, and University of Toronto. She publishes widely in Catholic academic and popular journals and books, and lives in central Pennsylvania with her husband and three children.
Representative Publications
"Modernism and the Growing Catholic Identity Problem: Thomistic Reflections and Solutions" (available online: Studia Gilsoniana 4:3 July –September 2015, 251-83): http://www.gilsonsociety.pl/studia-gilsoniana/4-2015/251-283/
"Pati Divina: Mystical Union in Aquinas" in Faith, Scholarship, and Culture in the 21st Century, Alice Ramos and Marie George, eds., Catholic University of America Press (2002) 73-96 [Introduction by Robert Royal]: https://www3.nd.edu/~maritain/ama/Faith/faith104.pdf
Heather M. Erb, "Metaphysical Aspects of Aquinas' Doctrine of the Spiritual Life" (Proceedings of the International Congress on "Christian Humanism in the Third Millennium: The Perspective of Thomas Aquinas" (Pontifical Academy of Saint Thomas and the Thomas Aquinas International Society) 2003 http://www.e-aquinas.net/pdf/mcadam.pdf
"From Rivulets to the Fountain's Source: Image and Love in Aquinas' Christian Anthropology" in Pagan-Aguiar and Auer, eds. The Human Person and a Culture of Freedom (Catholic University of America Press, March 2009) 61-91: https://www3.nd.edu/~maritain/ama/Human/Human104.pdf
"Chosen for Glory: Aquinas on Vocation to the Supernatural", in John Hittinger, ed., The Vocation of the Catholic Philosopher from Maritain to John Paul II (Catholic University of America Press, 2010) 230-252: https://www3.nd.edu/~maritain/ama/Vocation/Vocation403.pdf
Articles in New Oxford Review, including: "The Pilgrim Church and Ummat al-Islam: Two Visions of Peace and Community", (November 2013); "The Charismatic Appetite" (November 2008); "Truth – A Destroyer of Community?" (March 2010)
"The Varieties of Wisdom and The Consolation of Philosophy" (Logos: A Journal of Catholic Thought and Culture3 (Summer 2012) 161-189.
Scholars of the Sacred: Dominican Theologians in Late Medieval Byzantium by James Likoudis This in-depth study of the Catholic–Orthodox reunion efforts during the tumultuous 11th –15th centuries reveals the vital role played by the Dominican Order in shaping the...
read more