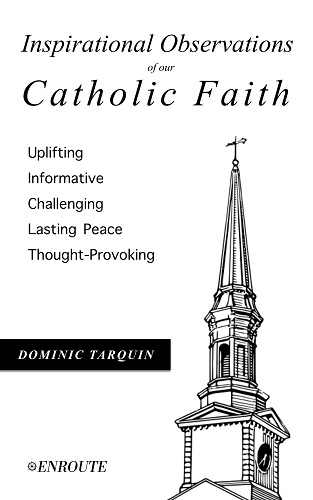 Inspirational Observations of Our Catholic Faith
by Dominic Tarquin
These writings, inspired by the Holy Spirit, are intended to offer information, encouragement and hope to all Catholics. Each page offers a combination of comments that generate a desire to ponder the true meaning of the Catholic faith and increase our awareness of its many facets.
Paperback: $12.95 | Kindle: $9.99
TESTIMONIALS
"I have known the author now for approximately 15 years and have truly been blessed to have the honor of knowing him. His previous book A Story of Our God and Our Catholic Religion was both uplifting and inspirational. Please continue to allow us to enjoy your wisdom!!" – Barron Fitz-Gerald
"This book truly made me look at my faith and life in a new way through the author's thought-provoking insights presented in each excerpt."  – Heather Rustici
"This book should have broad appeal for all of us trying to get to heaven.  Follow the author's instructions, and you can't miss. He clarifies everything you learned from grade school in the Baltimore Catechism (which you didn't understand) up to last Sunday's homily." – Ray Spall
"Mr. Tarquin's book, "Inspirational Observations of our Catholic Faith" is a read that stays with you and is refreshing to the soul.  It gives one encouragement in many facets to do God's will on a daily basis, while digesting God's great love for us. The writings extend encouragement in a torn and divided world." – Nancy Montgomery
"The writings on the pages of Observations of Catholic Faith are a personal guide to help us realize we are God's creation on earth and we are not here by accident. Our purpose in life is to accomplish the will of the Lord and go to Heaven for eternity with God. Start here . . ."  – Steve Loder
"Dominic's book reminds all of us of God's great love for us and how we can grow closer to Him. The writings open the door and lay out the fundamentals of our Catholic faith in a straightforward, conversational, and thought-provoking way." – Jennifer Wicht 
"It is clear that Dominic has a deep and committed relationship with his faith and the Holy Trinity and is eager to share it with all of us.  As someone who has worked in the Catholic Church for many years, teaching children and adults alike about our faith, I would recommend this book especially to those who are relatively new to the faith or those who want to renew their love and commitment concerning Catholicism. As parents begin to bring their children to the sacraments, many want to expand their own knowledge of the faith. There are also adults who are just coming into the faith through RCIA or adults who may have left the church for a time and are now making their way back and have an awakened desire to delve deeper into the meaning of being Catholic. This book gives Catholics a foundation to build on as they explore the many facets of their faith while creating a living. loving relationship with God, Jesus and the Holy Spirit." – Lisa Rustici
"Thought provoking and profound. Dominic Tarquin reminds us that God is with us through every step in life and that God wants us to always rely upon Him and not of the things in this world." – Mark Morabito
"I've always found Dom's advice inspirational, entertaining and wise. Reading his words is no different. His books are like a caring conversation with a long-time friend." – Brian Campbell
"Upon reading this book I thought this is something I should be reading every day. I think every Christian should read books just like this one every day. This book helps me to remember why Jesus died, not just for me but for everyone. This is one of those books that when I read it I can't put it down. It is very inspiring." – Ron Dougherty
ABOUT THE AUTHOR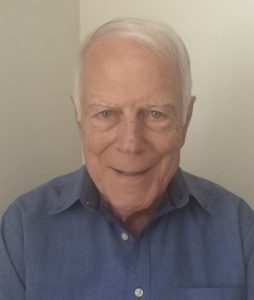 Dominic Tarquin has served in a variety of Catholic Church organizations and volunteer services, including a Christian prison ministry, and has produced various Catholic writings. 
OTHER CATHOLIC SPIRITUALITY BOOKS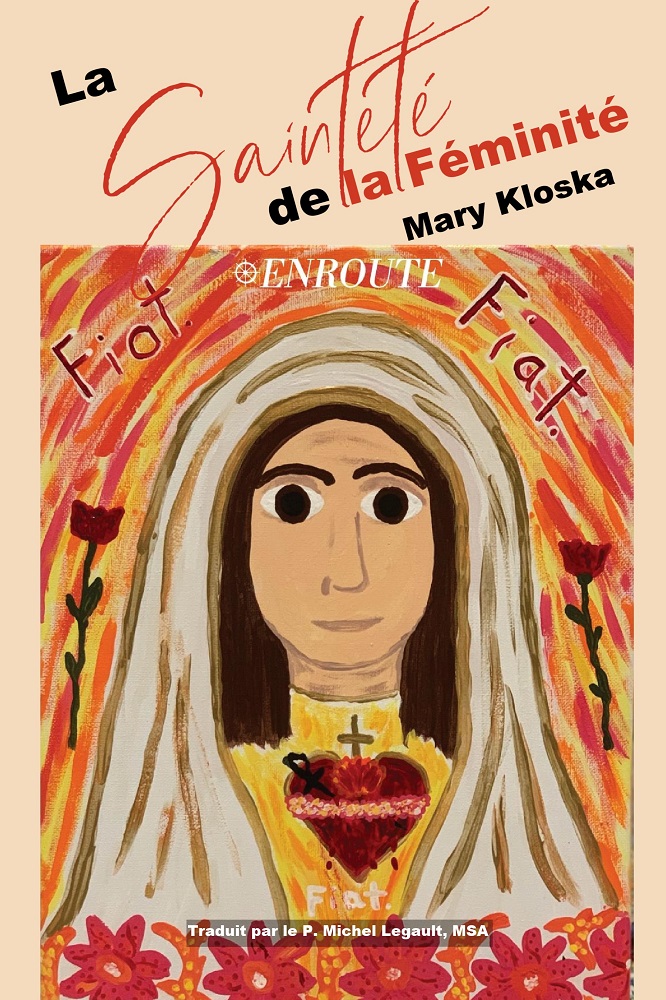 Below is a spiritual talk that Mary gave to a group of Polish youth at a retreat center in Babliniec, Poland about the Love that God has for them. It was on September 3, 2005 and is translated by Hania Przybylo. You can listen to this both in my English and Hania's...
read more