Chosen One: From Homeless Infant to Priest at Home in My Heavenly Father's Heart
by Fr. Bob Shaldone, SOLT
This is a story of the life of Fr. Bob Shaldone, SOLT, whose earthly mother gave him up for adoption following a happy conclusion to an unplanned pregnancy and whose Heavenly Father chose him as one of His priests in the Society of Our Lady of the Most Holy Trinity in which he is celebrating his 25th anniversary of his ordination to priesthood.
Paperback: $9.99 | Kindle $5.99
TESTIMONIALS
"Fr. Bob Shaldone's book Chosen One is a beautiful depiction of one soul's journey from being an earthly orphan to becoming a chosen son of the Eternal Father. Fr. Bob's life is a great testament to the truth that God makes no mistakes, often writing straight with crooked lines making 'all things work for the good of those who love Him, those who are called according to his purpose.' (Rom 8:28) This book will surely inspire the reader to listen deeper to the voice of God steadily unfolding His plan in their own vocation and life." – Mary Kloska, author of A Heart Frozen in the Wilderness: Reflections of a Siberian Missionary
"It is said that St. Pio of Pietrelcina famously opined: 'The earth could sooner exist without the sun than without the Holy Sacrifice of the Mass.' He might have added that the Holy Sacrifice of the Mass could sooner exist without the earth than without a priest. In Fr. Shaldone's moving autobiography… Chosen One… the reader will be treated to a rare, inside look at a marvelous spiritual reality we so often take for granted… the priestly vocation. In addition, as the author relates his life story in a warm, but 'no holds barred' way, the reader will encounter the beautiful mystery of what it means to be human; and in our overly mechanical and often brutally technological society, a development whose dehumanizing effect can be observed all around us, this is no small accomplishment and certainly addresses one of the deepest needs of our times." – Fr. Lawrence Edward Tucker, author of The Prayer of Jesus Crucified, Adventures In The Father's Joy, To Whom The Heart Decided To Love, The Redemption of San Isidro
"This improbable story of how God brought an infant through peril to become a wonderful priest is exciting, deep, and inspiring. It will help you to understand God's workings in your own life and could be a great gift for anyone who might have a vocation to the priesthood." – Dr. Ronda Chervin, Emerita Professor of Philosophy, author of numerous Catholic books and Catholic media presenter
ABOUT THE AUTHOR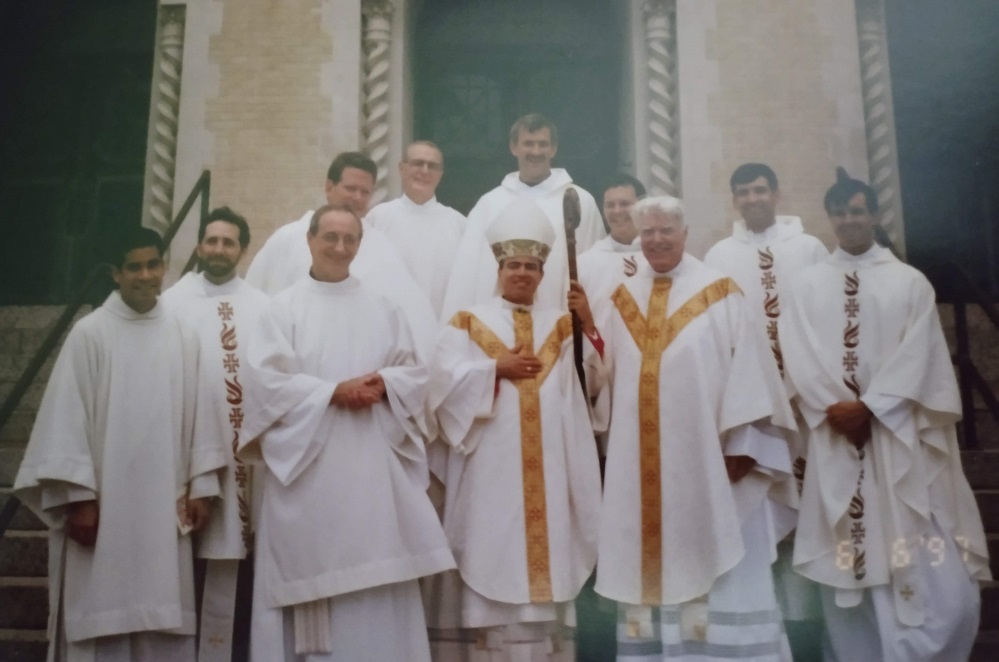 Fr. Bob Shaldone, SOLT, is a member of the Society of Our Lady of the Most Holy Trinity.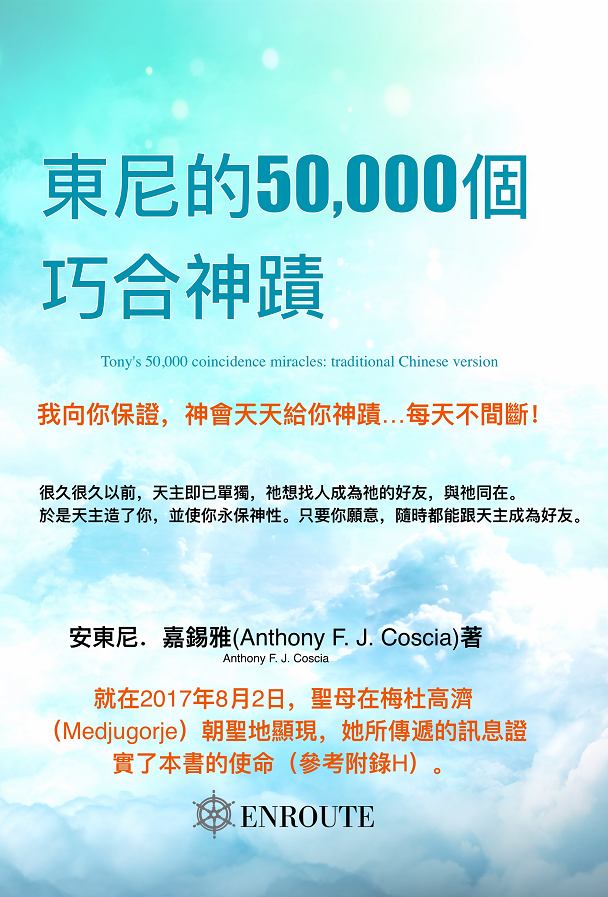 This is the TRADITIONAL VERSION. (点此进入):东尼的50,000个 巧合神迹 [Click Here for Simplified Chinese] 本頁面提供了這本書的詳盡內容介紹。 若您希望直接購買,請點選以下連結: #1. 點此訂購 (電子書)#2. 點此訂購 (平裝書) 請使用有語言轉換功能的瀏覽器,自動將英文譯為中文瀏覽所有東尼的書+免費項目,點此進入Tony's 50,000 Co-Incidence Miracles (Traditional Chinese) 東尼的50,000個...
read more