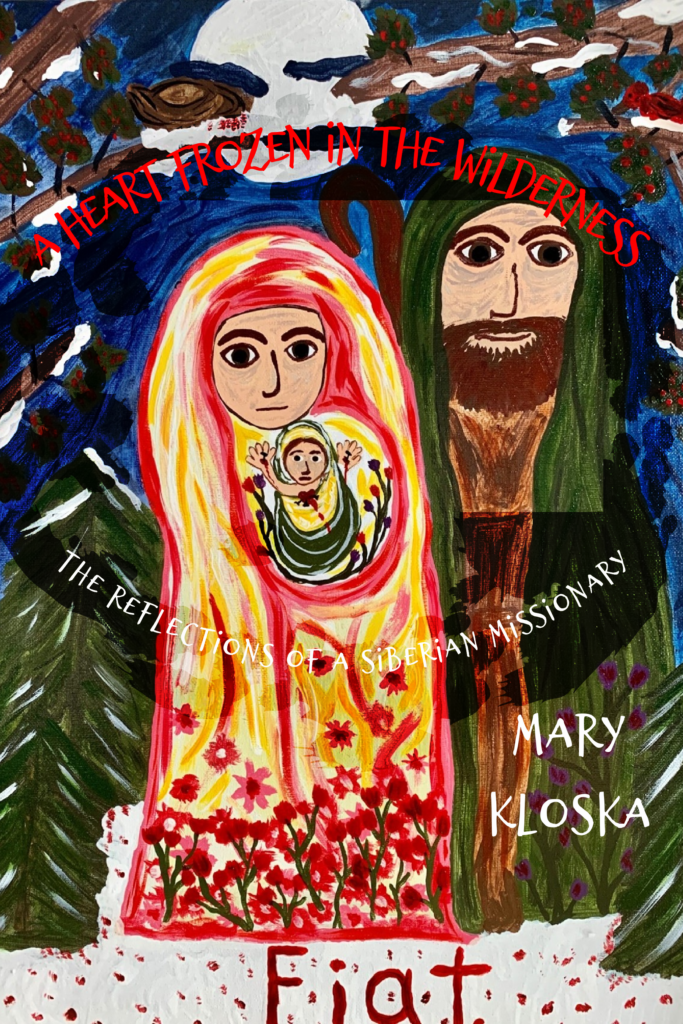 Below is a spiritual talk that Mary gave to a group of Polish youth at a retreat center in Babliniec, Poland about the Love that God has for them. It was on September 3, 2005 and is translated by Hania Przybylo. You can listen to this both in my English and Hania's Polish.
To duchowe przemówienie, które wygłosiłem grupie polskiej młodzieży w ośrodku rekolekcyjnego w Bablińcu, Polska o Miłości, jaką Bóg dla nich ma. Został on przetłumaczony 3 września 2005 roku przez Hanię Przybylo. Można to posłuchać zarówno w moim języku angielskim, jak i po polsku Hania.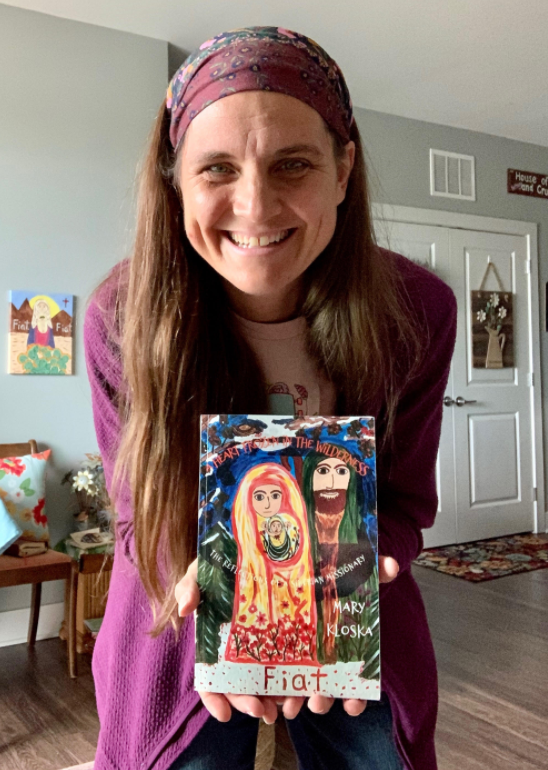 A Heart Frozen in the Wilderness: The Reflections of a Siberian Missionary
by Mary Kloska
Mary Kloska's experience as a Siberian Missionary was inspired by an appeal from Our Blessed Mother, who prophesied at Fatima, "I shall come to ask for the consecration of Russia to my Immaculate Heart, and the Communion of Reparation on the First Saturdays. If my requests are heeded, Russia will be converted, and there will be peace; if not, she will spread her errors throughout the world, causing wars and persecutions of the Church. The good will be martyred, the Holy Father will have much to suffer, various nations will be annihilated. In the end, my Immaculate Heart will triumph. The Holy Father will consecrate Russia to me, and she will be converted, and a period of peace will be granted to the world…" And so, Mary Kloska's days in Russia began. (Our Lady of Fatima, July 13, 1917)
Paperback: $16.95 | Kindle: $9.99
Support Mary's work! Sign-up today for a monthly donation to her through her Patreon account by clicking the image below!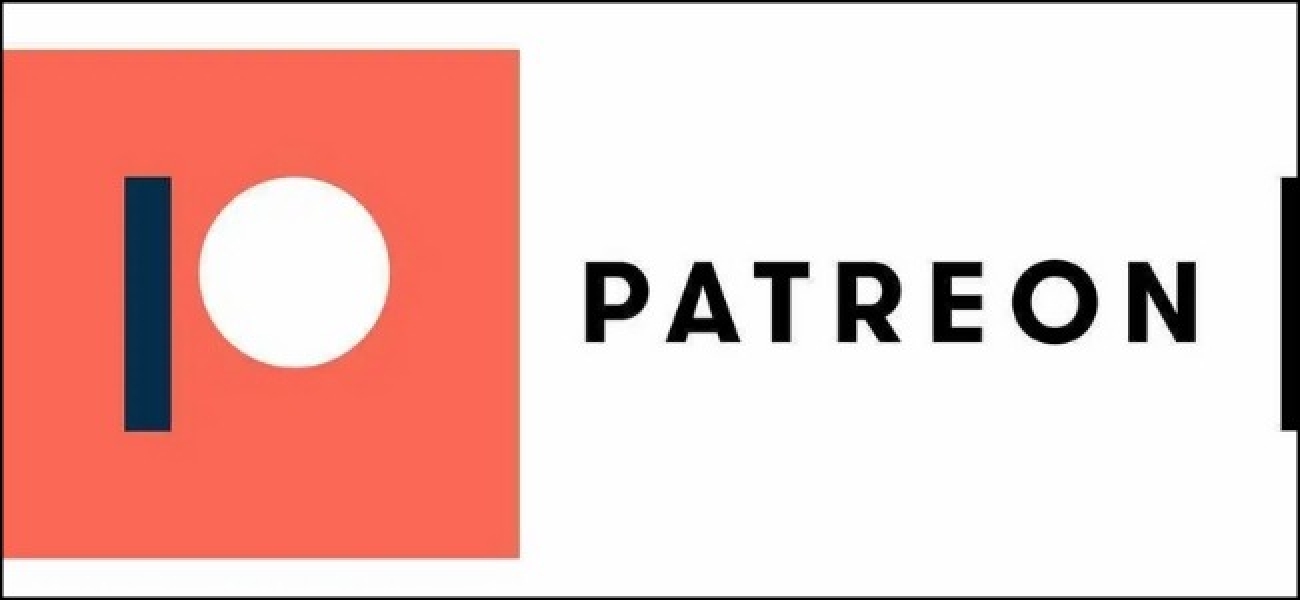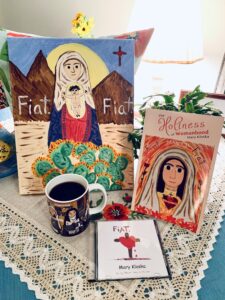 Buy a pillow and email mahfood@wcatradio.com a photo of you holding it, and I'll post your photo on this page with your message to Mary.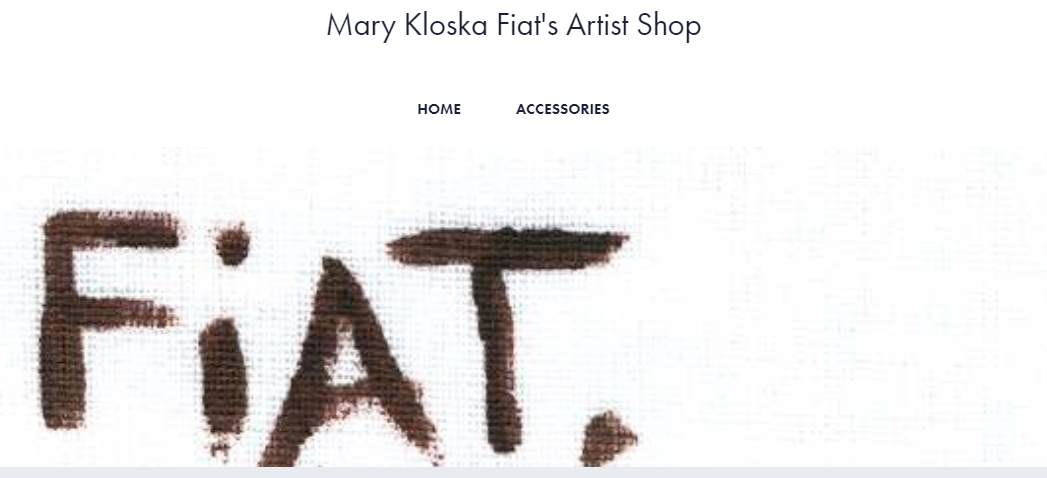 The Heart of Fiat Crucified Love
TESTIMONIALS
"This writes about: The Heart of a Child, the Russian Heart, Jesus' Patient Heart on the Cross, Our Lady's Immaculate Heart … It is a catalyst for reflect YOUR part in the mystery of the HEART of CHRIST'S MYSTICAL BODY. Would others stay or change to be a heart frozen? Be a "star of the stormy sea" among frozen lakes, rivers, seas, even a merciless ocean. Be melting and warming as A HEART FROZEN. YOU be shine like stars in the world (see Philippians 2:15)!"- (Rev. Vincent A. Salamoni, Missionaries of the Holy Apostles (M.S.A.), author of The Mercy Ocean.- Rev. Vincent A. Salamoni, Missionaries of the Holy Apostles (M.S.A.), author of The Mercy Ocean
ABOUT THE AUTHOR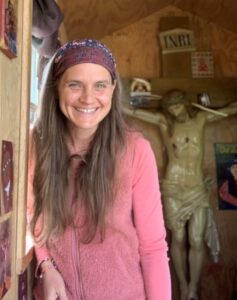 Mary Kloska is from Elkhart, Indiana. She was raised in a huge Polish family (12 brothers and sisters) along with a lot of foster babies and other needy people in and out of the house. She presently has 70+ nieces and nephews.  She has lived a very unique life. Upon graduating from Notre Dame in 1999 she spent almost 20 years in the missions serving the poor (including orphanages) as well as praying as a consecrated hermit all over the world –Siberia, Nigeria, Tanzania, South Africa, Philippines, Mexico, the Holy Land and all over Europe as well. Although she spent a lot of time away in silence praying, ironically she loves children and is very fun and outgoing when it comes to serving young adults, as well as the little ones. She also spent her time in the missions giving retreats, doing simple catechesis, leading prayer groups, giving spiritual direction, helping in deliverance, changing diapers, feeding babies and cleaning floors. After spending intense time serving in a mission she would withdraw for periods of 'retreat' as a hermit (including three years as an official diocesan hermit with vows under a Bishop.) The last few years she has spent as a fulltime nanny to infant triplets, twins and several large families. She speaks many languages (poorly) and enjoys playing guitar, painting icons, baking, gardening, reading, writing and simply filling in where there is the greatest need in the Church. Her WCAT Radio program, "The Heart of Fiat Crucified Love," may be found here.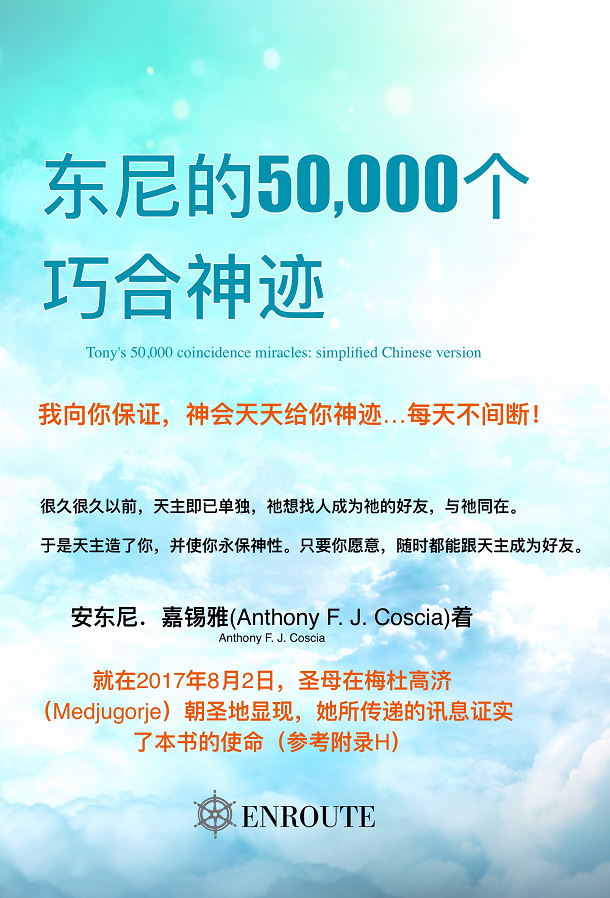 (This is the SIMPLIFIED VERSION)  (點此進入):東尼的50,000個 巧合神蹟 [Click here for Traditional Chinese] 本页面提供了这本书的详尽内容介绍。 若您希望直接购买,请点选以下连结: #1. 点此订购 (电子书) #2. 点此订购 (平装书)请使用有语言转换功能的浏览器,自动将英文译为中文浏览所有东尼的书+免费项目,点此进入Tony's 50,000 Co-Incidence Miracles (Simplified Chinese) 东尼的50,000个...
read more