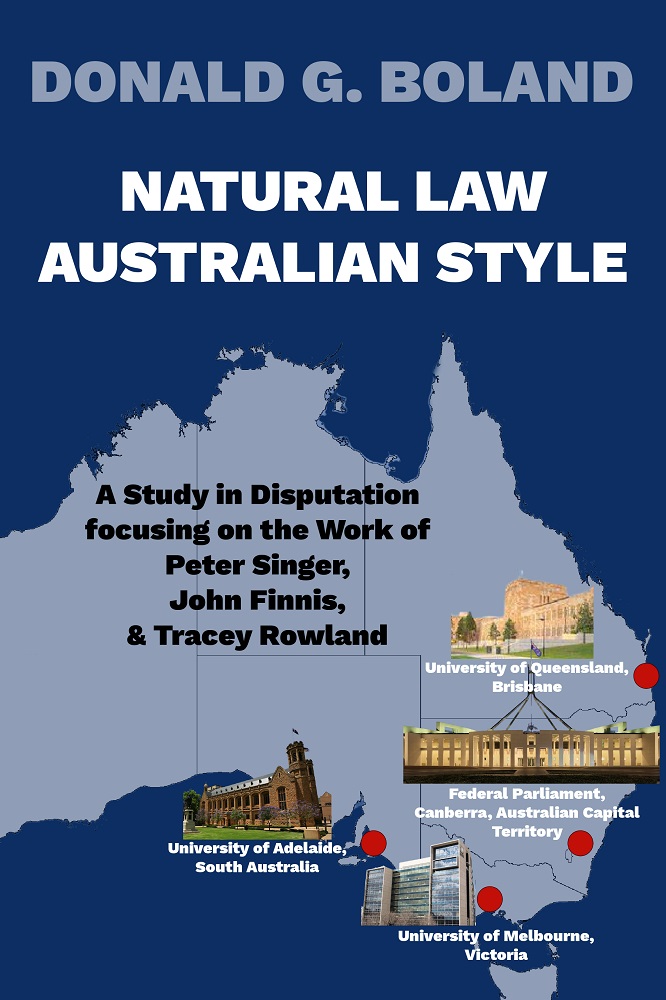 Natural Law – Australian Style: A Study in Disputation focusing on the Work of Peter Singer, John Finnis and Tracey Rowland
by Dr. Donald G. Boland
This book is a critique of the three most prominent Australian "authorities" on Law and Ethics of the present day, namely John Finnis, Tracey Rowland, and Peter Singer. So far as the study of Natural Law is concerned the central figure is John Finnis. Peter Singer relates to it indirectly as adopting a position in Moral Philosophy that rejects Natural Law in any traditional sense and takes a naturalist position in a utilitarian sense. Tracey Rowland adopts a position that downplays Natural Law as knowable by human reason or philosophy outside the theological order of grace. The works of these philosophers provide the occasion for bringing back into focus some of the great truths of ethical and legal philosophy and for showing up, as best as one can from within, the diabolically perilous situation for our modern culture that has developed since the general breakdown of Christian civilization now so long ago as to be practically forgotten.
Paperback $19.95 | Kindle $9.99
REVIEWS
Francis Etheredge, Profiles in Catholicism (June 8, 2022). Click here to read. 
TESTIMONIALS
"With this book, Dr. Boland has conducted a laser precise post-mortem on the natural law theories of
Singer, Finnis and Rowland. I highly recommend his Natural Law – Australian Style to all who teach
or study Ethics or Law in institutions of higher learning, and to all who desire to benefit from the intensive
and extensive learning of a true Thomistic scholar and teacher." – Frank Calneggia, retired electrical
engineer.
Scholars of the Sacred: Dominican Theologians in Late Medieval Byzantium by James Likoudis This in-depth study of the Catholic–Orthodox reunion efforts during the tumultuous 11th –15th centuries reveals the vital role played by the Dominican Order in shaping the...
read more