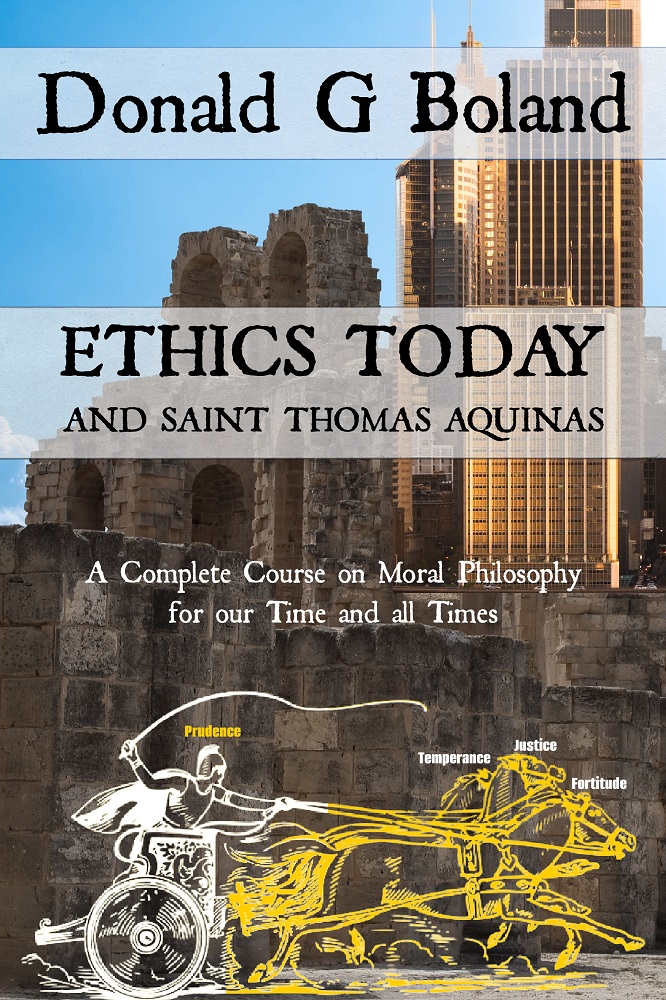 Ethics Today and Saint Thomas Aquinas: A Complete Course on Moral Philosophy for Our Time and All Times
by Dr. Donald G. Boland
This book seeks to provide a complete moral philosophy based on the works of St. Thomas Aquinas. The first part deals with the principles or 'theory' according to the final cause, efficient cause, material cause and formal cause. Setting aside grace, it concerns the ultimate end, or happiness as intended; the will and the human act as the principal efficient or moving cause and subject; the sense appetites as the secondary moving and material causes, the intrinsic formal causes which are the habits in the will and sense appetites; and law as the extrinsic formal principle of all human behaviour. The second part deals with the four cardinal virtues and all virtues under them, setting aside the theological virtues, and adding as a fifth section a more detailed treatment of happiness as effected.
Paperback $24.95 | Kindle $9.99
TESTIMONIALS
"As its title indicates, Dr Donald Boland's book is indeed a complete course on moral philosophy for our time and for all time. The moral philosophy of St Thomas Aquinas and Aristotle is exposed and explained in wonderful order and with great clarity. The seminarians for whom this text was originally written as a series of lectures were indeed blessed to have had Dr Boland as their teacher. I recommend it not only to Catholic teachers and students, but to all persons of good will who are desirous of a sane education in right morals and virtue. I believe this book is destined to do a lot of good." – Frank Calneggia, author of Assertions and Refutations: An Assessment of Dr Tracey Rowland's Natural Law: From Neo Thomism to Nuptial Mysticism
Disputed Catholic Landmarks by Gerard Verschuuren Everyone's life has landmarks: when you were born, when you graduated from school, when you got your first job, when you got married, and so many more. There must be many landmarks in the history of the Catholic...
read more