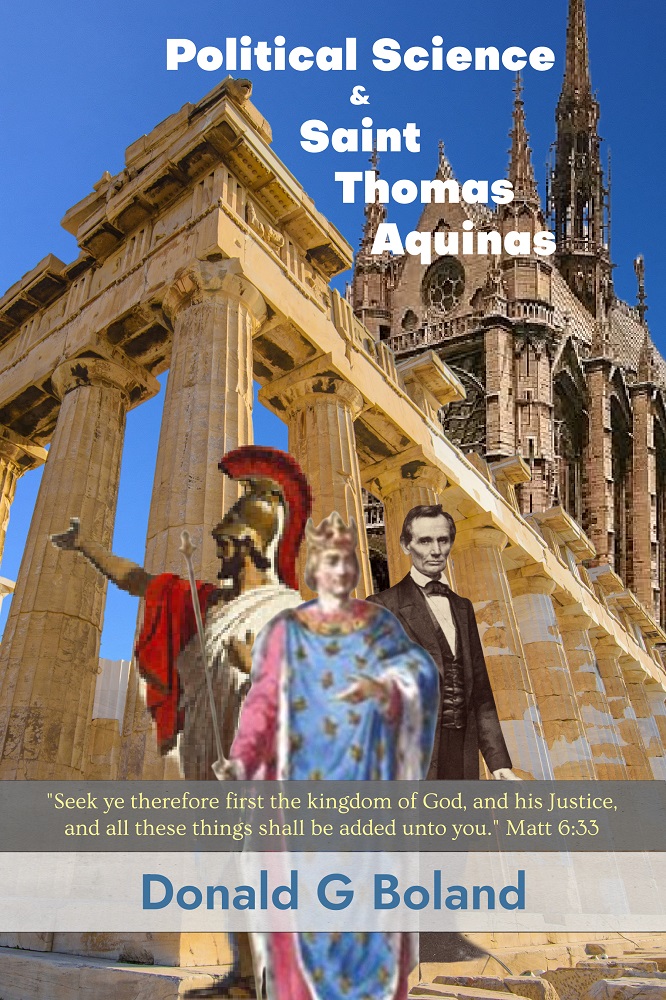 Political Science and Saint Thomas Aquinas
by Dr. Donald G Boland
This book seeks to provide a relatively complete basis for the understanding of political science as presented by Aristotle, with the help of Saint Thomas Aquinas mainly by way of his (partial) commentary on Aristotle's Politics and his own work "On Kingship". 
There is sufficient in this we believe to give anyone good philosophical grounds for a solid critique of the modern studies, not only in Political Science and related subjects, but also, taken together with our book Economic Science and Saint Thomas Aquinas, in Economic Science. Indeed, such a critique seen in the light of the practical ethical principles brought out in the study of Aristotle and Aquinas may justifiably be such as to rise to the level of a severe condemnation simply from the standpoint of common morality and common sense.
Paperback $24.95 | Kindle $9.99
TESTIMONIALS
"The restoration of Aristotle's Ethics and Politics as the necessary basis of political science is the principal objective of Political Science and St Thomas Aquinas. With this book Dr Boland has provided an excellent exposition of two works of St Thomas Aquinas: his Commentary on the Politics of Aristotle and his work on Kingship. Dr Boland has very skillfully traced the golden thread provided by St Thomas and contrasted it against the theories underpinning modern political science where authentic metaphysics has given way to an all-embracing mathematical quantification of nature, and human psychology has (in the words of Chesterton) degenerated from the study of anthropos to the study of anthropoids. Political Science and St Thomas Aquinas is a most thought-provoking book. To me it serves admirably at the level of human reason and philosophical reflection the papal motto of St Pius X: "to restore all things in Christ." – Frank Calneggia, author of Assertions and Refutations: An Assessment of Dr Tracey Rowland's Natural Law: From Neo-Thomism to Nuptial Mysticism  
Scholars of the Sacred: Dominican Theologians in Late Medieval Byzantium by James Likoudis This in-depth study of the Catholic–Orthodox reunion efforts during the tumultuous 11th –15th centuries reveals the vital role played by the Dominican Order in shaping the...
read more