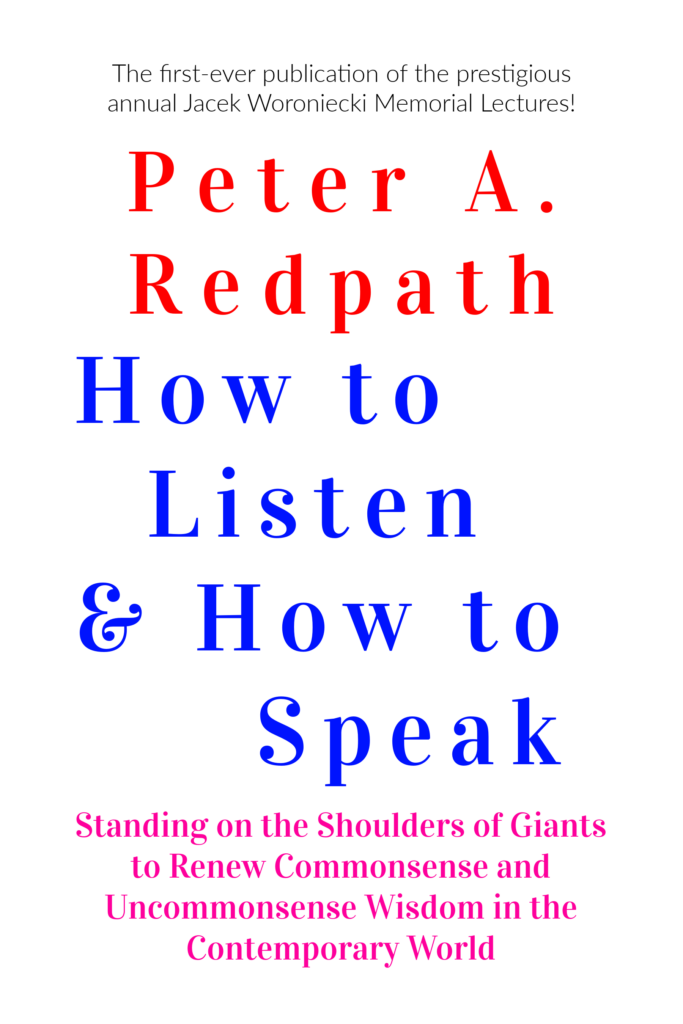 How to Listen & How to Speak: Standing on the Shoulders of Giants to Renew Commonsense and Uncommonsense Wisdom in the Contemporary World
by Dr. Peter Redpath
While the subject of this monograph is chiefly human communication in the form of listening and speaking, it examines this subject as a chief means to enable contemporary readers to come into contact with common and uncommon commonsense wisdom of past intellectual giants. It does so for the chief goal of fostering world peace by enabling readers to enrich their own lives and that of others by acquiring some of this wisdom and putting it to use on a daily basis.
Paperback: $24.95 | Kindle: $9.99
The full version of this talk entitled "Modern Media Bias and the Lost Liberal Arts of Listening and Speaking"
was given at the Institute for Theological Encounter with Science and Technology on June 19, 2020, at a webinar entitled "Media Bias: The Manipulation of Faith, Science & Technology" available online at
https://faithscience.org/media-bias/
ACKNOWLEDGMENT BY THE AUTHOR
"I wish to thank my colleagues at the John Paul II Catholic University of Lublin, Prof. dr. hab. Piotr Jaroszyński and Prof. dr. hab. Imelda Chłodna-Błach for inviting, and assisting, me to give the prestigious 2021 Jacek Woroniecki Memorial Lectures. In so doing, with the help of the students participating, they enabled me analogously to compare and articulate the historical, cultural, and civilizational magnitude of these Lectures and my current monograph to that of the celebrated 'Father of Modern Philosophy' René Descartes first presenting his work, Meditations on First Philosophy, to 'The Most Wise and Illustrious The Dean and Doctors of the Sacred Faculty of Theology in Paris' at the University of Paris in 1641. They did so, particularly, by allowing me, for a first time publicly, in detail, at a prestigious international university, to show how the contents of this book and these Lectures contain the main philosophical, psychological, and social science remedy to counteract the widespread cultural and civilizational damage that, unwittingly on his part, Descartes's misunderstanding of the nature of philosophy—especially of the human person, metaphysics, wisdom, prudence, and common sense—unleashed on future generations of human beings in the West and globally." – Dr. Peter Redpath
REVIEWS
David Ross, New Oxford Review (June 2022). To read, click here. 
TESTIMONIALS
"Revisiting Mortimer J. Adler's classic book How to Speak. How to Listen, Redpath transcends the work with penetrating historical, psychological, and philosophical insights with wit and humor on why the arts of listening and speaking are essential for the pursuit of common sense—the first principle of understanding— and commonsense wisdom in promoting world peace. College students to global leaders will benefit immensely from the collaborative efforts of these two commonsense intellectual giants!" – Marvin B. Daniel Peláez is the founder of The Boethian Renewal and Co-Director of the Aquinas School of Leadership School of Economics. He is also a Supervisory Economist for the U.S. Bureau of Labor Statistics.
ABOUT THE AUTHOR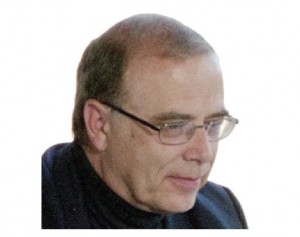 Peter A. Redpath (retired Full Professor of Philosophy at St. John's University, New York) is author/editor/co-editor of seventeen philosophical books and many dozens of articles and book reviews. An internationally recognized scholar, since 1980 he has given over 200 invited guest lectures nationally and internationally. Among his many accomplishments, he is CEO of the Aquinas School of Leadership, LLC; former Founder and Chair of the Thomistc Studies Graduate Concentration in Christian Wisdom for Holy Apostles College and Seminary (USA); an Affiliate Scholar with the University Abat Oliba Graduate program (Barcelona, Spain). Peter is also co-founder of the Gilson Society (USA) and the International Etienne Gilson Society, the Adler-Aquinas Institute, and the Angelican Academy and Great Books Academy homeschool programs (both founded with the help of Mortimer J. Adler); former executive editor of the Value Inquiry Book Series (VIBS) for the Dutch publisher Editions Rodopi, B.V., and special series editor for Rodopi and Brill/Rodopi. Presently, he is a member of the editorial board of Brill Publishing's Philosophy and Religion (PAR) series. For a list of articles published on the Catholic World Report, see http://www.catholicworldreport.com/author/redpath-peter/
Scholars of the Sacred: Dominican Theologians in Late Medieval Byzantium by James Likoudis This in-depth study of the Catholic–Orthodox reunion efforts during the tumultuous 11th –15th centuries reveals the vital role played by the Dominican Order in shaping the...
read more