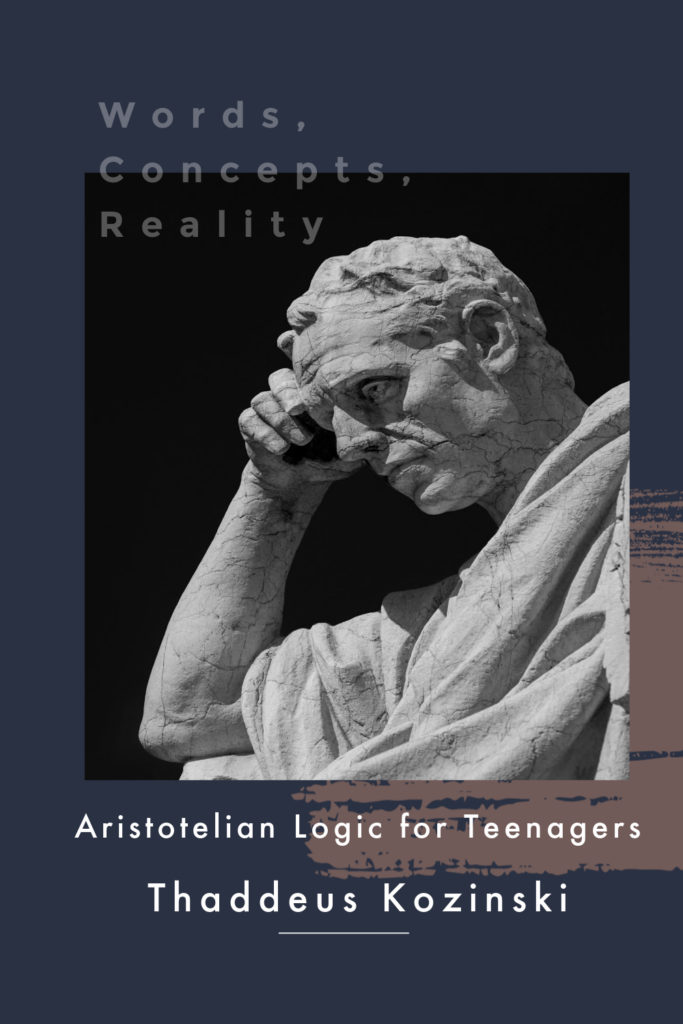 Words, Concepts, Reality: Aristotelian Logic for Teenagers
By Thaddeus Kozinski, Ph.D.
When we hear the word logic, we tend to think of arguments, premises and conclusions, claims and evidence for claims. But this is only half of it. Arguments are made of words, and words are symbols or signs of concepts, the building blocks of human thought. The study of the concept, the most fundamental aspect of logic, was once an essential part of liberal education, and to aid in its recovery is the goal of this book. This is a must-have for any introductory logic course.
Paperback $14.95 | Kindle $9.99
TESTIMONIALS
"There are two kinds of logic:  mathematical logic, for computers, to deal with abstractions, and ordinary language logic, for human beings, to deal with things in the real world.  Neglect of the second kind of logic is one of the main reasons why students today can't read or think as well as previous generations.  This logic text is a fine beginning to reverse that decline.  It's also an excellent introduction to common-sense philosophy." — Dr. Peter Kreeft, professor of philosophy at Boston College and The King's College, and author of Socratic Logic: A Logic Text using Socratic Method, Platonic Questions, and Aristotelian Principles, Edition 3.1
"In an age in which truth has lost its natural and compelling self-evidence, we have to go back to the "first things" in our programs of education.  Thaddeus Kozinski helps meet this need with the present book, which offers something much rarer than it ought to be: a logic textbook designed for young minds, and indeed one that understands that the purpose of logic is not just to make formally valid arguments, but to articulate what is.  Highly recommended!" — Dr. David C. Schindler, Professor of Metaphysics and Anthropology, Pontifical John Paul II Institute
"While aimed at teenagers, this introduction to Aristotelian logic as it concerns the grasp and formation of concepts will be of benefit to many others, whether already learned in Aristotle or not. Its straightforward and uncomplicated presentation gives ready insight into a form of logic that, despite or perhaps because of its lack of modern 'algebraisized' sophistication, is more immediately intuitive and useful. Its direct, simple, and assertoric style of presentation, its clever use of examples from elementary grammar, its avoidance of philosophical polemic, as well as its use of dialog boxes, simple questions and exercises, make it eminently suited to its purpose. The mastery of the elements of Aristotelian logic is of great value in and of itself independently of its relation to other and more modern ways of teaching logic, especially as these other ways do little to promote appreciation of and mastery in the art of concept formation. This book will do much to make up for such deficiency, and at an age when direct, assertoric presentation, without distraction into controversy and alternatives, is both more suitable and more useful." — Dr. Peter Simpson, Professor of Philosophy and Classics at the City University of New York Graduate Center
"In a comment crazed culture that forms instantaneous judgements and opinions based on slogans, memes, headlines, sound bites, and emotion, the paucity of our society's logical skill has never been more evident. The need for a solid education in how to reason well has become all the more urgent, and Kozinski's book starts right where it needs to: the very foundation of logical thought. Words, Concepts, Reality is an accessible and timely work for assisting young minds, and older minds that are still young in ability, become well-ordered and efficient in fulfilling their purpose: truth." — Matt D'Antuono, physics teacher and author of A Fool's Errand: A Brief, Informal Introduction to Philosophy for Young Catholics and other works
ABOUT THE AUTHOR
Dr. Thaddeus Kozinski taught philosophy and humanities for ten years at Wyoming Catholic College, where he also served as Academic Dean. He is an advocate of Catholic liberal education and the Socratic method of teaching, and has authored a number of articles and books, including The Political Problem of Religious Pluralism: And Why Philosophers Cannot Solve It and Modernity as Apocalypse: Sacred Nihilism and the Counterfeits of Logos. He developed and taught a course on Reason in the Theology of St. Thomas at Holy Apostles College & Seminary in Cromwell, CT. At present, he teaches Great Books for Angelicum Academy and spiritual direction for Divine Mercy University. 
Disputed Catholic Landmarks by Gerard Verschuuren Everyone's life has landmarks: when you were born, when you graduated from school, when you got your first job, when you got married, and so many more. There must be many landmarks in the history of the Catholic...
read more