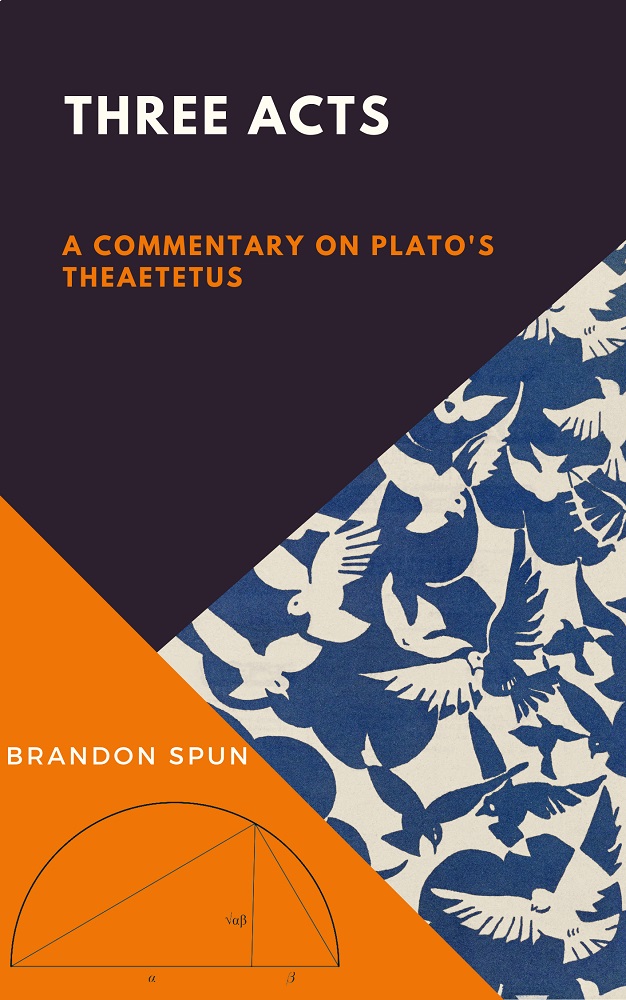 Three Acts: A Commentary on Plato's Theaetetus
by Brandon Spun
This guide to Plato's Theaetetus is both an introduction to philosophy and an analysis of the dialogue according to the three acts of the mind. It suggests that Plato explores the problem of knowledge by means of a philosophical anthropology which presents us with one of the earliest accounts of the three acts of the mind (apprehension, judgment, and reason). By means of this philosophic anthropology, Plato delves into the character of wisdom, wonder, friendship, knowledge, ethics, and the divine. The Theaetetus and this Commentary explore these major psychological acts which allow us to understand the world. This Commentary places Plato's dialogue in conversation with subsequent philosophy and Christian wisdom.
Paperback: $24.95 | Kindle: $9.99
TESTIMONIALS
"What is knowledge? If you think there is an easy answer to this question, then you have not read Plato, and you have certainly not read Plato's notoriously intricate and profound dialogue Theaetetus. This commentary—learned but not pedantic, Christian but not sectarian, rigorous but not stifling, profound but not obscure—is like having a master teacher and philosopher at your side as you read." – Thaddeus Kozinski, author of Words, Concepts, Reality: Aristotelian Logic for Teenagers
"While The Theaetetus is not one of Plato's most popular works in the standard repertoire of philosophical study, the topics dealt with in this dialogue could not be more timely in a culture of relativistic attempts at thought. Opinion, knowledge, truth, falsehood, being, wonder and whether 'man is the measure of all things' are all topics of eminent importance now (as always), and Spun's commentary is the perfect guide to this dialogue, those profound ideas, and the answers developed by later thinkers." – Matthew D'Antuono, author of A Fool's Errand, The Wise Guy and the Fool, and Philosophy Fridays
"Alfred North Whitehead has stated that all philosophy since Plato is a series of footnotes on his thinking. Brandon Spun has provided an important footnote in plumbing the depths of Plato's Theaetetus. His meticulous scholarship offers the reader an effective antidote in combating the relativism and skepticism that has captured today's universities." – Dr. Donald DeMarco, author of In Praise of Life and How to Flourish in a Fallen World
"Brandon Spun's Three Acts about Plato's Dialogue the Theaetetus is a masterpiece. It is erudite, clear, interesting and as delightful to read as it will be delightful to teach. I highly recommend it to students, philosophy teachers, and anyone eager to learn more about Plato and about truth." – Dr. Ronda Chervin, Ph.D., emerita Professor of Philosophy, Holy Apostles College and Seminary, and author of numerous books about Catholic thinking.
"The famous quote from Socrates: 'The unexamined life is not worth living', has special application to this commentary by Brandon Spun on Plato's Dialogue 'Theaetetus', in which Socrates begins to examine the question "What is knowledge?" For us humans to live is to know. So, in the context of this question what Socrates affirms might just as well be put: 'The knowledge that we acquire without subjecting its fundamental meaning to intelligent examination (and in debate with others, to cross examination, as Socrates insisted on) is not worth knowing'. That is what Socrates, Plato and Aristotle meant by engaging in philosophy. The sad situation of modern education, then, has to be that the mountain of scientific and technical knowledge that we have accumulated, useful as it may be in particular ways, but lacking not just wisdom but even a desire for it (

philo-sophia

), is truly not worth knowing in the condition in which we possess it. At the end we ask: what does it all mean for human life? That is why modern 'educated' youth feel so frustrated, and rebellious. This does not mean that there is no worth in such science and technology, but it needs to be grounded on the more fundamental knowledge of wisdom. That is what the whole effort of the Socratics was about. More relevantly to the Christian, we know that even these geniuses cannot carry us to the knowledge that finally satisfies. It is only by our Christian Faith (and grace) that we can have practical wisdom, even at the level of reason, concerning the meaning of life and how we should live, as Aquinas shows.  Socrates only begins the examination, which is what Aristotle meant by Dialectic. But the aim of philosophy is to obtain what true knowledge is. The point of Socrates's statement is that if we do not seek, we will not find. As for embarking on the particular enquiry regarding the nature of knowledge, Plato's Dialogue is as good a place to start as any. If Brandon's book does nothing more than encourage us, especially our youth, to recover Socrates' desire to examine what is most important in life to understand, then it has done a great service."

– Dr. Donald Boland, author of Economic Science and St. Thomas Aquinas: On Justice in the Distribution and Exchange of Wealth and The Thomist Tradition: Avoiding Scylla and Charybdis
ABOUT THE AUTHOR
​Brandon Spun was born in Penn Valley, PA during a snowstorm in February. He grew up on Long Island, NY, and received an undergraduate degree in English and Philosophy from SUNY Geneseo. He holds an MA in Liberal Arts from St. John's in Annapolis, an MA in Philosophy from Holy Apostles College and Seminary, and he is currently enrolled as a doctoral candidate in Humanities at Faulkner University. His intellectual interests include literature, ancient philosophy, ethics, and the Liberal Arts in general. A few idiosyncratic favorites include Russian Authors, Edith Nesbit, Robert Louis Stevenson, and Jane Austen. He has two children and lives in Tennessee. He is currently the Dean of Academics at New College Franklin where he has taught for over a decade.
OTHER CATHOLIC ACADEMIC BOOKS
Disputed Catholic Landmarks by Gerard Verschuuren Everyone's life has landmarks: when you were born, when you graduated from school, when you got your first job, when you got married, and so many more. There must be many landmarks in the history of the Catholic...
read more