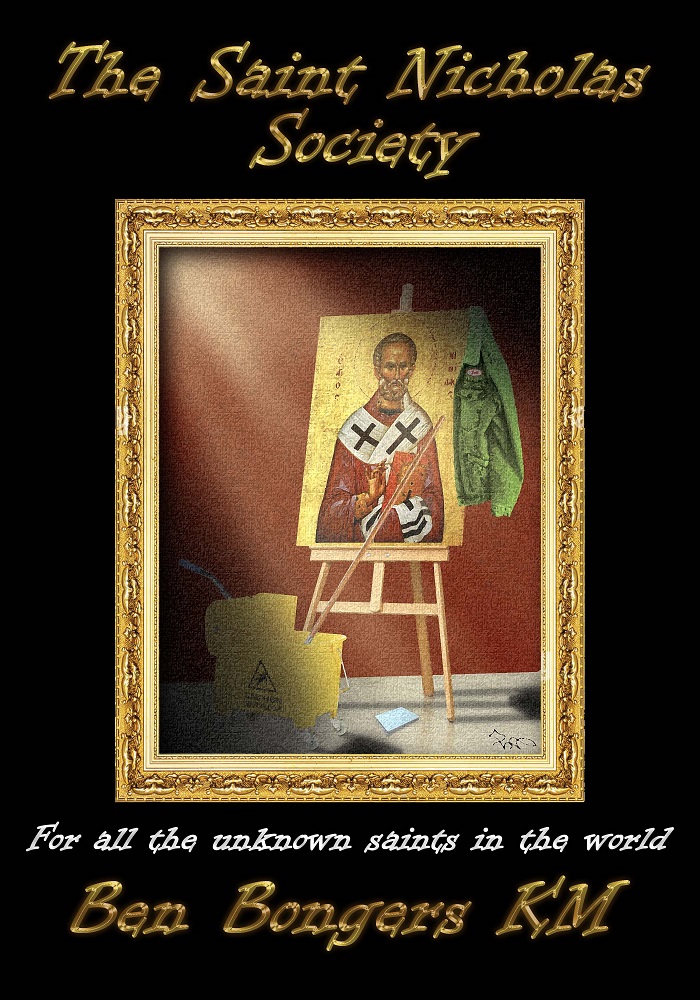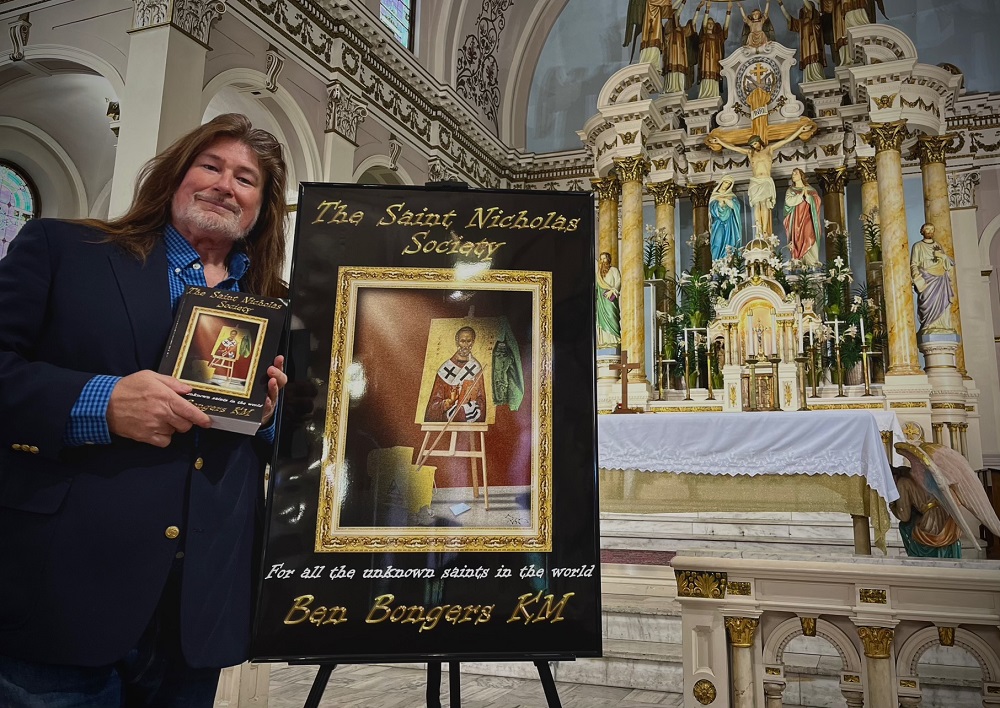 The Saint Nicholas Society
by Ben Bongers
Fred went from having it all—the girl, the car, the mansion—to being on the street. After being taken in by a kindly priest, he is diagnosed with cancer and begins to question what's left for him to live for. Nearly falling off the wagon, he is shocked and inspired while watching a modern-day Secret Santa on a TV news broadcast in the bar. Soon he begins to emulate the real Saint by secretly giving to those in need. Along the way he teams up with a band of "misfit-toy" compatriots who each question what life has in store for them. Fred's story parallels the historic Saint Nikolas of Myra. Told in first person, we learn of then Nicholas's friendship with an avowed pagan, the loss of his parents at an early age, and his being taken in by an ordained uncle. We follow his life and rise in an outlawed Church, the hardships and fears he had to endure, the communities he created, and his eventual service to the emperor, Constantine. Woven together like a fine tapestry, Fred and Nikolas's stories inspire everyone to remember that the best ways to live are through kindness, community, and good deeds—showing that the more things change the more they stay the same.
TESTIMONIALS
"With The Saint Nicholas Society, author Benjamin Bongers weaves two engaging narratives into one enlightening yarn. Finding inspiration in Saint Nicholas of Myra, Bongers' empathetic yet alienated people find the spirit of giving as they rise above the struggles of everyday existence as well as accepting the inevitability of mortality. This narrative delightfully explores the origins of St. Nicholas; starting as a humble son of a fisherman, young Nikki grows from rambunctious youth into a pillar of selfless giving and an icon for Faith; he becomes—first resisting the responsibility—Nicholas, Epískopos to a growing flock, in a landscape where such faith could be perilous. Likewise, he is the symbol for Bongers' modern day 'players' striving to make their lives and world a far better place. So, curl up in a comfortable chair, with a cup of coffee by your side; bond over, say, a nice Chinese Custard bun and enjoy an epic ride into 'offering and acceptance,' a pleasant glide into spirituality. In homage to the Marx Brothers, Saint Nicholas might be a 'sanity clause' after all." Les Epstein, Author, Sleep Cinematic: A Golem's Quartet, Kip Divided
"The Saint Nicholas Society is a brilliant and beautiful testimony to true Christianity as told through two very moving storylines. It shows that every person is a loving light to his brothers and sisters in Jesus Christ. Amen, it is never too late to strike that spark of holiness, and through humility, be a living witness to our Lord. I can't think of a better way to show who and what a real Christian is." —Timothy Jeffries, KM, Chancellor, Order of Malta Western Association USA
"A story about the enduring power of one's belief in God to change lives for the better, The Saint Nicholas Society has a heart as big as its author's; it is a book that will restore your faith in humanity's basic goodness." —Heidi L. Waterman, author
"The Saint Nicholas Society is a touching and charming novel. In its pages, I was reminded once again that The Divine is revealed throughout history in ways that are deeply personal and fresh. May the eyes of our hearts be enlightened to see Divine Presence everywhere we turn." —Rev. Brian David Morse, MDiv, BCC, MS.  Director of Chaplain Services for University Health Lakewood Medical Center
"I loved reading The St. Nicholas Society! This book is exceptional! It weaves a historically accurate story with the storyline of a current day common person. The characters are incredibly engaging. The story draws you in and makes you turn the page! As a catechist I have been able to use the thoroughly researched text in my classes. The book is a wonderful way to teach faith, hope, and community." — Mary Orth, Educator and Catechist, All Saints Academy, St. Cloud MN
"Imagine Jan Karon's Mitford series characters have slightly grittier neighbors from the city. Despair turning to hope, a sense of community, action and adventure – it's all there. Alternate that story with a thrilling historical tale worthy of a spin-off from The Chosen. Ben Bongers has done his research! Balancing history with accessible characterization, I'll never think of "Santa" in the same way again. Taken together, the two stories inspire us to find the spirit of St. Nick in ourselves. This is a perfect addition for any book club looking for something of substance to discuss. And with its vivid imagery, I'd love to see it become a movie, or, better yet, a mini-series!" —Linda Ade Brand, Stage Director
"Mr Bongers has crafted a remarkable combination of snapshots of contemporary San Francisco with historical fiction of the early Christian church that has much to say to readers everywhere. He creates a bevy of memorable characters that will live on in your imagination. He describes a witty, likable Nicholas of Myra that embraces his legend without over-sentimentalizing his life, and in so doing confects a remarkable evocation of the early church caught between coexistence with pagans and persecution by imperial Rome. Bongers cleverly juxtaposes Nicholas's adventures with the very relatable problems encountered by Fred and his companion Catholics. Inspired by the architecture and atmosphere of the very real San Francisco parish of St Dominic's, Mr Bongers brings us into conversation with the ways we might take the saints out of the icons and put them into the center of our lives and actions." —Timothy Pursell, holds a PhD in Modern History from Indiana University. He has taught courses on Jewish civilization and early Christianity.
"I am proud of my friend, Ben Bongers, for writing such an engaging novel. It's a pleasure to read." – Brian Morse, friend of author
ABOUT THE AUTHOR
Ben Bongers was an international operatic tenor and sommelier for 30 years based in San Francisco, CA, and Germany and is now a Gerontologist. He has written for trade magazines in wine, singing, and is published in eldercare textbooks. Ben is currently studying for the Permanent Diaconate in Kansas City, MO, and is a Knight of Magisterial Grace in the Order of Malta.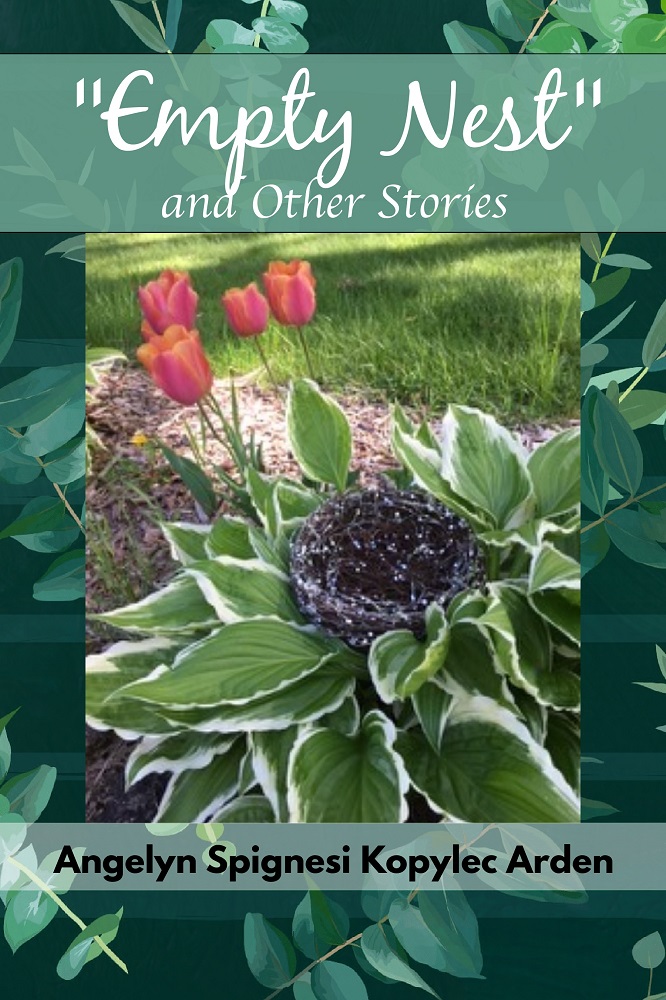 "Empty Nest" and Other Stories by Angelyn Spignesi Kopylec Arden The place of the dream, of the inner life that connects to others, where literature touches the unconscious, where Spirit moves and speaks through the material world, has a language and inherent meaning....
read more