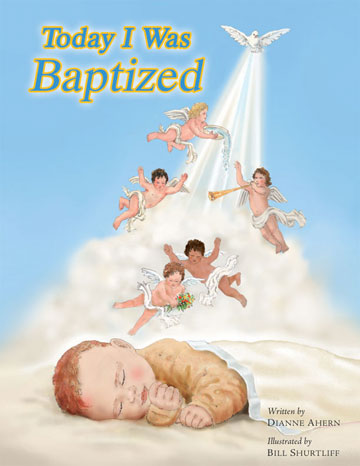 Today I Was Baptized
by Dianne Ahern
All time best seller!
Begins with a children's story about a baby's baptism day-told from the baby's perspective! Includes short essays that explain the sacrament of Baptism. The book becomes a keepsake for this very special day allowing parents, godparents, and others to describe the day.
This book carries the imprimatur of the Catholic Church.
Now available for Kindle! Only $5.99. Get yours today!
Price: $19.95 hardback gift edition
A Short Reading of the Story by Carlos Bersabe
ABOUT THE BOOK
A children's read-to-me story about a baby's baptism day. The story is written from the perspective of the baby watching the goings-on of the day. The story helps children to understand the Sacrament of Baptism and is especially helpful to prepare siblings for the Baptism of their new brother or sister. Six short essays explain the significance and traditions associated with Baptism. The essays are nice "refreshers" for Christians who might not have thought about Baptism for a while, and are helpful to explain Baptism to individuals who have not received formal religious education.
– Why we Baptize
– Why and how we use water in Baptism
– The Baptism of Jesus Christ
– How Jesus conferred the right to Baptize to the Apostles
– Anointing with oil
– The Baptismal gown
It becomes a keepsake book with pages for parents and godparents to write their own special message to the baby, include photos of the day, insert a copy of the baptism certificate, and more. Today I Was Baptized makes the perfect gift and keepsake to commemorate this special day.
TESTIMONIALS
CREDO
October 15, 2001
Book on Baptism is first in series
In 1999 Dianne Ahern was leading a very successful life. She had a master's degree in healthcare administration and was vice president of Elan Systems, an international healthcare consulting firm. But, she says, that just wasn't enough.
"I was walking to work one day, having my morning talk with God and wondering if I was doing the right thing with my life. This idea just came to me. Why not develop a series of books that commemorate and celebrate special events in people's lives?"
That moment of inspiration has not taken long to materialize. Ahern presented the idea to here partners at Elan Systems, who thought that it would open new opportunities for the company. Elan already published findings and recommendations in print and graphic format for their clients, so a new division of the company was formed called Aunt Dee's Attic. By June 2000, Aunt Dee's Attic had published Ahern's first book, 'Today I Was Baptized'.
"Baptism seemed like a logical place to start," Ahern said, "It is the first sacrament that Christians receive, and most of the time it is administered to infants. It is also a cause of great celebration that often brings generations of family together."
The book is written from the perspective of the baby being baptized. It also contains short essays on why we baptize, water in baptism, the baptism of Christ, anointing with oil and the baptismal gown. In the back are pages for photographs and "My Baptism Memories."
The illustrations, done by Katherine Larson, depict Ahern's parish of St. Thomas the Apostle as well as the pastor, Fr. Roger Prokop.
Now, Ahern has completed her second book, 'Today We Became Engaged'.
"This book encourages couples to actually examine what is important to themselves and their chosen mate," Ahern said. "It talks about love and how it progresses from childhood through adolescence to adulthood. It discusses commitment, fairness, courage, compassion, honesty, respect and forgiveness."
'Today We Became Engaged' offers helpful hints for things such as the ring, the proposal and acceptance. It also has an entire section for the couple to record their story: how they met, their courtship, the engagement story, and possibilities for the future.
| | |
| --- | --- |
| AMSNews | (Archdiocese of Military Services) Vol 2 No 3, 2003 |
| | "Spreading the Faith" a letter from the Archbishop |
| | "I was especially taken by a series of colorful, highly informative and attractive gift books ($19.95 each), 'Today I was Baptized', 'Today I Made My First Communion', and 'Today We Became Engaged', each solid, amazingly comprehensive and bound to appeal to the whole family." Edwin F. O'Brien, Archbishop for the Military Services, USA |
The Midwest Book Review,  February 2010
TODAY I WAS BAPTIZED, Revised Edition, tells the story of a baby's Christian baptism from the infant's perspective, a surprise twist.  Following the beautifully told and illustrated story are six short essays on the Sacrament of Baptism, including Why We Baptize, Why and How We Use Water In Baptism, The Baptism of Jesus Christ, How Jesus Conferred the Right to Baptize to the Apostles, Anointing with Oil, and The Baptismal Gown.  There are also designated pages and spaces at the end of the book for My Baptism Memories, for TODAY I WAS BAPTIZED is a keepsake book, with room for messages, photographs, and souvenirs of the baptism.  TODAY I WAS BAPTIZED carries the imprimatur and rescript of the Catholic Church.  The book would make a lovely gift to a Christian family with a baby.
ABOUT THE AUTHOR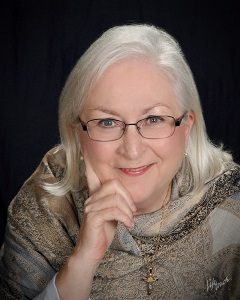 Dianne Ahern grew up on a farm in Illinois, has traveled extensively for business and pleasure, and now resides in Ann Arbor, Michigan.  She holds a Bachelor's degree in Biology and Medical Technology from Marian College (University), and a Master's degree in Healthcare Administration from Indiana University.  After rewarding careers in laboratory medicine, hospital administration, and healthcare consulting, Dianne found a new love: researching and writing about the events that shape our lives.
It was after her first Vatican visit in 1999, when Dianne looked into the eyes of Pope (Saint) John Paul II, held his hand, and kissed his ring, that she felt called to write books for Catholic children and their families.  Already a successful businesswoman, Dianne formed her own publishing company, Aunt Dee's Attic, to support her new calling.
Beginning with the sacrament of baptism, Dianne outlined a series of books on the sacraments designed to prepare families for these most important events.  Her books' formats merge storybook, reference book, and memory book elements into beautiful keepsake books. The sacrament books feature the imprimatur of the Catholic Church to assure families that the contents are true Church teachings.
In addition to her books on the sacraments, Dianne has developed a series of adventure/mystery books for young readers subtitled Adventures with Sister Philomena, Special Agent to the Pope.  The Adventure books place fictional characters in real settings to teach about the Church, saints, and holy places.  Her books have won accolades from retailers, readers, clergy, teachers, grandparents, and moms and dads.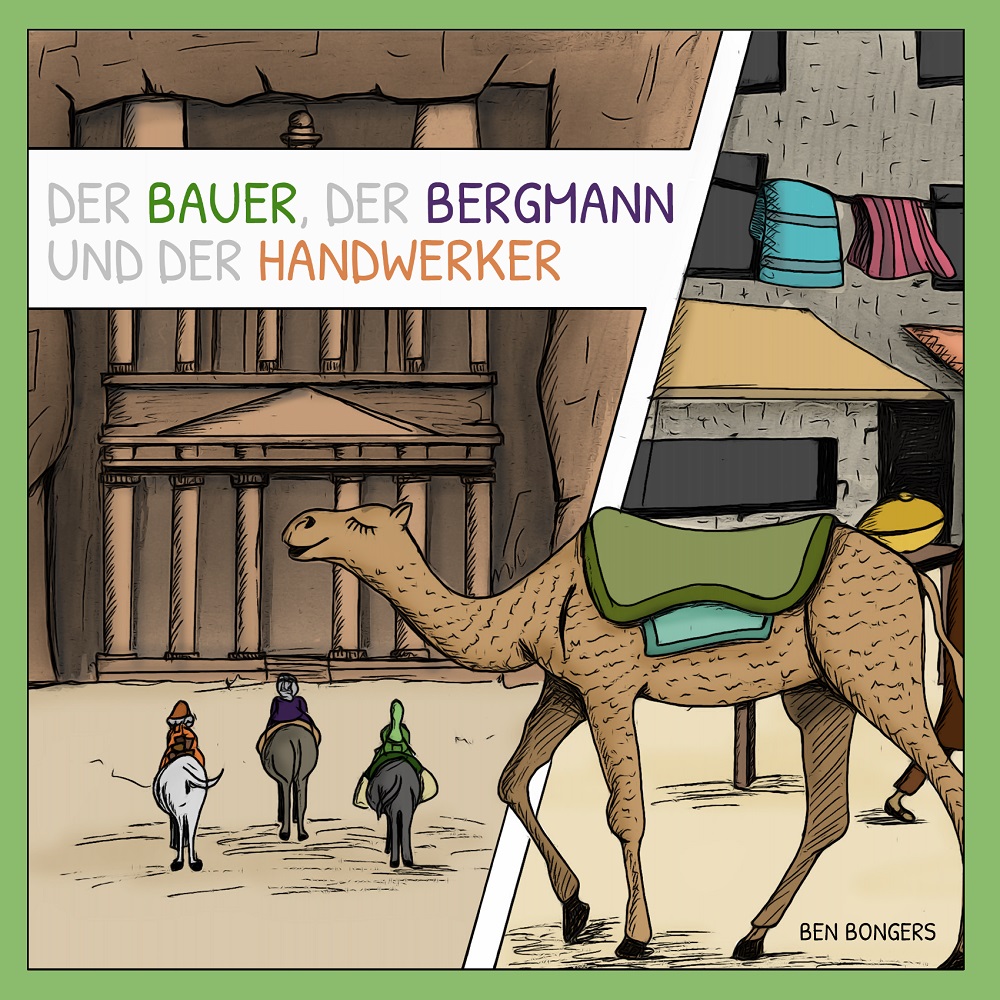 Der Bauer, der Bergmann und der Handwerker Geschrieben von Ben Bongers und illustriert von Courtney Boatwright Wir alle sind Puzzleteile – manche zu klein, manche zu groß, manche fehlende Teile von uns selbst. Dennoch bringen wir anderen in unserem Leben alle...
read more