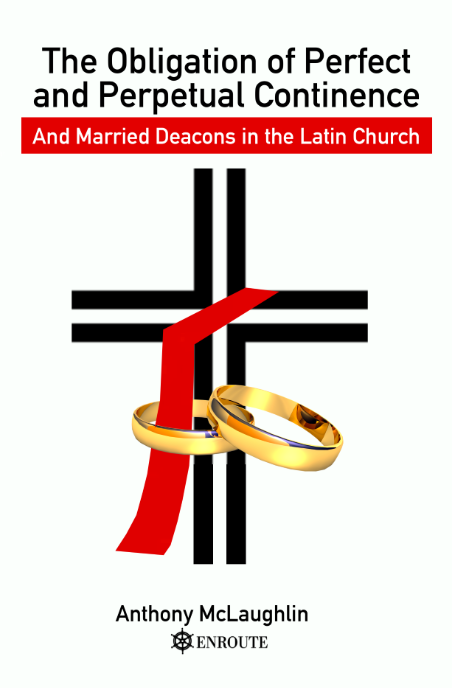 The Obligation of Perfect and Perpetual Continence and Married Deacons in the Latin Church
by Rev. Anthony McLaughlin, J.C.D.
Through the reception of diaconate a man becomes a cleric. Canon 277 §1 states: "Clerics are obliged to observe perfect and perpetual continence for the sake of the kingdom of Heaven and therefore are bound to celibacy…." Accordingly, it would seem that clerics have two distinct obligations: sexual continence (no sexual relations) and celibacy (no marriage) with continence presented as the fundamental norm. With the restoration of the permanent diaconate by Paul VI in 1967 and the admission of married men to this order, a fundamental question arises: "Are married deacons, though dispensed from the obligation of celibacy, unless their wife dies, obliged to observe perfect and perpetual continence?" This book addresses that question.
Paperback: $19.95 | Kindle: $9.99
REVIEWS
A Review of Father Anthony McLaughlin's The Obligation of Perfect and Perpetual Continence And Married Deacons in the Latin Church by Fr. Peter Stravinskas, The Catholic Response (Nov.-Dec. 2018), p. 60.
Father McLaughlin delves into a history not frequently trod as he demonstrates, rather conclusively, that in the Early Church deacons were held to perfect continence (even if they were married). Indeed, I have always maintained that the consent of wives during the ordination of permanent deacons is a relic of the ancient practice, whereby wives publicly agreed to the future continence of their husbands (and thus, their own). I suspect that not a few permanent deacons will not be thrilled with this work, however, it is an important contribution to the history of this office, with serious implications for how that vocation ought to be lived today.
A Review of Father Anthony McLaughlin's The Obligation of Perfect and Perpetual Continence And Married Deacons in the Latin Church by Deacon Marty McIndoe
As a Permanent Deacon ordained in 1980, I was intrigued by the title of this work. I knew that perpetual continence meant abstaining from all sexual relations, and nowhere in my training as a deacon was I told that was an obligation. I have been happily married for 49 years, and sexual intimacy has been a very important part of my relationship to my wife. I would find it hard to believe that the Church would ever mandate that a married deacon be continent. If that were the case, I would never have considered becoming a deacon. I do realize that by becoming a married permanent deacon, I was taking on the obligation of celibacy if my wife were to die. I thought hard about that, and felt that hopefully it wouldn't happen, and if it did, I would have the grace to do what I was obliged to do. I see practical and spiritual reasons for celibacy. I see no practical or even spiritual reasons for continence in a happily married young couple. I was one of the youngest members of my class to be ordained. I was dispensed of the 35-year-old requirement and was ordained at age 33. I have been ordained for almost 38 years, and I absolutely love my ministry as deacon. My wife is a big help in my ministry and I give thanks for the gift that she is to me and to my vocation as a deacon.

I received an advanced e-copy of this book and was asked to read and review it. As soon as I saw the title, I knew that I wanted to. I found this work to be extremely interesting and exceptionally well-researched. The book spends a considerable amount of time looking at how celibacy, chastity and continence developed in the Church from the New Testament times to the present day. It refers back to scriptures, traditions, early church writers, modern theologians, council documents and canon law. It is probably the most thorough writing on celibacy, chastity, and continence that I have ever encountered. If you want to know more about the Church's development of the concepts of chastity, celibacy and continence, this is the book to read. It also deals with related issues such as marriage and procreation.

After reading this piece, I see that there still exists more clarification needed from the Church on what she did in making permanent married deacons. There is no doubt that ordaining married deacons has been a great benefit to the Church. The fruits of this can be seen in so many places. However, this is a big diversion from the traditional norms of the Church concerning celibacy, chastity, and continence. Having married clergy who are not continent is something quite new, at least on the scale of the current permanent diaconate. Married clergy is not new to the Church, but they have previously been required to be continent. Even the latest canon law is unclear and in at least one place seems to mandate that permanent deacons remain continent. This is not what is presently taught and practiced and apparently not what the Vatican Council seems to have meant in creating the married permanent diaconate. It is an intriguing quandary.

I would certainly recommend that anyone who is interested in looking at the development of celibacy, chastity and continence within the Church read this book. I also believe that permanent deacons would especially be interested in this book. Since considerable amount of time is spent on canon law, I would think that anyone interested in, or studying canon law should read this book.
TESTIMONIALS
"Fr. McLaughlin 
addresses an often neglected area of ecclesial discipline. Hopefully, good scholarship will encourage further study."
— Most Reverend Joseph E. 

Strickland

, Bishop of Tyler, Texas
"Fr. Anthony's book is a great help in understanding the commitment being made by those who answer the call to the permanent diaconate. — Fr. Luis Luna, MSA, General Animator of the Missionaries of the Holy Apostles
ABOUT THE AUTHOR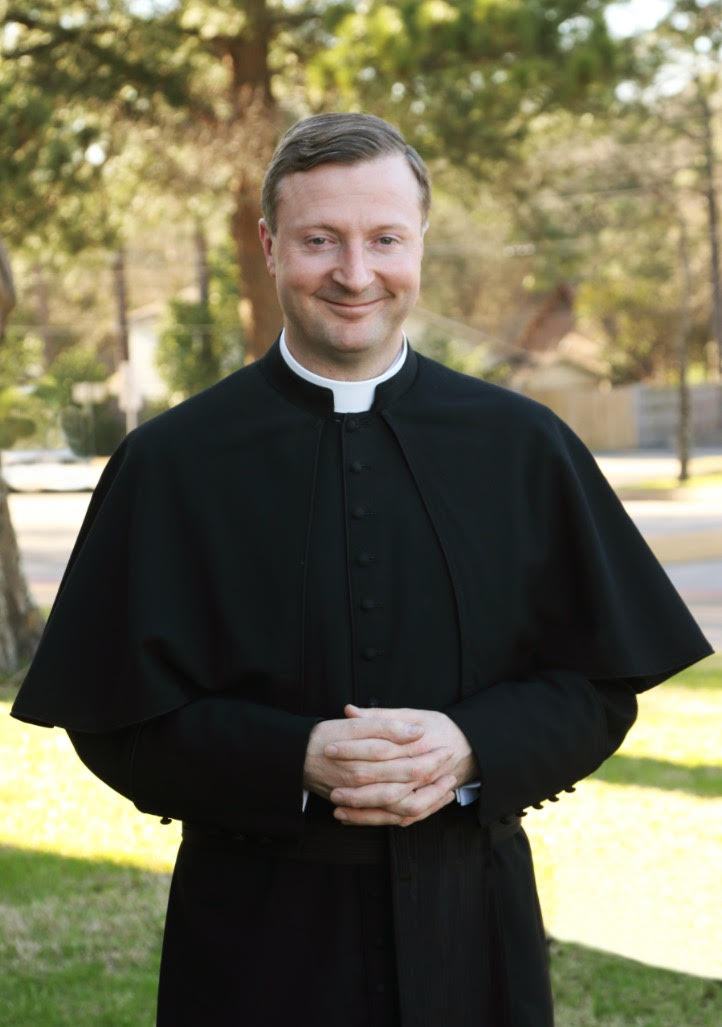 Rev. Anthony McLaughlin, J.C.D., a native of Belfast, Northern Ireland, has served Holy Apostles as its Vice Rector and as Professor of Canon Law and Homiletics since 2017.
Fr. McLaughlin was ordained to the priesthood for the Diocese of Tyler, TX, in 1997 and most recently served as Vicar General of the diocese and President of Tyler's Bishop Gorman Catholic School.
He previously served as Rector of the Cathedral of the Immaculate Conception in Tyler, Judicial Vicar of the diocese, judge of the diocesan tribunal and Defender of the Bond.
During the 2014-2015 academic year, Fr. McLaughlin returned to CUA as assistant professor of Canon Law and director of the Institute on Matrimonial Tribunal Practice.
OTHER PRACTICAL THEOLOGY BOOKS
The Art of Listening to Young People: A Pastoral and Scientific Guide by Amoris Christi Listening is a form of encounter that allows us to be with another person, to see through their eyes, and to journey with them. The Art of Listening to Young People uniquely blends...
read more