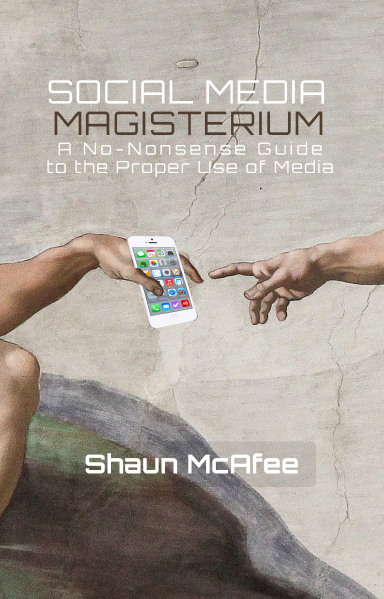 Social Media Magisterium: A No-Nonsense Guide to the Proper Use of Media
by Shaun McAfee
The positive influence of the media, new and old, is seen through the expansion of Catholic networks that span over 150 countries, and more, allowing the gospel and Christian values to be spread across the globe instantaneously. The positive reach available through the media is certain, but it may also be used to the detriment of many. Online bullying, fake news, and anti-christian movements are common, too. Social Media Magisterium aims to provide insight and wisdom from the Church's teaching to equip every Catholic to evangelize, defend the Church, and spread the Gospel. Whether you're a seasoned blogger or you just downloaded your first app, McAfee's writing will provide you with the essentials to use the media the way the Church, in her wisdom, directs us.
Paperback: $14.95 | Kindle: $9.99
Shaun's McAfee's Interview on EWTN's The Good Fight with Barbara McGuigan concerning Social Media Magisterium
TESTIMONIALS
"This book offers many great tools and insights for bloggers, parishes, apostolates, colleges, and schools. They all need to embark on this journey and get started before they're too late to the show. The books tells you how to utilize, and how not to utilize, the new media. You will learn a lot from it. Buy the book, read it, and use it." – Dr. Gerard M. Verschuuren, Human Geneticist
"Navigating the waters of new media with a Catholic compass can be challenging. In Shaun's new book, he unpacks the wisdom of Catholic magisterial teachings and provides practical tips sure to help every Catholic approach the shores of social media with confidence, conviction, and charity." – Josh Simmons, founder / CEO of eCatholic
"Shaun's approach to understanding new media is practical, engaging, and perhaps most importantly, unintimidating!  Those who have no idea how to bring their faith to bear regarding social media will find themselves encouraged and empowered by the Church's wisdom on the topic, and by Shaun's disarming style." – Matt Swaim, host of the Sonrise Morning Show
"Each of the last three popes has described modern new media as 'a gift from God.' But this wasn't just because they loved the ego-boost of Likes, comments, and shares. They were convinced these tools could facilitate the mission of the Church, drawing people into the Kingdom of God. And for that reason they would appreciate Shaun McAfee's new book. This short and practical guide introduces the Catholic magisterial teachings about media–too often ignored–but then shows how to apply them to everyday contexts, from the family, to evangelization, to avoiding the dangers of the Internet. Any Catholic who uses the Internet should read it!" – Brandon Vogt, Content Director at Word on Fire and author of The Church and New Media
"Having served as one of Shaun's thesis advisers at Holy Apostles, I am absolutely thrilled by the way he has handled this work on social media – it's a practical and useful explanation of the Church's century-long engagement of social media and offers a practical way for Catholics today to get involved in the use of these great gifts for evangelization." – Dr. Sebastian Mahfood, OP, Professor of Interdisciplinary Studies, Holy Apostles, Cromwell, CT
"A book for these Catholics to read: everyone in Pastoral Studies programs of all levels; everyone who is into Social Media but has fears of being addicted; everyone who avoids social media without realizing all the good that selective use can do, not only for oneself but in evangelizing others. McAfee, a convert to the Catholic faith, has written a book that is solid but never ponderous; that is pithy and relevant without being spotty; that is an easy read that could change your daily life." – Ronda Chervin, Ph.D. is an Emerita Professor of Philosophy and Spirituality at Holy Apostles and author of some 65 books about Catholic living. She is also on Catholic TV, Radio and has her own blog.
"This is a book that all Christians should read. It clearly presents Social Media as the tool to use to spread the Good News of God's love." – Dcn. Marty McIndoe (click here to read Dcn. Marty's full review)
ABOUT THE AUTHOR
Mr. Shaun McAfee, O.P. is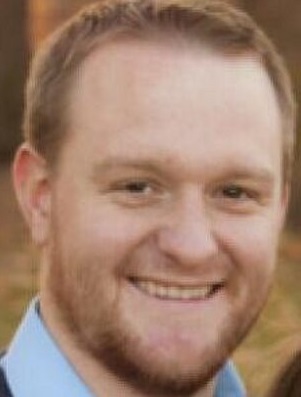 the author of Filling Our Father's House, St. Robert Bellarmine and Reform Yourself!: How to Pray, Find Peace, and Grow in Faith with the Saints of the Counter-Reformation, is the founder and editor of EpicPew.com, and contributes to many online Catholic resources.
Shaun holds a Masters in Dogmatic Theology from Holy Apostles in Cromwell, CT. He has made his temporary profession as a Lay Dominican and lives in Italy.
Shaun became a member of the Catholic Church on Easter 2012 and quickly got started talking to people about the ideas that urged him to convert, soon taking up blogging and writing in a more permanent fashion.
Shaun's writing is known for its honesty, for its down-to-earth approach, and for its being a meek and humble voice in the defense of the Christian faith.
See Shaun's National Catholic Register article entitled "3 Media Documents Every Catholic Should Read" describing the rationale behind his writing of this book.
Scholars of the Sacred: Dominican Theologians in Late Medieval Byzantium by James Likoudis This in-depth study of the Catholic–Orthodox reunion efforts during the tumultuous 11th –15th centuries reveals the vital role played by the Dominican Order in shaping the...
read more