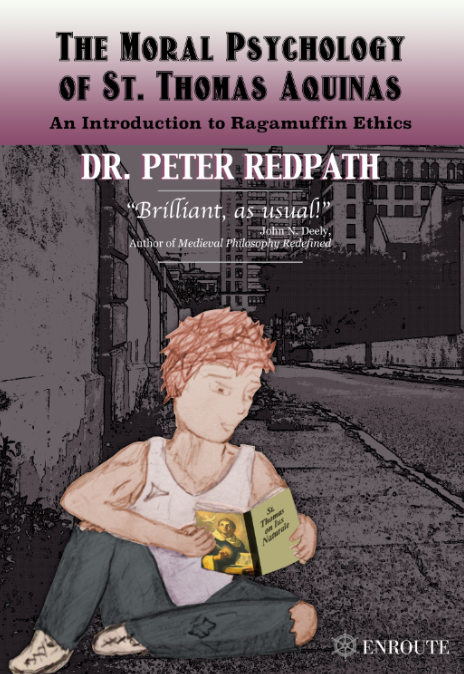 The Moral Psychology of St. Thomas Aquinas: An Introduction to Ragamuffin Ethics
by Dr. Peter Redpath
Through a radical reinterpretation of classical philosophy as an organizational psychology, The Moral Psychology of St. Thomas: An Introduction to Ragamuffin Ethics just as radically reinterprets St. Thomas Aquinas's moral teaching to be a behavioristic psychology chiefly designed to synthesize right reason and right pleasure to help a person excel at living life as a whole. In the process of so doing, this work demonstrates how the skill of prudential living is a necessary condition for becoming a grand master of leadership in any and every profession.
INTERVIEWS
Catholic Cave Interviews with Peter Redpath:
April 17, 2017
 May 15, 2017

TESTIMONIALS
"Brilliant, as usual!" – John N. Deely, author of Medieval Philosophy Redefined
---
"If you're a leader, you need to read this book. In Ragamuffin Ethics, Dr. Redpath provides a powerfully effective psychology for energizing organizations to become their best. His teachings have fundamentally changed my life, and how I coach our clients at top organizations throughout the country." – Peter C. DeMarco, Executive Coach, CEO of Priority Thinking, and author of the forthcoming book, The Good Will Leader
---
"This is the only work in modern times that can be said to bring together three seemingly incompatible words: practical, science, and moral." – Eduardo Bernot, Aquinas Leadership International
---
"The modern person needs to make decisions, however she or he has received a limited and fragmented knowledge to do that. Dr. Redpath provides an integrated view of modern science, relying on the wider view of philosophy, inviting other sciences, that way providing an integrated and consistent view of personal psychological as well as organizational dimensions. This work clarifies every topic with a fresh view of Aristotle and Saint Thomas Aquinas wisdom, enlightening with a profound analysis, and critical thinking, the roads to making ethical decisions. Redpath's work is an extraordinary contribution to modern moral psychology, presenting the strengths and limitations of modern philosophy, by highlighting the power of Christian Metaphysics in building personal and organizational leadership, ethics, values, virtues, discernment." – Dr. Juan Pablo Stegmann
ABOUT THE AUTHOR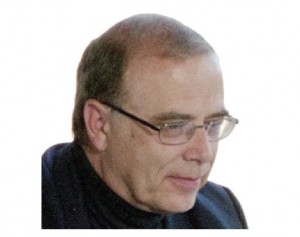 Peter A. Redpath is presently Rector of the Adler-Aquinas Institute (www.adler-aquinasinstitute.org); founder and former Chair of the St. John Paul II Thomistic Studies Graduate Philosophy Concentration in Christian Wisdom for Holy Apostles College and Seminary; CEO of the Aquinas School of Leadership (www.aquinasschoolofleadership.com); and a contributing scholar in the Thomistic Studies graduate program at the University Abat Oliba, Barcelona, Spain. Former Full Professor of Philosophy at St. John's University, New York, Redpath has taught philosophy on the college and university level for over 52 years, plus courses at the Staten Island, Arthur Kill Correctional Facility and New York City's Riker's Island. He is author/editor of 17 philosophical books and dozens of articles and book reviews; has given over 200 invited guest lectures nationally and internationally; is president and co-founder of the International Étienne Gilson Society; co-founder and vice president of The Gilson Society, former vice-president of the American Maritain Association, Chairman of the Board of the Universities of Western Civilization and the Angelicum Academy home school program; a member of the Board of Directors of the Great Books Academy home school program; a former member of Board of Trustees of the Institute for Advanced Philosophic Research; a member of Board of Directors and Executive Committee of the Catholic Education Foundation; Academician of The Catholic Academy of Sciences in the United States of America; editor of the Brill/Rodopi Gilson Study Special Series; former executive editor of Value Inquiry Book Series (VIBS) for the Dutch publisher Editions Rodopi, B. V.; former editor of the Studies in the History of Western Philosophy special series for Editions Rodopi and former editor of the Editions Rodopi Gilson Studies Special Series; former associate editor, and current advisor of the journal Contemporary Philosophy; a recipient of St. John's University's Outstanding Achievement Award; a distinguished alumnus of Xaverian High School; a Fellow of the Priority Thinking Institute; and former Graduate Fellow at the SUNY at Buffalo. He currently resides with his wife, Lorraine, in Cave Creek, Arizona.
One of the books Dr. Redpath has edited and highly endorses is Origin of the Human Species by Dr. Dennis Bonnette. Dr. Bonnette has also written an article on the topic entitled, "The rational credibility of a literal Adam and Eve." When combined with the article, the book provides a Thomistic interpretation of mainstream evolution theory that is consonant with Catholic teaching, including that regarding our first parents.The article is found in the peer reviewed Spanish philosophical journal, Espiritu. For a list of articles published on the Catholic World Report, see http://www.catholicworldreport.com/author/redpath-peter/
Scholars of the Sacred: Dominican Theologians in Late Medieval Byzantium by James Likoudis This in-depth study of the Catholic–Orthodox reunion efforts during the tumultuous 11th –15th centuries reveals the vital role played by the Dominican Order in shaping the...
read more