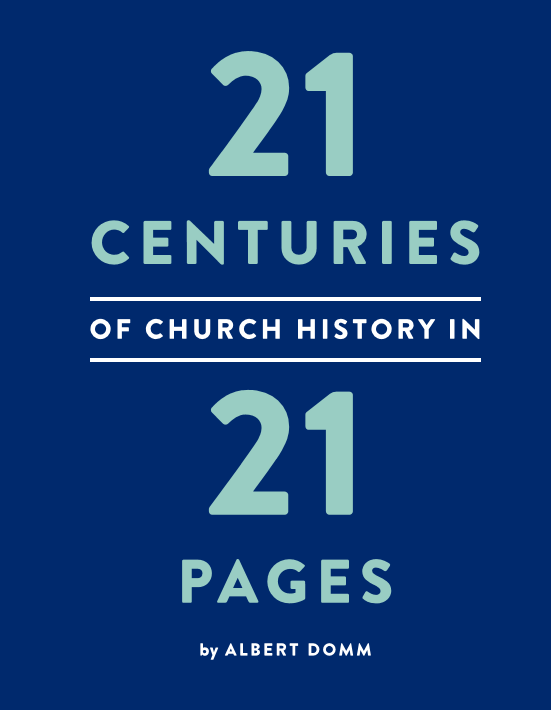 21 Centuries of Church History in 21 Pages
by Albert Domm
Focused on our Catholic faith, Albert Domm's 21 Centuries of Church History in 21 Pages engages the Catholic reader in a concise but rich history of our Church one full century at a time. A narrative flow, this history is more than just a chart of dates and facts but a real story of our Catholic culture.
Paperback: $19.95 | Kindle: $9.99
TESTIMONIALS
"21 Centuries of Church History in 21 Pages is a pithy book that provides synopses of consequential events and significant people of the past 21 centuries. All are described within the context of the Catholic Church as distinct from any other history since Catholic history is sacred history, the sacred history of the Holy Spirit extending Christ's presence in time through the Sacramental Church and, in particular, through saints. I highly recommend this charming book." – Very Rev. Peter Samuel Kucer, MSA, author of Catholic Church History: Pre-Christian to Modern Times, Eastern Civilization from a Catholic Viewpoint, East and Southeast Asian History, Western Civilization: From Prehistorical Times to the Protestant Reformation and Western Civilization: From the End of the Renaissance to Modern Times.
"Dr. Albert Domm has created a marvel, a history of the Catholic Church in twenty-one pages. Ludwig von Pastor wrote a history of the popes and it took him forty volumes. More recently, Warren Carroll and his wife produced a history in six volumes. Remarkably, 21 Centuries of Church History in 21 Pages covers all the bases and introduces to the reader most of the main characters in history of Catholicism. This book would be a great resource for an RCIA class or another place where a quick overview is needed. The book is easy to read and filled with entertaining tidbits. Dr. Domm includes an excellent annotated bibliography which is helpful for further research.​" – Msgr. Michael Witt, host of several WCAT Radio Church history programs entitled Witt and Wisdom, including "The First Twelve Generations: The Early Church History," "Medieval Catholic Church History," "Catholic History from Modern Times (1274-2000)" 
ABOUT THE AUTHOR
Albert Domm received a BS in chemistry and biology from the University of Alabama in Birmingham and an MD from the University of South Alabama College of Medicine. He did a residency in Pathology at Emory University (Atlanta, GA). He is board certified in Pathology and is in private practice. In 2013, he received a Masters of Theology with an emphasis in Church history from Holy Apostles College and Seminary in Cromwell, Connecticut. He has taught a number of classes in Church History at a parish level. He is the father of five children and resides in Columbia, Tennessee, which is a little south of Nashville.
OTHER CATHOLIC ACADEMIC BOOKS
Disputed Catholic Landmarks by Gerard Verschuuren Everyone's life has landmarks: when you were born, when you graduated from school, when you got your first job, when you got married, and so many more. There must be many landmarks in the history of the Catholic...
read more