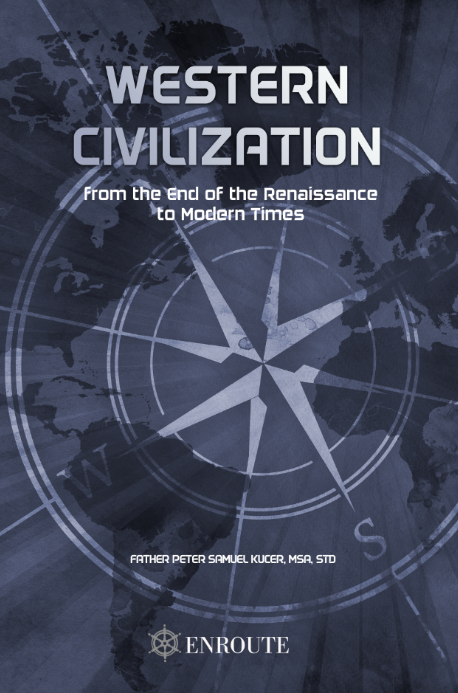 Western Civilization from the End of the Renaissance to Modern Times
by Fr. Peter Samuel Kucer, MSA
This book presents the history of Western Civilization from the end of the Renaissance to Modern and the so-called Post-Modern Times. Topics include the limiting of monarchies, the development of western science, revolutions (political and other), nationalism, imperialism, totalitarianism and other isms, World Wars, the Cold War, Post-Modernism, and the present multi-centric world. Integrated within these topics are selections and discussions of artistic/cultural expressions that represent these various times.
Paperback $19.99 | Kindle $9.99
TESTIMONIALS
Fr. Peter Samuel Kucer, MSA, has produced quite a grand opus in his collection of works on Marian Devotion, Catholic Church History, East and South East Asian History, Catholic Apologetics, Protology and the Priesthood, Western Civilization and Political Science. Each of his books provides wisdom for the beginner and clarity for the educated. – Dr. Sebastian Mahfood, OP, Professor of Interdisciplinary Studies, Holy Apostles College & Seminary
Disputed Catholic Landmarks by Gerard Verschuuren Everyone's life has landmarks: when you were born, when you graduated from school, when you got your first job, when you got married, and so many more. There must be many landmarks in the history of the Catholic...
read more