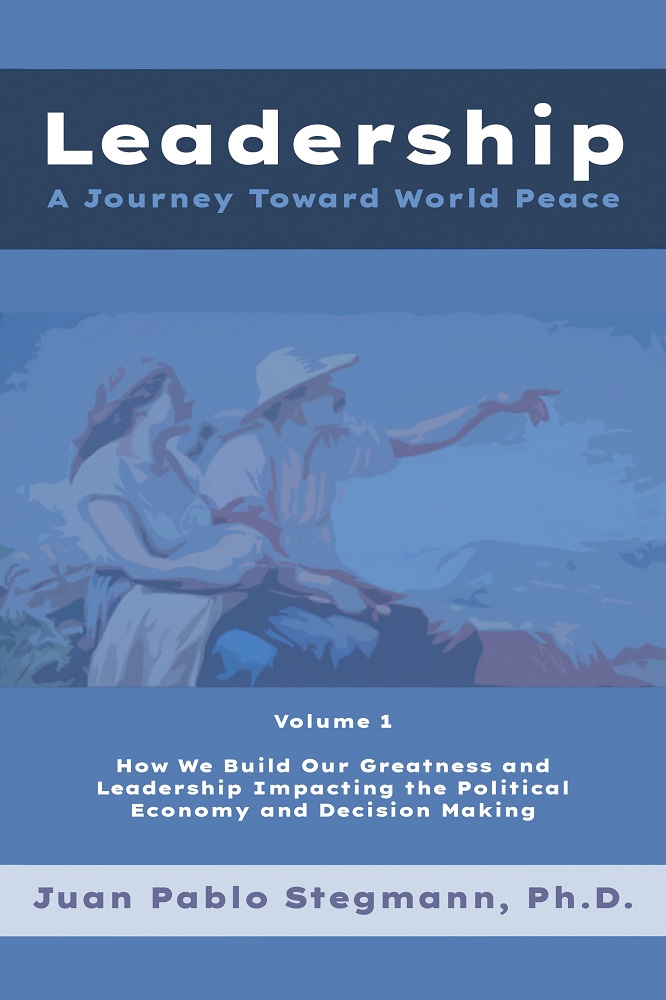 Leadership: A journey toward world peace – Vol. 1 How we build our greatness and leadership impacting the political economy and decision making
by Juan Pablo Stegmann, Ph.D.
Everyone wants to be a leader; however, how do we build our leadership? How can we build leadership with greatness to positively impact our lives and society? How does a leadership culture benefits society? This series invites us on a journey to build greatness and leadership, positively impacting the culture, political economy, and decision-making. It promotes the integration of knowledge, helping to integrate the individual and society, providing an interdisciplinary vision. This work results from a solid research effort supported by more than 800 bibliographic sources and statistical analyses. This volume 1 summarizes the following three volumes discussing how to build greatness and leadership (volume 2), to transform the political economy by promoting economic growth, social justice, social integration and social harmony (volume 3), and to transform decision-making, strategic management, business ethics, and corporate social responsibility, by promoting organizational success and social well-being (volume 4), toward world peace.
Paperback $9.99 | Kindle $9.99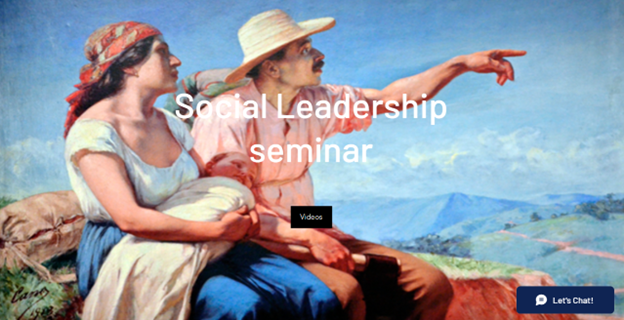 Click the image above to visit the Social Leadership Seminar.
REVIEW BY PETER REDPATH
     While, by nature, in some respect, all somewhat psychologically healthy human beings desire to become leaders at some organizational activity in this life, precisely puzzling to answer are the questions: (1) Why, by nature, do we chiefly do so? (2) What is the nature of leadership in general and great leadership especially; and (3) How does anyone become a great leader?

     Most puzzling to some readers related to the work for which I am happily writing this testimonial might be the central idea of Juan Pablo Stegmann's 4-volume, magisterial tome that attempts exhaustively to answer these questions. As he states toward the start of Volume 1: "The central idea of the book is how spirituality builds greatness and leadership, how these improve personal and social reality, creating a culture of leadership, improving the political economy and management of organizations."

     In our contemporary, cynical global political and business culture we often hear the sophomoric quip, "Business ethics is an oxymoron."  Despite the fact that all human leadership is a psychological activity (activity of the human soul) this same global political and business culture would likely incline to mock as oxymoronic and evidently foolish the claim that spirituality builds greatness and leadership. The entire New World Order appears Hell-belt on convincing all such cultural rubes who think this way the truth of the contrary opposite–that spirituality impedes leadership and destroys culturesI

     Juan Pablo Stegmann is no fool. Nor is he someone unfamiliar with businesses and how to build leaders. He has a wide international business and academic background that includes holding 3 Ph.D degrees; 3 Masters degrees; a B.S.; and three postgraduate works in economics, finance, business strategy.

     He has held senior leadership positions in almost every area of national and international business organization. These include general management, investment and commercial banking, finance, and strategic and knowledge management at leading multinational firms like Citibank, Bank of America, N.M. Rothchild (UK), and Telefonica. He also worked with leading consulting firms, such as McKinsey, Boston Consulting, A. T.  Kearney, Booz Allen, and others.

     He has published several books prior to this present multi-volume work and has taught a wide spectrum of graduate and undergraduate courses in management, strategic management, integrated enterprise management, enterpreneurship, organization theory and behavior, foundations of business, international business, cross cultural communications, cultural environment global business, business consulting, business ethics, economics, international economics, financial management, strategic resources management, and quantitative methods.

     I am most humbled that he considers me to be among his mentors. In this respect, I am especially delighted to note how, with some small assistance from my research, he has mastered the realization that the moral virtue of prudence (which creates in children and students the moral habit of docilitas [teachability!]) is a species of uncommon common sense that underlies all cultural and organizational development.

     Evident to any psychologically human being is that, absent the moral and the practical virtue of intellectual prudence, no healthy human individual, organization, or culture can ever develop any habitual common sense–much less a level of habitual uncommon sense needed to grow and flourish longterm.

     I encourage you to buy the 4-volumes linked to immediately below and tell others about them so that you and they can stand on the shoulders of a true organizational giant and learn how to apply these simple truths on a daily basis to improve all aspects of your daily life and that of the rest of us.

Peter A. Redpath is rector of The Adler-Aquinas Institute; CEO of the Aquinas School of Leadership; co-founder of the Gilson Society (USA), The International Etienne Gilson Society; and Founding Chairman of the Board of the Angelicum Academy. Presently Chair of the Thomistic Studies Graduate Concentration in Christian Wisdom at Holy Apostles College and Seminary, he is author/editor of 12 philosophical books and many articles and book reviews.
REVIEW BY LEIF EDVINSSON
     The work presented and packaged in the impressive three volumes has significant contributions to Leadership thought. It is very timely and apt, as we are in a time of rough/stormy knowledge navigation.

     The work's title, "A journey toward world peace", introduces an ongoing renewal process toward a better future, two dimensions of Intellectual Capital (IC). The subtitles of the three books, creating Leadership to transform the political economy and organizations, reinforce the connection with IC's process and renewal dimensions. Volume 2 focuses on the crucial role of spirituality in promoting inspiration and creation for the success of society, emphasizing the renewal dimension of IC. The first chapter focuses on creating knowledge and relationships, the two other dimensions of the IC. The following chapters explain the impact of knowledge creation, generating a vision of the future, building higher values, creating a Leadership culture, and promoting a continuous individual and social transformation process. Volume 2 concludes that spirituality promotes greatness and Leadership, introducing an understanding of Leadership as an ongoing renewal process with a social orientation. Volumes 3 and 4 investigate how our greatness and Leadership enrich the IC of nations and organizations, promoting social welfare.

     Leadership is a challenging task, amplified by global geopolitics and the core of 3-dimensional knowledge navigation. The political economy is more than ever very dynamic. Part of it might be handled by learning life cycle maps from the late prof Jay Forrester at MIT. But also integrating forward into the contributions from Quantum Physics and Life Science, for example, genetic research. Such cultivation might offer life science perspectives to the old Leadership paradigms, as it will amplify the continuous RENEWAL dimensions beyond the often one-dimensional economic paradigm of growth.

     Such navigation might be much more complex and require Leadership, as said above, of 3 D-dimensions.  But also a renewal of the agenda of Leadership, in itself. A Leadership of flow rather than stock. Some core dimensions of Leadership are still related to the geophysics of the Longitude theory. Consequently, Leadership navigation is about position, direction, and speed. A harmonizing Leadership by modern GPS tools.

     Perhaps we need to innovate and upgrade the new institutional Agency for Social Welfare navigation. The Agency for this new Leadership might operate with a much more refined compass. Core metrics will be in the eco dimensions and flow of welfare beyond the bulk thinking.

     As prof. Johan Rockström, Potsdam Environmental Institute, is advocating that we need to initiate the thrust as a global knowledge alliance to initiate, prototype, and cultivate the new sailing course for future generations after the Industrial Economics Era.

     A growing, dynamic paradigm of Life Science presents a Leadership role much more integrated with multi-talented knowing. The dynamics in a new agile agency of a networked global construct are more characterized by Intangibles, soft assets, and vivid flow, close to a DAO – Decentralized  Autonomous Organisation.

     This new Agency might be prototyped in a cross-disciplinary lab setup like we once prototyped in Skandia Future Center, Sweden. A new Navigation school and training program might be considered to initiate further learning and prototyping.

     The escalating opportunity is waiting for our and your new initiatives.

Leif Edvinsson Ph.D. The World´s first director of Intellectual Capital, Skandia. The Worlds´ first holder of Professorship on Intellectual Capital Lund University, Sweden. Professor at The Hong Kong Polytechnic University. Appointed the Brain of the Year, The KEN Practitioner of the Year. Listed in The World´s 50 Most Influential Thinkers. Listed in Who is Who in the World. Luminary Award 2013 by Peter Drucker Foundation, Intel and European Commission for Thought Leadership. Knowledge Award 2017 together with UN.
REVIEW BY ALEJANDRO PREUSCHE
     Juan Pablo Stegmann's masterpiece

     First and foremost, this is a monumental piece of work. It is the expected outcome of a wonderful life journey devoted to rigorous researching, generous teaching, insightful writing and more importantly, to self-development and renewal. It hits the sweet spot of the balance between the personal and the professional lives.

     As I read it, I saw the personal quest Stegmann initiated years ago which resulted in a marvelous synthesis between civilization, culture, and business pragmatism: that spirituality is at the center of our lives. This is the fountain of coherence that he has found and that he now shares with everyone seeking a fulfilling life in the world of business. On a personal note, the book allowed me to take stock of my own personal and professional journey. Lots of insights and reflections. I want to share some with the readers as well.  

     The book highlights spirituality's role in building greatness and leadership, transforming the political economy and the business reality. I have seen countless examples of great business leaders who testified to the centrality of spirituality. Enrique Shaw was a successful business leader, a great human being, the founder of ACDE (Christian Association of Business Leaders), an extraordinary institution I had the honor to preside in. In line with the book's insights, he promoted the mission of the business leader as linked to the fulfillment of three duties: service, progress, and human advancement. For him, the company was a community of life, an instrument for the dignification of the person. No wonder Shaw is in a canonization process in the Vatican.

     The book provides a powerful interdisciplinary approach, connecting strategic management and political economy with our spirituality, greatness, and leadership. This was a challenge, as it required first simplifying and streamlining all strategic management and business disciplines in a simple model, incorporating the role of resources, something that I have done at McKinsey for years as a consultant and its CEO in Argentina.

     As the book states, several Nobel Prize winners and the prestigious Strategic Management Society during the last decades have supported incorporating resources and economic thinking into strategic management. The book goes a step further and investigates how the greatness and leadership of everyone, of each stakeholder, provide crucial resources, human capital, social capital, process, and renewal capital, promoting the success of the organization and the community, providing a strongly needed human approach to strategic management. As an active member of the Impact Investing Movement (investments with an explicit intention and objective to deliver positive, meaningful, and measurable social or environmental outcomes in underserved areas, alongside a financial return), I strongly believe this is the crucial condition for success. Sustainable social and environmental impact is achieved through business innovation, only when their leaders are driven by a genuine orientation to those less privileged. Only this attitude will help bring about peace and progress.

     The book also highlights the role of discernment, and its interaction with strategic management, solving strategic dilemmas for the organization's success and social welfare. On my experience as a career coach to several hundred McKinsey Partners all over the world in the last 20 years, I have been privy to the crucial role of discernment in making high impact decisions. Any business leader, in fact, any leader, should get familiar with Stegmann's comprehensive contribution to their success. This book is a must-read for any leader. It will surely become the main reference for those who want to lead a purposeful life. 

Alejandro Federico Preusche, MS Engineering Universidad Catolica Argentina and MBA Stanford University. Former President of ACDE (Christian Association of Business Leaders), former consultant and CEO McKinsey & Company, Argentina, former a member of the Justice and Peace Commission of the Argentine Episcopal Conference, founder and Manager of Almado, a consulting and impact business developer, member of the Global Impact Investments Group.
REVIEW BY NARCISO MUÑOZ
     Perhaps the idea that best summarizes this monumental work developed by Juan Pablo Stegmann is the passage of the Good Samaritan, who helped a homeless, wounded and helpless man: it was neither the markets, nor the governments, but a man with a good heart.

     For the past 5 years, with our families, friends and 500 volunteers, we helped the homeless of Miami, and along with them veterans, migrants, families, the elderly. We visited the streets where they are concentrated, supporting them with resources to improve their situation, recomposing their lives (health, work, finances, socialization and even spiritual support), trying to reunite them with their families, incorporating them into recovery programs, getting them permanent or transitional housing. Numerous donors and the state have supported us, providing 20 houses where the homeless can live, finding a community where they feel supported and regain their dignity.

     "Hermanos de la Calle" brings together people who want to help, with those who need that help, helping to rehabilitate more than 100 homeless people in Miami per month, 30% of them children, and is expanding to other U.S. cities. Our task is to see the person, with his or her dignity, behind each homeless person, to help him or her transform and reintegrate into society.

     As this book states, spirituality has been the driving force that led us to undertake this work; our spirituality is what makes us people, different from animals, it makes us brothers, it empowers us, it gives us that supernatural spark that we have and that we forget we have, or we do not dare to use it, or we were convinced that it is not there: but it is there. And when we use it, we impact many people, who begin to feel useful, unique and necessary. Our spirituality enhances and rediscovers that foggy mirror where we look for ourselves and sometimes, we do not see ourselves. Our spirituality brings us closer to God because we are made in his image and likeness, we have a little piece of God inside us.

     I hope that many will read this book, so that it will help them to walk a path of personal and community growth, to discover the extraordinary value that spirituality has in our lives, to make us grow, be transformed, and to transform society in order to build a better world.

Narciso Muñoz, CFA, MS Political Sciences. President Hermanos de la Calle Foundation. Managing Director Alex Brown, a Division of Raymond James.
REVIEW BY JEFF STEAGALL
     Stegmann provides a thoughtful new approach to modern economics. Moving beyond the twentieth-century focus on rationality, Stegmann carefully integrates spirituality as a key input for economic and social growth. He cleverly shows how this approach leads to increased happiness, goodness, beauty, truth and unity, offering a vision for a better future for both individuals and society. Stegmann's paradigm challenges us to re-evaluate what leadership means. He argues persuasively that leadership is the key component to personal and societal evolution, offering a statistical analysis that demonstrates that leadership correlates better with the most desirable social outcomes than either individualism or collectivism. Given the frightening situation that the left-versus-right paradigm has generated in our world, Stegmann's work should be required reading for anyone interested in leadership, economic growth, societal evolution and global improvement.

Jeff Steagall Ph.D. Professor of economics, Buehler Chair in Leadership and former dean of the John B. Goddard School of Business & Economics at Weber State University. At University of North Florida former professor of economics, winner of multiple awards, creator and leader of the international business program which became one of four UNF flagship programs.
REVIEW BY ANDRES GALLO
     The work of Juan Pablo Stegmann is an intellectual endeavor of great importance for our culture of confrontation and extremism. Stegmann delves into deep spiritual and philosophical traditions to bring a bridge to solve matters at the individual, corporate and national levels. This is an impressive work, which should help all of us to question and understand the diversity of decisions we face both personally, at our companies, and as members of society.

     This work starts at the personal level, looking for the significant impact of spirituality on our way of thinking and how our spiritual efforts impact our views and attitudes towards life problems. According to Stegmann's research, spirituality is the source of our greatness and leadership. It builds our capacity to lead and approach our lives' challenges.

     Second, our leadership strengthens human, social, renewal, and process capital, which Edvinsson calls intellectual capital, the engine of economic growth, social justice, competitiveness, and problem-solving at the micro and macro levels. Accordingly, Stegmann refers to ten dimensions of spirituality linked to creating intellectual capital in society.

     Third, Stegmann takes this framework into the political economy arena to create alternative solutions to the more traditional collectivist and individualist approaches. He shows the strengths and limitations of the epistemological foundations of both approaches, which is crucial to ending their confrontations. A leadership culture relies on a realist epistemology which eliminates the social fragmentation and radicalization generated by the confrontation between left and right, empowered by social media and populism. A leadership culture promotes knowledge and relationships, pillars of intellectual capital, social integration, and social harmony.

     Stegmann closes this intellectual journey with a positive and hopeful framework that people can use to improve decision-making. He started with a very theoretical and abstract development of spirituality and guided us to a practical and applicable improvement framework. His examples and descriptions help the reader through this journey and bring the value of our spiritual growth in our lives.

     This book can be extremely valuable for politicians, economists, business leaders, and any citizen to incorporate a new approach that promotes economic growth, social justice, and social harmony, creating a third political economy orientation based on leadership to solve unsolvable today's problems. Furthermore, this book can be extremely valuable for anyone to learn how to build a leadership culture, transforming the person and society toward world peace.

Professor and Richard deRaismes Kip fellow at the Department of Economics and Geography and Director of the Flagship program in International Business at the Coggin College of Business, University of North Florida. Ph.D. in Economics at University of Illinois Urbana-Champaign. He has several publications in prestigious research journals.
OTHER CATHOLIC BUSINESS AND EDUCATION BOOKS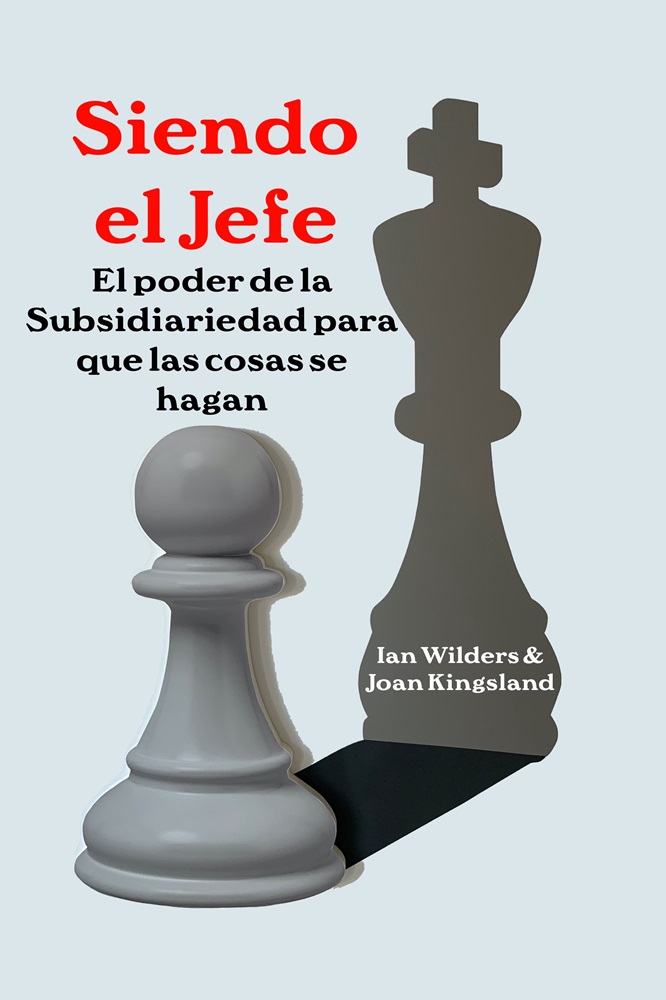 Siendo el Jefe: El poder de la Subsidiariedad para que las cosas se hagan by Ian Wilders and Joan Kingsland Ian es un CEO visionario conocido por defender la subsidiariedad en el lugar de trabajo. En su libro, comparte ideas prácticas y ejemplos reales de cómo este...
read more