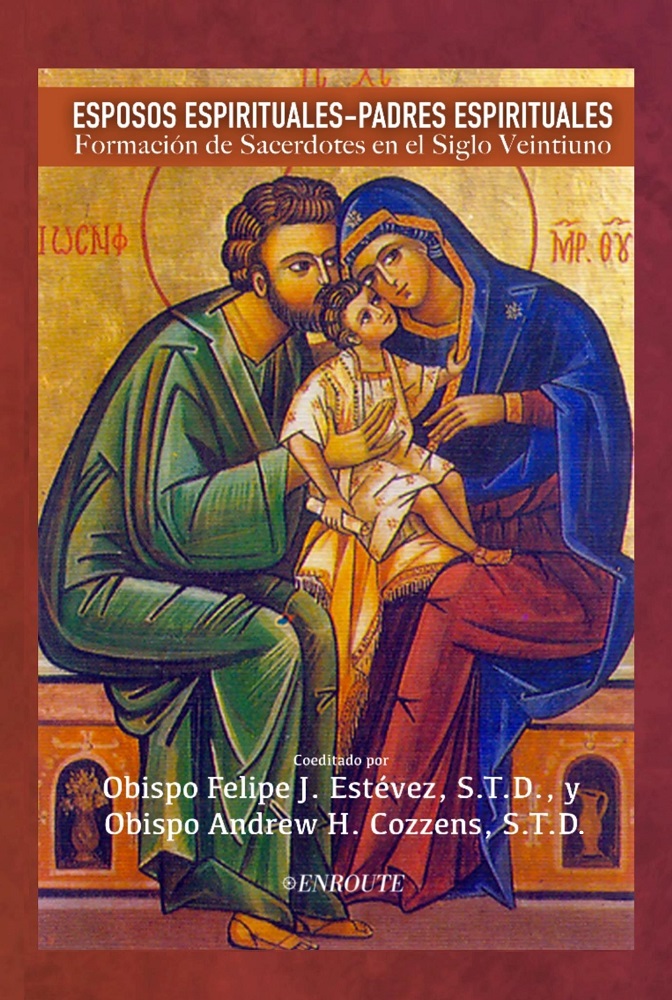 Esposos Espirituales – Padres Espirituales: Formación de Sacerdotes en el Siglo Veintiuno
por Obispo Felipe J. Estévez, S.T.D., y Obispo Andrew H. Cozzens, S.T.D.
¡Ahora en español!
En este libro se dan muchas referencias que asisten en la formación integral y que tienen en cuenta las necesidades humanas y espirituales de cada seminarista católico. El libro está dividido en tres secciones. La primera parte del libro suministra la meditación espiritual y teológica para ayudar a los sacerdotes y seminaristas a entender el don del celibato del esposo. La segunda parte del volumen presenta una colección de recursos psicológicos para la formación de la madurez afectiva. La tercera parte de este trabajo suministra las herramientas espirituales para profundizar la madurez afectiva. En esta sección lo espiritual y lo psicológico se unen, tal como lo saben los buenos formadores espirituales, para obtener una visión de la libertad espiritual de un hombre afectivamente maduro. La finalidad de este libro es escribir un recurso de ayuda espiritual y psicológica profunda que engendre madurez afectiva y una fructífera y casta celibato para la renovación de la formación de sacerdotes. Este es el deseo de la Iglesia expresado en la Ratio Fundamentalis de 2016 y en el Programa de formación sacerdotal, sexta edición. Esperamos que los formadores en el seminario, los seminaristas y muchos más encuentren en este libro un recurso que les ayude en su misión.
Libro en rústica: $29.95 | Libro electrónico: $9.95
THEOLOGY TODAY – ST. VINCENT DE PAUL REGIONAL SEMINARY
TESTIMONIALS
"¡Esposos espirituales – Padres espirituales es una profunda contribución a la Iglesia y debe ser una lectura prioritaria para todos los obispos como formación episcopal permanente esencial! Esta colección de recursos, editada por los obispos, Estévez y Cozzens, proporciona una presentación esencial del celibato y una guía práctica para todos los que tienen encomendada la obra de formación en el seminario. La comprensión del celibato sacerdotal ricamente desarrollada en estos artículos es un recurso único en la Iglesia para formadores de seminarios, obispos y clérigos. Esposos Espirituales – Los Padres Espirituales serán altamente referenciados en el trabajo de formación sacerdotal para las generaciones venideras". — Mons. Joseph Hanefeldt, Diocesis de Grand Island, Nebraska
"A menudo miramos a los sacerdotes como 'Padres Espirituales' y rara vez como 'Esposos Espirituales'. Es un enfoque interesante y abarcador profundamente arraigado en la teología patrística con el objetivo de preparar a los seminaristas de hoy afectiva, intelectual, pastoral y espiritualmente para asumir ese papel de entregarse a la Iglesia (esposos) y al pueblo (padres)". — Mons. A. Elias Zaidan, Eparquía Maronita de Nuestra Señora de Líbano de Los Ángeles.
"Tanto los obispos Estévez como Cozzens, así como los otros contribuyentes a este libro, tienen amplios antecedentes de formación en seminarios y clérigos, y ofrecen muchas ideas útiles tanto para formadores como para discernidores. Los autores ofrecen perspectivas equilibradas, aunque matizadas, para ayudar a nuestros futuros sacerdotes a entenderse a sí mismos como padres castos, célibes, padres espirituales y novios de la Iglesia. Los artículos contenidos en este documento ayudarán en la formación de hombres sanos e íntegros que sean capaces de convertirse, para el pueblo de Dios, en donación de sí mismos, a través del autoconocimiento y la curación. Después de casi una docena de años como formador de seminario, encuentro este libro una contribución útil a mi trabajo con ideas a las que a menudo volveré para una mayor oración y reflexión". — Mons. David L.Toups, S.Th.D., Obispo de la Diocesis  de Beaumont, Texas, ex Rector/Presidente, St. Vincent de Paul Seminario Regional, Boynton Beach, Florida
"El llamado de cada discípulo cristiano es hacer un don sincero de sí mismo en amor y sacrificio por el bien del otro. Para el sacerdote, esto sucede de manera especial a través del carisma del celibato casto, donde se configura como novio de Cristo en su amor por la Iglesia. Este libro ayudará a los formadores de seminario en su tarea de ayudar a los seminaristas a recibir este precioso don y equiparlos para vivirlo por el resto de sus días en un servicio gozoso a la Iglesia".  — Padre Joseph C. Taphorn, JCL, Rector, Seminario de Saint Paul, Saint Paul, Minnesota.
"Esposos Espirituales – Padres Espirituales proporciona un exceso de riquezas para aquellos involucrados en el trabajo de formación sacerdotal. La variedad de autores proporciona una profundidad de perspectiva, y las múltiples áreas de experiencia representadas en este documento aseguran una presentación que es a la vez global y equilibrada. Este volumen será una adición bienvenida a la biblioteca de cualquier persona involucrada en el trabajo de formar a los futuros sacerdotes de la Iglesia de Cristo". — Padre Robert S. Horihan, Rector del Seminario del Inmaculado Corazón de María, Winona, MN.
"El Papa San Juan Pablo II escribió en Pastores Dabo Vobis, n. 44. ' La madurez humana, y en particular la madurez afectiva, requiere una formación clara y fuerte en libertad». Los ensayos de este volumen ayudarán a formadores y seminaristas a formarse en la libertad que conduce a la madurez afectiva. Agradecido a los autores por este trabajo". — Mons. Dan Trapp, Director de  Formación Espiritual del Seminario del Sagrado Corazón de Jesús, Detroit.
"En estos tiempos difíciles en la historia de nuestra Iglesia, este libro es muy oportuno.  En estas páginas, los católicos descubrirán de nuevo la belleza del don del sacerdocio y la sabiduría de la Iglesia. Este libro es verdaderamente un tesoro de formación de artículos y ensayos inspiradores no solo para sacerdotes, seminaristas y sus directores espirituales y formadores, sino para todos los católicos que aman a la Iglesia y buscan inspiración y consejos prácticos para su propio crecimiento personal en santidad". — Alicia G. Goodwin, M.A.T.S., Presidente de la Casa de Oración Nuestra Señora de la Divina Providencia®
"San Juan Pablo II escribió una vez: 'Vive tu vida en la dimensión del don'. Toda vocación tiene que ver con esto; ciertamente el Santo Sacerdocio. Pero nemo dat quod non habet: uno no puede dar lo que no tiene. Es precisamente porque la auto posesión siempre precipita el don de uno mismo que requiere madurez afectiva. Esta colección de 22 artículos sobre la madurez afectiva es un tesoro para directores de vocaciones y formadores de seminarios escritos por algunos de los mejores educadores. ¡Será una tremenda bendición a medida que la Iglesia continúe progresando en la implementación de la Ratio!" — Padre Brett A. Brannen, autor de To Save A Thousand Souls: A Guide for Discerning a Vocation to the Diocesan Priesthood
"Basándose en las Sagradas Escrituras, los Padres de la Iglesia, los místicos, los concilios ecuménicos y los escritores espirituales contemporáneos, "Esposos espirituales – Padres espirituales," habla directamente del deseo de cada sacerdote de una mayor conformidad con Cristo Sumo Sacerdote, a través de una relación más íntima y vivificante con María. Será una herramienta útil, especialmente para aquellos encargados de la formación de futuros sacerdotes en medio de estos tiempos difíciles".   — Padre Mark Ivany, Director de Vocaciones Sacerdotales, Arquidiócesis de Washington, Director de Formación Pastoral, Seminario San Juan Pablo II
"Esposos Espirituales – Padres Espirituales presenta una visión cautivadora para la formación sacerdotal basada en el llamado universal de todos los hombres a la paternidad fundada en un llamado esponsal. Ya sea que este llamado sea al matrimonio carnal, o espiritual, se cumple genuinamente con un compromiso maduro con un don de sí mismo libre, total, fiel y fructífero a su amada. Para el sacerdote, este don sincero de sí mismo se vive auténticamente a través del celibato casto, liberándolo para cumplir su llamado a ser el padre espiritual de su rebaño. Esta antología de artículos es un complemento importante a los recursos de formación sacerdotal". — Catherine Loh, M.A. Teología, Diocesis de Palm Beach, Director de Matrimonios, Vida Familiar, Formación de la Fe, y Ministerio Joven.
ABOUT THE EDITORS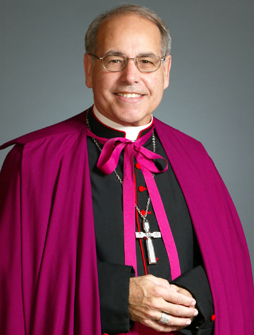 El Muy Rev. Obispo Felipe J. Estévez, S.T.D., nació el 5 de Febrero de 1946 en la Habana, Cuba y llegó a los Estados Unidos en la operación de los vuelos Pedro Pan cuando era todavía un adolecente. Fue ordenado en 1970 y ha hecho estudios extensivos en teología espiritual obteniendo su doctorado en la universidad Gregoriana de Roma. Habla con fluidez inglés, español, francés e italiano. De 2001 a 2003, el obispo Estévez sirvió como director espiritual en el Seminario Regional San Vincente de Paúl en Boynton Beach, Florida, en donde sirvió como rector entre 1980 y 1986. Durante 14 años, fue el pastor de San Agatha en Miami, dirigiendo al mismo tiempo el ministerio universitario en la universidad Florida International. El 21 de noviembre de 2003, fue nombrado Obispo Auxiliar y ordenado el 7 de enero de 2004. Estuvo a cargo de los servicios pastorales de la arquidiócesis incluyendo la vida familiar, la juventud, prisiones y respeto a los ministerios de la vida y de todos los movimientos de la iglesia y de las nuevas comunidades. En el año 2010, fue nombrado Vicario General de la Arquidiócesis de Miami. En Abril 27 de 2011, el Papa Benedicto XVI nombró al Obispo Auxiliar Felipe J. Estévez el décimo Obispo de San Agustin. En junio 2 de 2011, en la Iglesia Católica de San José de Jacksonville fue consagrado como Obispo. El obispo Estevez es el segundo de los tres hijos (Carlos y Marty) del difunto Adriano y Estrella Estévez.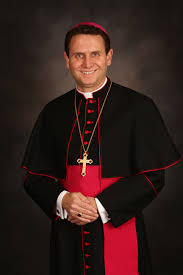 El Reverendo Andrew Cozzens, S.T.D., es el obispo auxiliar de la Archidiócesis de San Pablo de Minneapolis. Actuó como formador del seminario durante ocho años, en el foro externo, profesor y rector interino. En el momento sirve como presidente del Consejo de Formación de Seminaristas, del cual también es socio fundador, y es el presidente del Instituto de Formación de Sacerdotes con sede en Omaha, Nebraska. Su disertación doctoral la hizo en Imago Vivens Iesu Christi Sponsi Ecclesiae: el sacerdote como imagen viviente de Jesucristo el Novio de la Iglesia a través de los consejos evangélicos, enfocado en la relación entre el sacerdote y los consejos evangélicos, basados en el llamado al sacerdocio para vivir en imitación de Jesucristo, el Novio de la Iglesia. Teaching the City of God in the City of Man by Patricia Hershwitzky, Ed.S. Whether used by a home school parent, a classroom teacher, or graduate level Catholic educator, Teaching the City of God in the City of Man is designed as a sectional primer to serve all...
read more