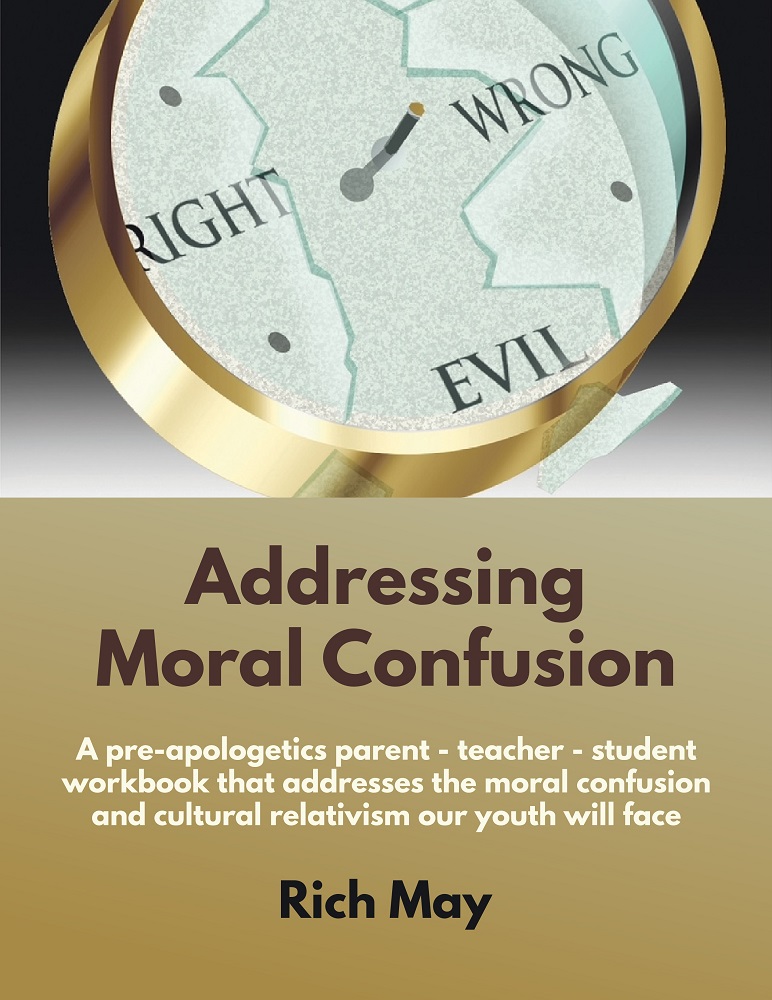 Addressing Moral Confusion
by Richard May
TBA
Paperback: $TBA | Kindle: $9.99
TESTIMONIALS
"As a homeschool parent who has taught my children from K to 12, I have found Rich May's Teachers Workbook on Apologetics to be an excellent, concise and engaging teaching resource that should be used in every school curriculum." – Fred Dunne, Landstar Ligon Nationwide Truck Transport
"Rich May's genius for clarity and timeliness is demonstrated through the scholarly and well-informed portrayal of these critical issues, the necessity for us to grasp and understand the issues, and the motivation for us to take zealous action! Well Done! Highly recommended!!" – Ginny and Dick Lochner, Catholic Educator and Author
"As a parish educator, I believe Addressing Moral Confusion fills a profound void in Catholic moral instruction for youth by giving young Catholics the foundational moral principles, fundamental truths, and intellectual tools with which to understand the reality of absolute moral truth as taught by the Catholic Church and to recognize the counterfeit morality of today's modern, secular culture." – Joan Barros, Retired DRE
"This is Moral teaching at its finest.  Each chapter in itself is foundational, yet each chapter builds on the previous foundational chapter so that what you end up with is a solid understanding of God's Truth as it pertains to Moral Law.  These are truly solid building blocks that could be used in any Catholic teaching program." – Karl Kerne, Catholic Catechist
"Rich May has written a manual to stress and arrest the dire circumstances that are swiftly losing a whole generation of children trapped in social and cultural milieus that are fast bankrupting themselves of every traditional moral and spiritual rectitudes, and systematically capitalizing on the children's vulnerability to feed them with the worst forms of relativisms ever known in human history." – Fr. Reuben Nwankwor, PhD
ABOUT THE AUTHOR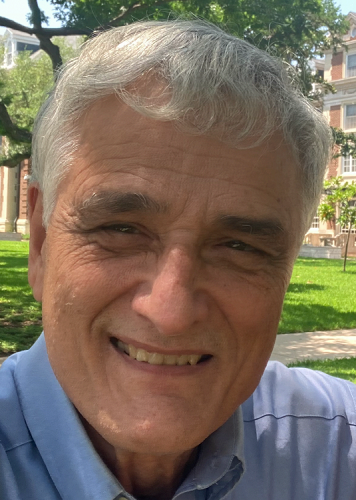 A former Air Force pilot, Rich May is a retired aerospace engineer by profession. He has a BA in Pastoral Theology from the University of St. Thomas in Houston and an MA in theology from the Franciscan University in Steubenville Ohio.  He has appeared several times on the Eternal Word Television Network (EWTN) and often on Catholic radio with a live weekly show on Radio Maria.  With an approbation from the Archdiocese of Galveston-Houston, he speaks locally and nationally.  He has 35 years experience teaching catechesis at all levels and has authored several booklets including The Rosary a Prayer For All Christians and The Rosary a Prayer for All Native Peoples.  Currently he is teaching the youth how to courageously respond to the counter-culture.
OTHER CATHOLIC ACADEMIC BOOKS
Scholars of the Sacred: Dominican Theologians in Late Medieval Byzantium by James Likoudis This in-depth study of the Catholic–Orthodox reunion efforts during the tumultuous 11th –15th centuries reveals the vital role played by the Dominican Order in shaping the...
read more