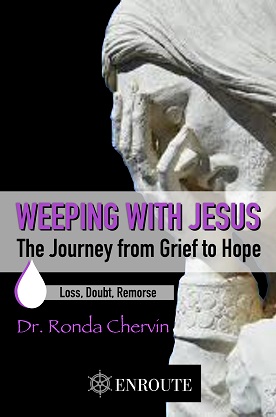 Weeping with Jesus: The Journey from Grief to Hope
by Dr. Ronda Chervin
In the past the word grief was used only to describe the sorrow of loss through death. Nowadays pain coming from other kinds of losses such as rejection and divorce are also seen to involve grieving. Even though Weeping with Jesus is not designed to help with such forms of grief, what you read could help you encounter the personal love of Jesus for you in any kind of heartbreak.
Paperback $14.99 | Kindle $9.99
TESTIMONIALS
My grief was intense. I read the manuscript of Weeping with Jesus and it gave me what I need to have hope in the midst of my tears. The book showed me how to lift up my husband's soul into the arms of Christ and surround him with heavenly angels. – Dorothy Scalise, Parish Prayer Warrior, St. Charles Borromeo Church, North Carolina
Disputed Catholic Landmarks by Gerard Verschuuren Everyone's life has landmarks: when you were born, when you graduated from school, when you got your first job, when you got married, and so many more. There must be many landmarks in the history of the Catholic...
read more