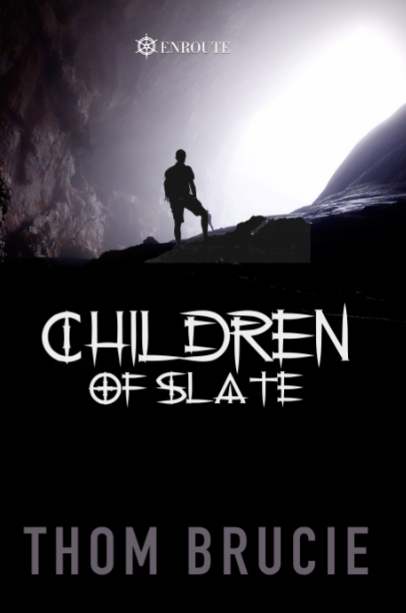 Children of Slate
Morgan O'Bryan, studying for the priesthood at St. Francis Seminary, comes under the tutelage of Father Christopher, a mystic who suffers from WWI battle fatigue. Father Christopher suspects that Morgan possesses the gift of healing, and he introduces Morgan to the mysteries of mysticism. Morgan's coming of age story explores the reality of miracle through the application of faith to intention when inviting the Divine into the physical realm. Children of Slate celebrates the individual and the occurrence of miracle in everyday life. Its theme opposes the loss of relationship fostered by cultural narcissism. It does not shy away from the difficulties of life, neither does it refrain from expressing the joy of miraculous delight.
ABOUT THE AUTHOR
Thom Brucie earned his PhD in creative writing at Binghamton University where he also wrote field exams in the American Renaissance, the American Modernist novelists, and in Folklore. He currently serves as Professor of English at South Georgia State College, where he teaches Composition, American Literature, and Creative Writing. In addition, he founded and edited the juried, scholarly publication, The Journal of the Georgia Philological Association. In 2013, Brucie's first novel, Weapons of Cain, was published by MilSpeak Books, a military-genre small press. In 2006, a book of short stories, Still Waters: Five Stories, released by Tight Curtain Press, was a Georgia Author of the Year Nominee in the short fiction genre. In the spring of 2010, Cervena Barva Press released a chapbook of poems, Moments Around The Campfire With A Vietnam Vet. Recent journal publications include the poem, "Wounded Woods, Healing Trees," in The Dead Mule School of Southern Literature; and the story, "Nature's Transgression," which appears in the North Atlantic Review. Follow Thom Brucie on his website at ThomBrucie.com. 
OTHER POPULAR FICTION BOOKS
Children of the Breath: A Dialogue in the Desert by Martin Chervin Martin Chervin, Ronda's husband, became a Catholic at the age of sixty, after decades of struggling with doubt. His way of resolving his doubt was to ponder the battle between Satan and...
read more