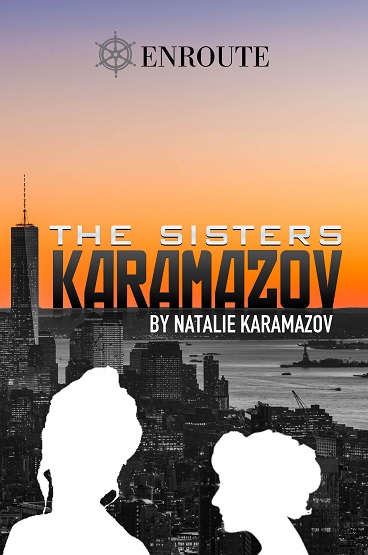 Sisters Karamazov
by Natalie Karamazov
"So what kind of a title is that Hmmph! The Sisters Karamazov? So you think you're a female Dostoevsky? Isn't that more than a little arrogant?"
Let me explain. The idea for writing this fictionalized account of my life came in this way. A friend of mine once announced proudly: "I'm reading the famous Brothers Karamazov by Dostoevsky." "You may not believe it," I replied grinning, "but Karamazov was my mother's maiden name!"
In this way begins the rollicking fictionalized autobiography of 3 generations of sisters living in the USA but of Russian-Jewish ancestry. An enmeshment of drama-queens, a psychologist might describe it. A story of redemption, a theologian might describe it. How will you, my reader, describe it?
Paperback $18.99 | Kindle $9.99
TESTAMONIAL
"What would it be like to take a delightful, leisurely stroll through the 19th and 20th century with a wonderful, new friend… philosophy professor, Natalie Karamazov? Read The Sisters Karamazov, and you will find out. If ever there was such a thing as a companion literary work to Fyodor Dostoevsky's The Brothers Karamazov…especially with regard to its prophetic quality… The Sisters Karamazov would be that book!" –  Fr. Lawrence Edward Tucker, SOLT… award winning author of The Prayer of Jesus Crucified, Adventures In The Father's Joy!, To Whom The Heart Decided To Love, The Redemption of San Isidro, andMasters of Interior Space.
"A delightful, witty, sardonic-yet-hopeful narrative that captures readers from the first page and grips them till the last. Dostoevsky never saw it coming!" – Dr. Sebastian Mahfood, OP, Associate Professor of Interdisciplinary Studies at Holy Apostles College & Seminary in Cromwell, CT
OTHER CATHOLIC LITERARY WORKS
An Unlikely Gardener: Prose and Poems by Francis Etheredge This book began as a failed article about gardening; however, having written one, several more followed and so it became a short book, wonderfully enriched by the criticisms of my eldest daughter and a...
read more