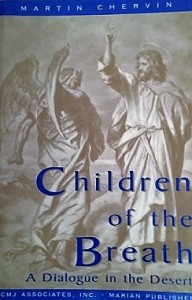 Buy now! $9.99 paperback
---
Description
Martin Chervin, Ronda's husband, became a Catholic at the age of sixty, after decades of struggling with doubt. His way of resolving his doubt was to ponder the battle between Satan and Christ during the forty days in the desert for the prize of the human soul. Is it worth the gamble for the children of the breath to reject Satan and all the worldly goods he promises to follow the Lamb of God? Readers are challenged to make their own decision.
---
About the Author
Readers of Children of the Breath will doubtless be reminded of other writers who have tackled the great scriptural themes. The formidable Satan of Milton's Paradise Lost and the silent loving Christ of Dostoevsky's The Grand Inquisitor come easily to mind. – Gabriel Meyer, National Catholic Register
---
Book Clubs
For orders of 10 or more, contact the publisher at contactus@enroutebooksandmedia.com for a 50% discount and free shipping.