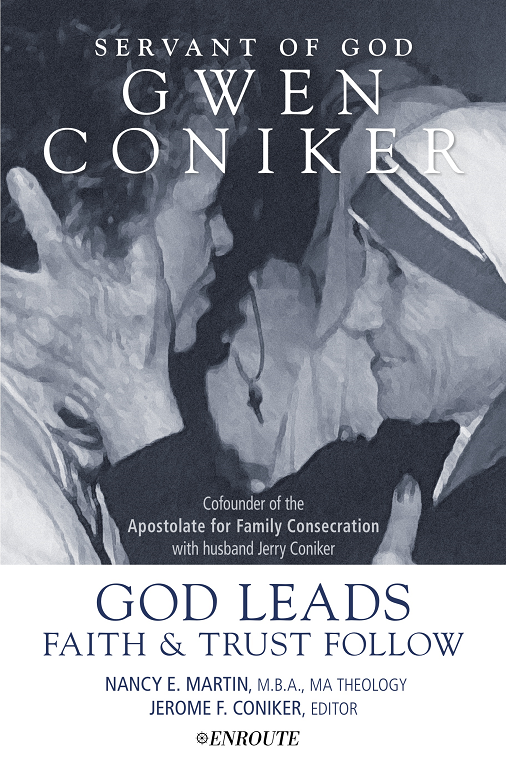 Special congratulations to Nancy for her being awarded an honorable mention for first time Catholic author and third place in Marriage and Family Living in the 2020 Catholic Book Awards. 
Servant of God, Gwen Coniker: God Leads, Faith and Trust Follow
by Nancy E. Martin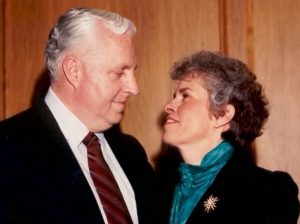 Gwen Coniker, Servant of God, ordinary wife and mother of thirteen, teaches others how to live these dual vocations to a heroic degree. In a contemporary turbulent modern world, which has lost the real meaning of faithful marriage and the dignity of every human life, Gwen, along with her husband, Jerry, co-founded the Apostolate for Family Consecration. It was a vision which was conceived in Fatima and lived out in the United States. Gwen was challenged with her own moral dilemmas. How she dealt with these and lived her life left an impression on anyone who interacted with her.
Paperback $19.95 | $9.99 Kindle
Patchwork Heart Radio interviews Nancy Martin
TESTIMONIALS
"The life and apostolate of the Servant of God, Gwen Coniker, has been well-documented by Nancy E. Martin in this book. The author presents Gwen Coniker as remarkable for her love of her husband, her motherly Christian education of her 12 children, her devotion to the apostolate of promoting families and her undoubted Christian impression on any one who interacted with her. In my yearly working visits to the Apostolate for Family Consecration over a period of 20 years, the impression never left me that Gwen Coniker was an extraordinary Catholic mother. The Second Vatican Council underlined the fact of the call of every one to holiness, which is the perfection of charity: love of God and love of neighbour (cf Lumen Gentium, 40). For both Church and society, it is a grace that mothers of families who practised Christian virtues to an heroic degree be raised to the honour of the altar. I have no doubt that this book will help to promote the Beatification Cause of Gwen Coniker and will encourage Christian mothers. I warmly recommend it." – Francis Cardinal Arinze
"In the book Servant of God, Gwen Coniker: GOD LEADS, Faith & Trust Follow, the life of Servant of God Gwen Cecilia Coniker is unveiled so that we see that she was an ordinary woman who performed extraordinary deeds. Fittingly, Gwen set her priorities to be faith, love and family. One of the great fruits of Gwen and Jerry's marriage as co-founders of the Apostolate for Family Consecration is how they became a family for other families; a vision conceived in Fatima and lived out in the United States. In the era of New Evangelization, the apostolate provides an additional resource for personal and communal renewal." – Most Reverend Jeffrey M. Monforton, Bishop of Steubenville, OH
"The list of prelates who have signed off and have given their approval for their [Gwen and Jerry Coniker] apostolate is incredible.  It is truly a blessed and holy list of names that have sanctioned the work that they have done both with the Apostolate for family Consecration and for Catholic Familyland." – Dr. Mary Anne Urlakis, Catholic Bioethicist WCAT Radio
ABOUT THE AUTHOR
Nancy Martin is a wife and mother of five who has a passion for the Catholic Faith. She has developed and led many varied ministerial efforts and has taught classes on Consecration to Our Lady via the St. Louis de Montfort charism both online and in the classroom.
She holds an M.A. Theology, Summa cum Laude, with concentrations in Dogmatics, Morality, and Bioethics from Holy Apostles College & Seminary in Cromwell, CT.  She has earned certifications in Lay Ministry, Advanced Biblical Studies, Bioethics, and Online Teaching. She has also published articles in the Social Justice Review.
OTHER CATHOLIC BIOGRAPHY AND MEMOIR BOOKS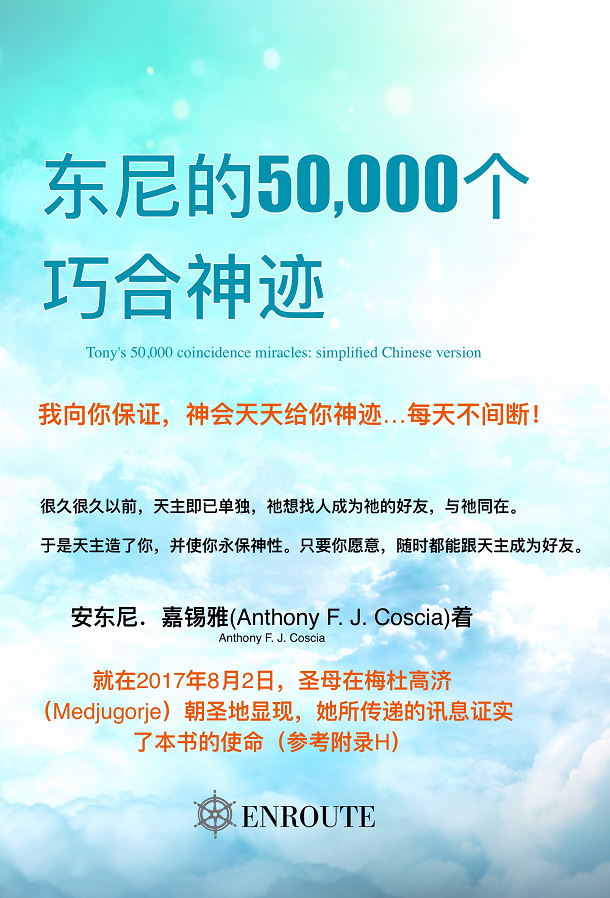 (This is the SIMPLIFIED VERSION)  (點此進入):東尼的50,000個 巧合神蹟 [Click here for Traditional Chinese] 本页面提供了这本书的详尽内容介绍。 若您希望直接购买,请点选以下连结: #1. 点此订购 (电子书) #2. 点此订购 (平装书)请使用有语言转换功能的浏览器,自动将英文译为中文浏览所有东尼的书+免费项目,点此进入Tony's 50,000 Co-Incidence Miracles (Simplified Chinese) 东尼的50,000个...
read more