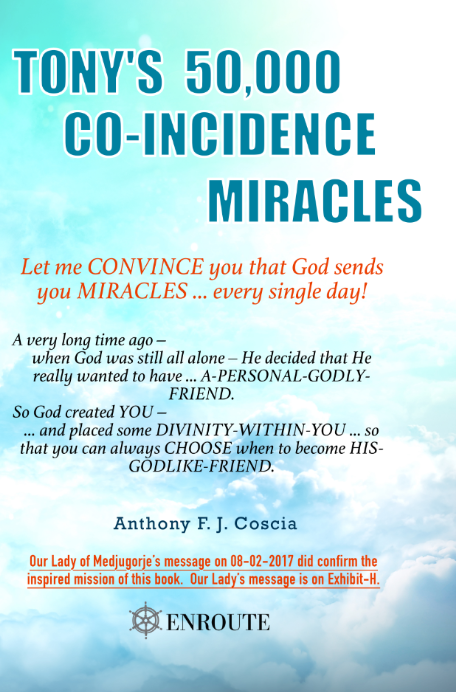 Increase the print size by pinching out on your mobile device or pressing CTRL and the + sign. Blessings!
Tony's 50,000 Co-Incidence Miracles
by Anthony F.J. Coscia
GOD DEFINITELY WROTE THIS BOOK — (just like all the other books which God wrote in history … including the 73-books in the Holy Bible).  First, God inspires authors to understand something —  then, God prompts and nudges the authors to write what God wants written.
This book does also show everyone: "How to start having face-to-face conversations with God (as a personal friend) every day!"

You will find some proof that God wrote this book when you read the following info (especially Exhibit-H below). But you will find 25-cases of abundant proofs, when you read the book's 3-Proof-Exhibits of B, E, and H.
If you enjoyed other books or movies like THE SHACK, or I CAN ONLY IMAGINE, or GOD IS NOT DEAD … then, you will truly also enjoy this new book because this book will help you to experience "your own personal daily movie-stories" after you have read the 100-true-everyday-miracles that are clearly explained within it. You will also notice many examples where Jesus truly Co-authored this new book with Tony. – Tony Coscia, Author of Tony's 50,000 Co-incidence Miracles
…God sends (every person) daily miracles.
…You will notice (your miracles) in this book.
… You already average (1,000 miracles a year)!
In prior generations of great faith and great prayer; it was fairly common for people to excitedly share with each other about the many personal miracles which each person noticed each day.
Unfortunately, our current civilization has become somewhat NUMB to the presence of God and to all of the daily miracles which God, our friend, still sends to each one of us every day. Sadly; many people do not even call miracles (a miracle) any more.  They now call miracles things like: (a mere accidental coincidence, a shocking
event, a crazy thing, a funny thing, a weird thing, a cool thing, etc).
When we allow God to become our friend, His miracles automatically show up in our daily lives — (miracles automatically exist wherever God exists). It was because of all the miracles which the people of old did notice in the bible; that people came to know and believe in God. Would anyone ever believe in God if they never saw or heard about a miracle? Even Jesus said in John 14:11: "Believe me for the sake of the works (miracles) themselves."
---
EARN COMMISSIONS … (by BECOMING A SALES-REP): After you read this book, you will be convinced that God really wrote it. Then, you will want everyone to read it — in order to gain the same PERSONAL GROWTH which you gained from reading it. You can purchase these books at very special discounts and then, you can sell them on your own – or gift them to friends. You keep all the profits you earn (as your own commission). It is that simple, you buy the books, spread the wonderful news; and (you keep the profit you make as your own commission). 
Phone or email us.
Phone: …. Dr. Sebastian Mahfood, OP, at 314-706-1009.
Email: …. contactus@enroutebooksandmedia.com Click the bulk order link below for shipping costs. 
PAGE DOWN TO SEE FREE-AUDIOS … and … FREE-VIDEOS … and … MORE INFO ABOUT THIS GREAT BOOK …. such as … THIS 18-MINUTE INTRODUCTION!
Listen to "Introduction to Tony Coscia's Book entitled Tony's 50,000 Co-Incidence Miracles" on Spreaker.
This book is already changing lives in just the first 45-minutes of reading.  Anyone who donates anything for this movie-funding will receive a FREE electronic downloadable version of OUR BOOK, entitled Tony's 50,000 Co-incidence Miracles, by email from the publisher.  This FREE-GIFT electronic copy is for your own personal use ONLY.  The paperback copy of the book sells for $14.95 on Amazon.com and Barnes and Noble.com, and in other fine stores.  No donation is too small, or too large.
GIFT-GIVING-OPTION … You may also GIFT THIS life-changing E-book TO YOUR FAMILY AND FRIENDS by replying with an email address to the thank you notification the system sends you each time you make a donation.  Then just alert your family member or friend that you have donated toward a life-changing-movie in their name, and tell them that a GIFT of the book Tony's 50,000 Co-incidence Miracles is being sent to them by email. Remind them that the E-book is only for their personal use and not for forwarding on to others. Each E-book we Email is intended as a GIFT for one single person, for every separate donation we receive.
May God reward you for your help in letting EVERYONE know about this GREAT-MOVIE-FUNDING offer — and for your personal donation. Please do spread the word to others — with your social media sharings!
This book does also show everyone: "How to start having face-to-face conversations with God (as a personal friend) every day!"  Just CLICK ON THE FOLLOWING (GoFundMe box) to donate and to also have your FREE GIFT e-mailed — page down for much more FREE info!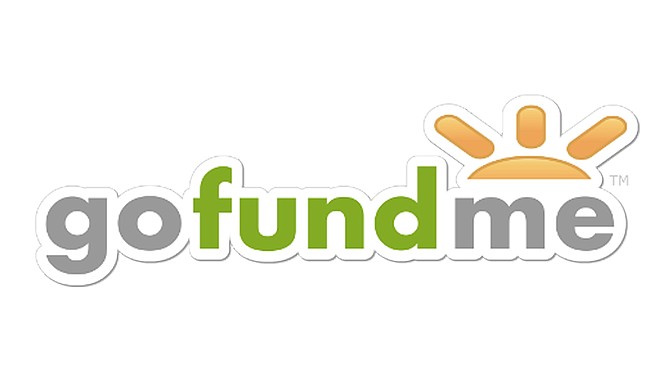 Listen to Audios:
1. 5-minute audio on highlights of the book – read by the author
2. 1-minute summary radio ad on WCBS radio.
3. Live Radio interview of the author:
    a. Listen now as Tony is interviewed by Joe Avalos on WCAT Radio's "Cry Oneness." 60-minutes 01/24/2018
Listen to "Joe Avalos Interviews Tony Coscia, author of Tony's 50,000 Coincidence Miracles (January 24, 2018)" on Spreaker.
    b. Listen now as Tony is interviewed by Wayne Norman on WILI 1400 AM. 37 minutes 12/14/2017
Listen to "Wayne Norman Interviews Tony Coscia about his book Tony's 50,000 Co-Incidence Miracles" on Spreaker.
   c. Listen now as Tony is interviewed by Bob Olson on the "I Thought You'd Like to Know" show (October 24, 2016)
Listen to "Bob Olson interviews Tony Coscia about his Conversations with God (October 24, 2016)" on Spreaker.
---
Read or listen to some reader testimonials and opinions of this book:
    a. Read … Sophia Press .. a major Catholic Publisher.
See what EpicPew (a division of Sophia Press, a major publisher of Catholic books) has to say in a two-page synopsis-testimonial of Tony's book … by clicking this
BLUE LINK!
and also this
BLUE LINK!
    b. Read … Six readers who offered opinions.
"Tony's 50,000 Co-incidence Miracles is a sweet and uplifting read. I highly recommend it." …SM
"I read the first 4 chapters non-stop and I can't wait to get back to read chapter 5."   … FMM
"You absolutely have to get this book out to as many people as possible, without delay!" … FBM
"It is amazing!  I wish I knew about this process and these true stories years ago. I am already enjoying the process."… AFC
"It seemed so simple and you explained the process so very well. I started noticing the Miracle-Clues you mentioned on the very next day." … JAC
"Wow!  Really a great read. It was very impactful and convincing!  I could not put it down once I began." … EJC
"It was an experience! I never realized that we could live that way and see those things. I now realize that I have been missing many of my daily miracles. Thank you!" … SAM
"One of the most interesting, informative, exciting, and learning books that I've ever read covering earthly subjects and spanning into the Heavenly realms. Also use it as a study guide to become closer to God and can have immediate effect understanding the Love of God..The words become touching to the extent of just having to stop and ponder at times > on the life of the Tony-Godly sincerity speaks..And his OUT OF THIS WORLD communications with GOD/JESUS/HOLY SPIRIT..Yet, making even the unlearned individual to grow closer to GOD..WOA!! A true testimony in the Faith World of believers..A light that shines from the text. Listen for the voice of Jesus speak personally to you while reading..a most read." – Reginald Aiken
    d. Listen … Famous People:
---
Author Bio (50 years as a FRIEND OF CHRIST).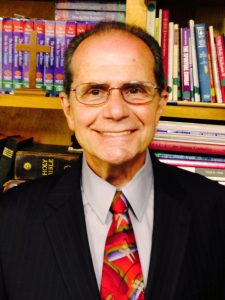 After 50-years of being blessed by Jesus in many miraculous ways, Tony has been inspired by Jesus to write a book to document some of the daily miracles he has been blessed to notice. Tony understands that God's reason for writing a book now, after all these years, is so that someone in the future may benefit from seeing how loving and how friendly God is to those who seek Him each day.
Tony was married to his wonderful wife Julie (his high school sweetheart) for 53-years. His beloved Julie has passed on into eternity now, but Tony still feels her loving presence in his life each day. They gave birth to 3 wonderful children (Lisa, Eric, and Tanya). And, at last count, they have had 5-grandchildren, and 2-great-grandchildren.
Tony grew up in a very loving and supportive family and he attended Catholic Grammar schools. He attended evening classes at college for 11-years while also working as an accountant full-time each day, in order to obtain his college degrees.
Tony spent 35 years working in the accounting and finance areas with companies like: Clairol Hair coloring, International Silver, Johnson and Johnson, Remington Electric Shavers, and Timex Watches – and also moving on to become the president of four other companies as well. Tony explains that Jesus tutored him each day on what to do as a company president in these four companies, with amazing success. Because of God's daily tutoring-miracles; Tony was able to turn around many negative and un-profitable business activities and to help these companies to succeed.
For the past 15-years, Tony has managed a business consulting and business coaching firm which helps senior management to utilize the techniques which Tony has learned from God in his professional business career over the past 50-years.
Tony has attended well over 40-annual spiritual-retreat-weekends on a wide variety of Spiritual Teachings. For well over 40 years now; Tony has also taught CCD-Sunday-School and has also been an active lay evangelist. As an evangelist; he has been issuing weekly inspirational letters since 1980. These weekly letters do report on both; weekly inspirations from Jesus … and weekly miracles as well. You can email With777With@aol.com, to be added to this FREE weekly letter. He has also appeared on radio and television as an evangelist.
Tony is often heard saying: "All of my peace and joy and happiness come from the moments when I am participating with Jesus in doing God's Will." Tony also says that; "Jesus wants to co-exist with each person every day (as a close friend); we were created by God because He decided that He really wanted us to be His Friends."
---
---
Proof of Jesus and Mary's approval of this book (exhibit-H)
Our Lady of Medjugorje's message on 08-02- 2017 did confirm the inspired mission of this book. You can click on the following BLUE link because Our Lady's Medjugorje message is included as Exhibit H. 
---
A "FREE" AND POWERFUL LECTURE (on how to speak with God face-to-face, daily). Just Click on the appropriate ARROWS BELOW — to view (or to just listen to) parts #1 or #2 or #3.  Each part runs for about 20-minutes each so that you can listen to the lecture, with breaks every 20-minutes.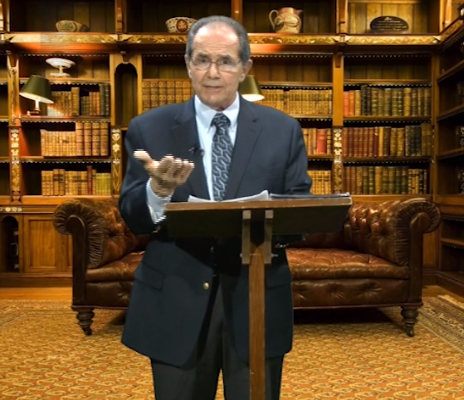 Watch the author explaining: "Listening To, and Having Conversations With God": 
Part 1: 
Part 2: 
Part 3: 
Links for you to order books:
a. from Amazon.com
b. from Barnes and Noble